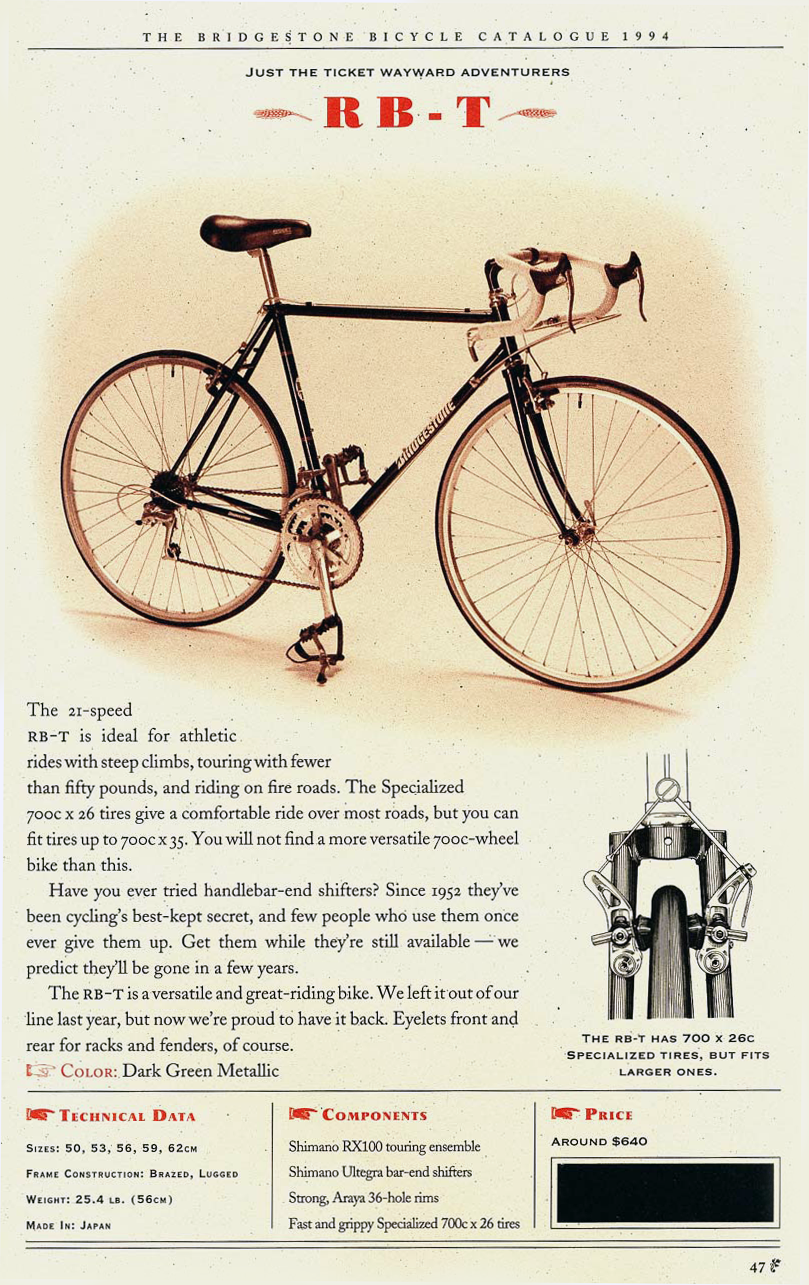 The first Bridgestone I encountered was in 1994, the last year the company sold bicycles in the USA, when I bought an RB-T after a long search for a good touring bike that could be used for commuting — and which I could afford at the time.
Since then I have ridden exclusively Bridgestone bicycles and discovered a benign shadow world of riders who have a nearly cult-like devotion to the small portion of Bridgestone bicycle products allotted to the domestic U.S. market in the ten years it persisted.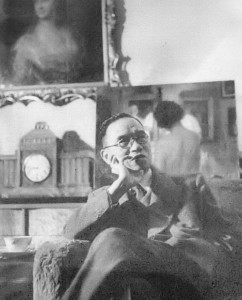 Bridgestone as a corporation is gigantic, but it has always largely concerned itself with products related somehow to transportation. Its founder, Shōjirō Ishibashi (the name translates as "stone bridge") began making tabi, traditional Japanese sandals, in 1925 and moved to tire manufacture in 1931.
The company is now best known for its namesake tires and also owns the U.S. tire manufacturer, Firestone, but along the way has built motorcycles, cars and – starting in 1945  – bicycles, too.
Not the sort of bikes stateside riders imagine when speaking of Bridgestone, but Japanese-style city bikes, with step-through frames, baskets and generator lights. Apparently the company made sporting bikes as well, though information about its early history is surprisingly hard to find given its size today.
Bridgestone had developed a high level of expertise in sport bike design by the early 1980s, further accelerated when the beloved Grant Petersen – now of Rivendell Bicycle Works – joined the company as BridgestoneUSA marketing boss. While Petersen acknowledges learning much of his design philosophy from contacts with Bridgestone designers in Japan, BridgestoneUSA's glory days are usually referred to as, "the Grant Petersen years." Nonetheless, his success was rooted deeply in the company's quality-obsessed origins.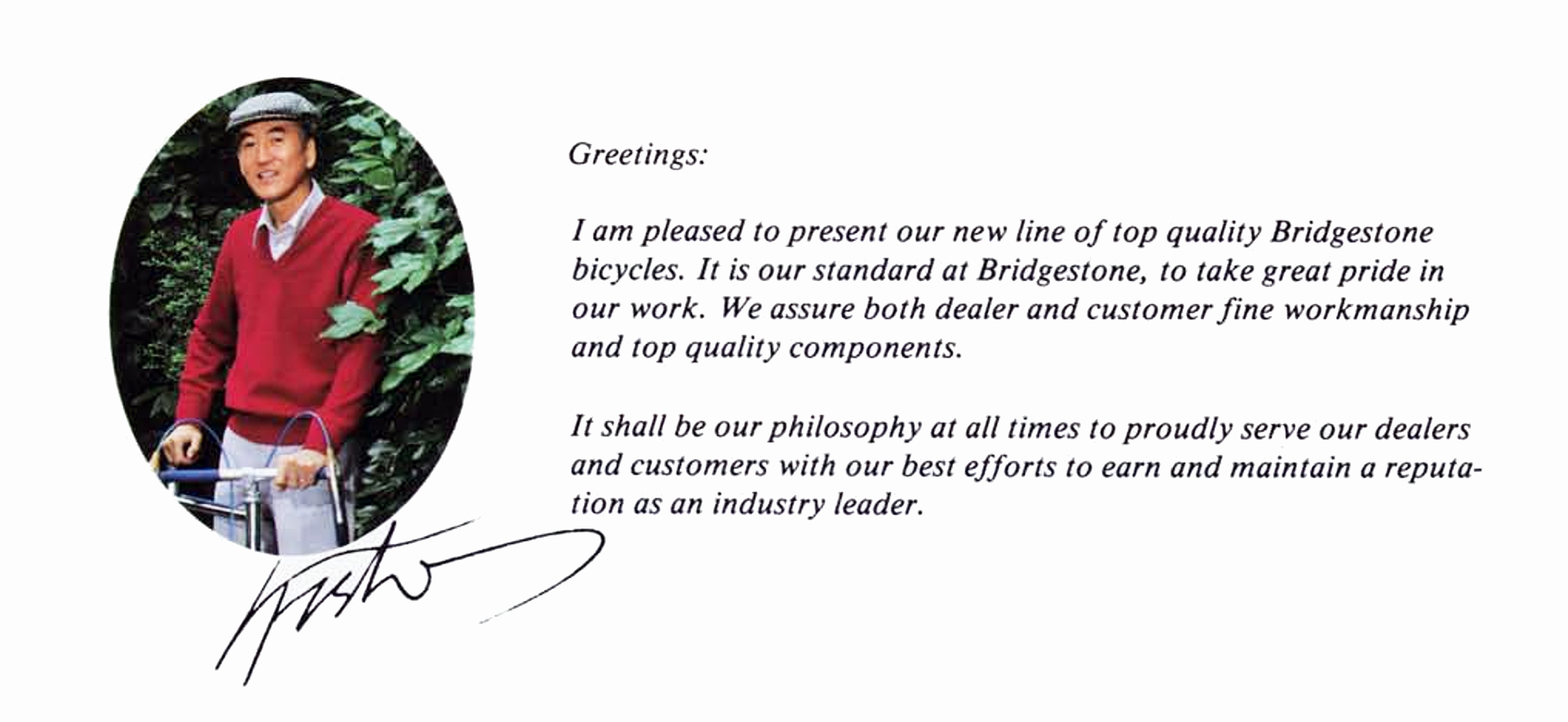 It was largely on Petersen's watch that those Bridgestone products so sought by collectors today were designed and manufactured, having now evolved into a bonafide bicycling paradigm.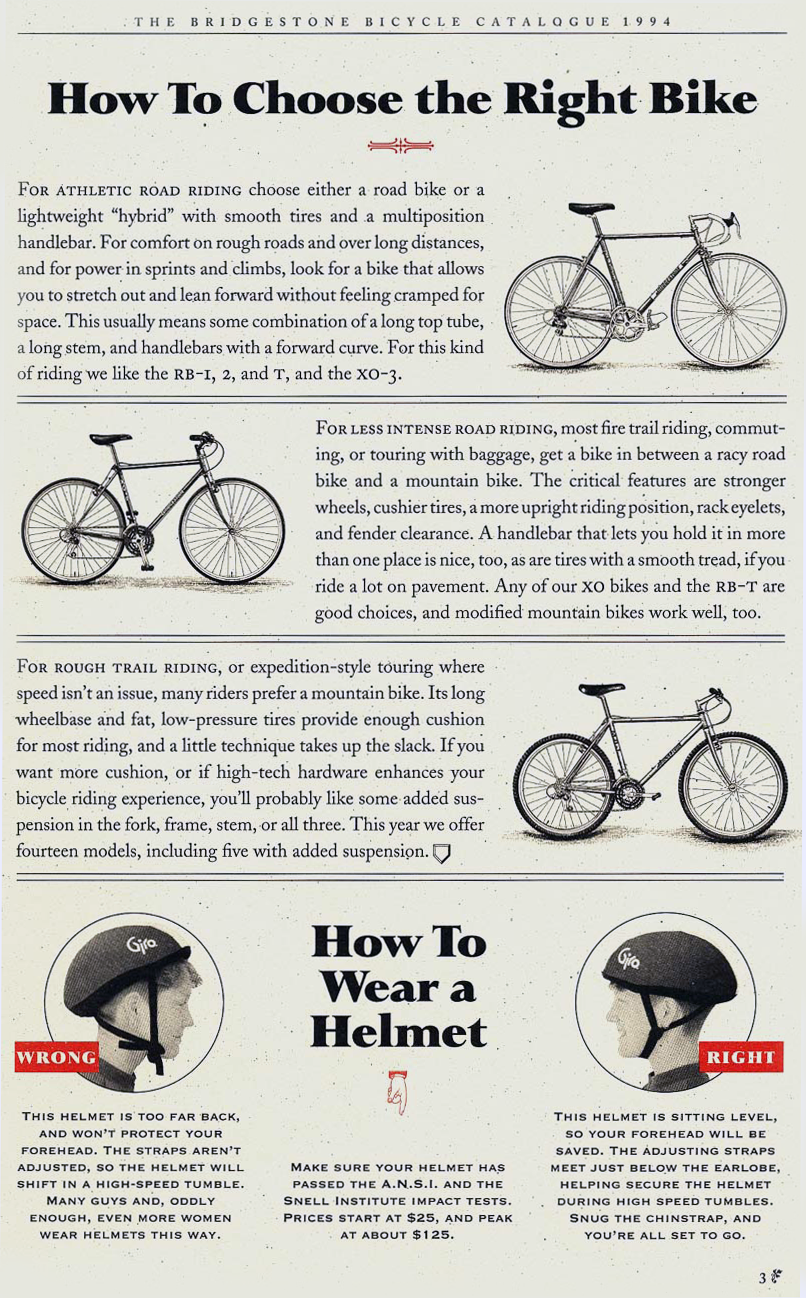 The global marketplace is full of products made to be sold, not to be used. They are pervasive throughout commercial culture, cluttering our lives with things bought because they were good to buy, and which rarely if ever become part of our regular lives. Many bicycles fall into this category, becoming what some have referred to as "wall art," or worse yet from a functional standpoint, "garage sculpture."
Bridgestone, being a Japanese company, always made bikes for utility, since the bicycle is a ubiquitous if not unglorified means of transportation in that country. In the United States, bicycles are also found everywhere — but for the most part, they just don't move.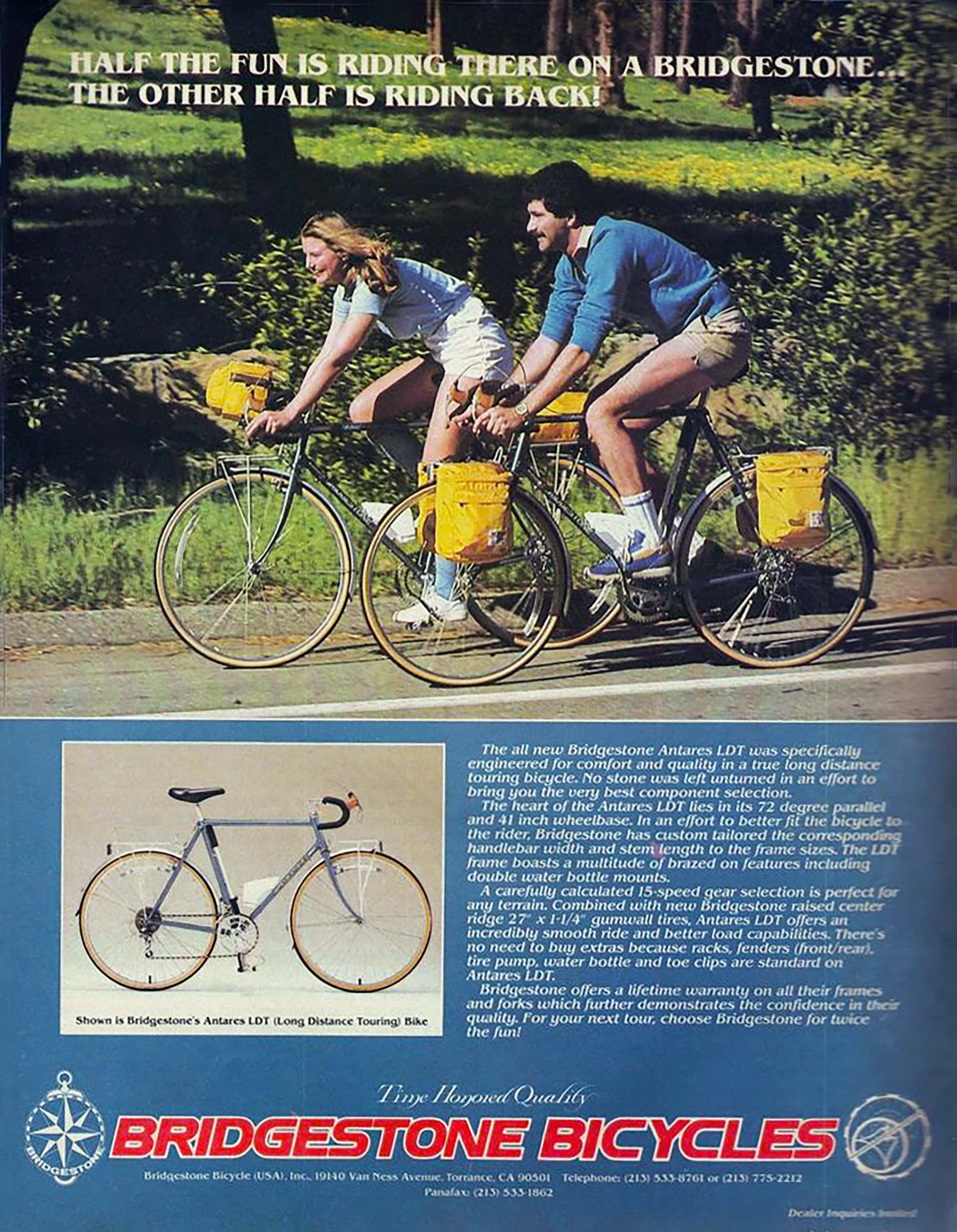 The exceptions are racing-style road and mountain bikes. Adults in America feel compelled to justify bicycle riding by implying that they are engaging in competition, or at least preparing to, or pretending to prepare to.
It was this market that Bridgestone hired Petersen to address, and he did it in a way that confounded many and delighted a perceptive and lucky few in America's bicycle community. It also established a legacy that has continued to enrich both bicycling and the public culture of our country.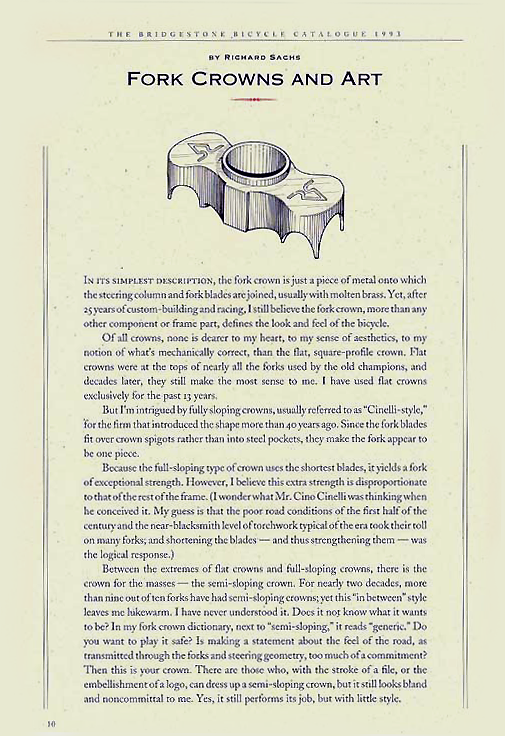 Ishibashi's motto for Bridgestone was, "For the welfare and happiness of all mankind." While it may be suspect that building monster tires for SUVs, as Bridgestone now does, is in perfect harmony with that sentiment, there is no denying the bicycle is a near perfect vehicle for actualizing Ishibashi's hopes.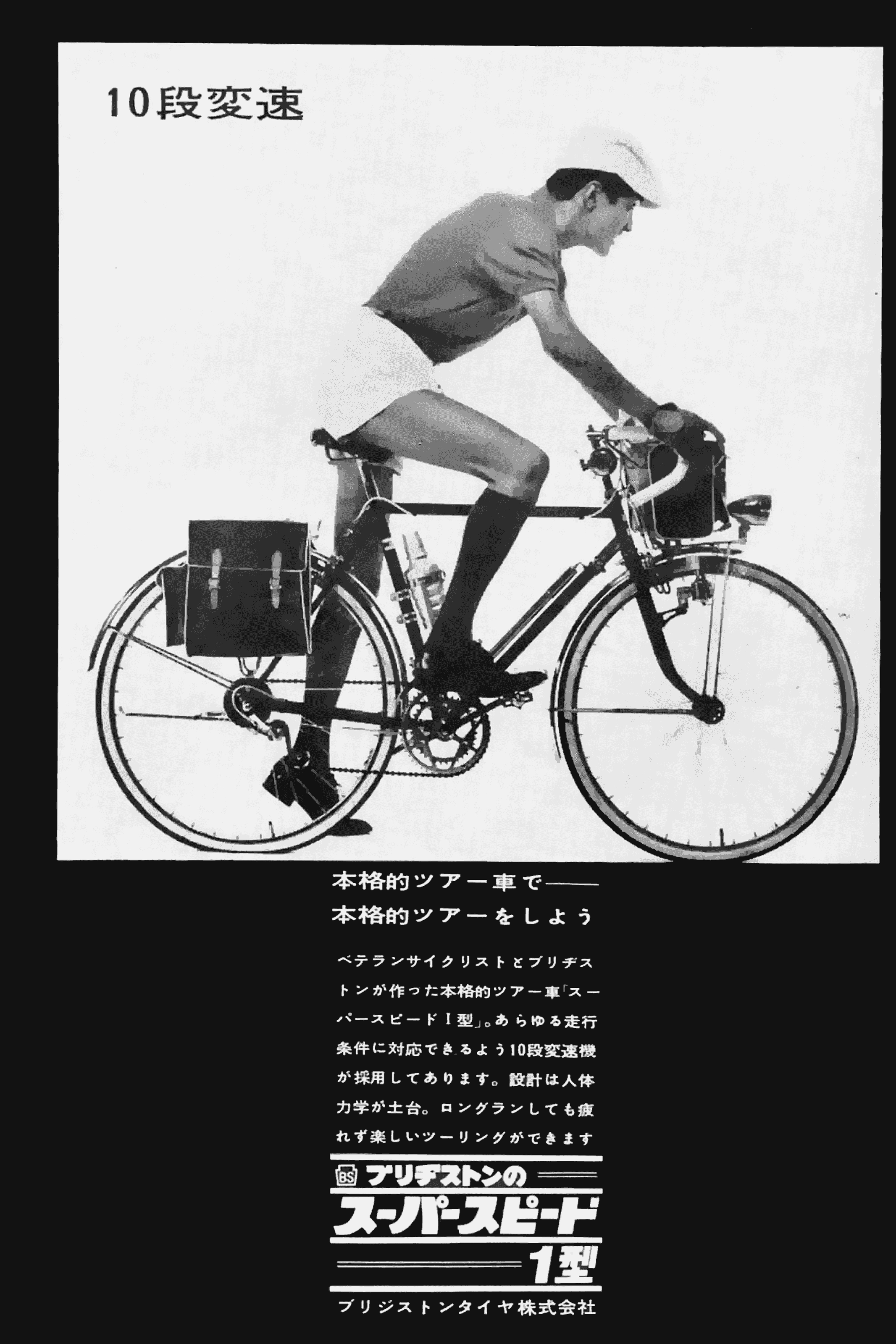 Petersen, as marketing director of BridgestoneUSA, was perhaps the perfect vehicle for the job. In a 1992 California Bicyclist interview, Petersen said:
"The best use of a bicycle is commuting, it's not racing or competing or recreation or anything like that. Ultimately its best use is getting cars off the roads."
Getting cars off the roads, making room for people, for the rest of life, for general betterment.  And at the same time sell bikes to brash, braggy, self-conscious Americans. The question was, how best to go about doing so with the limited resources at-hand.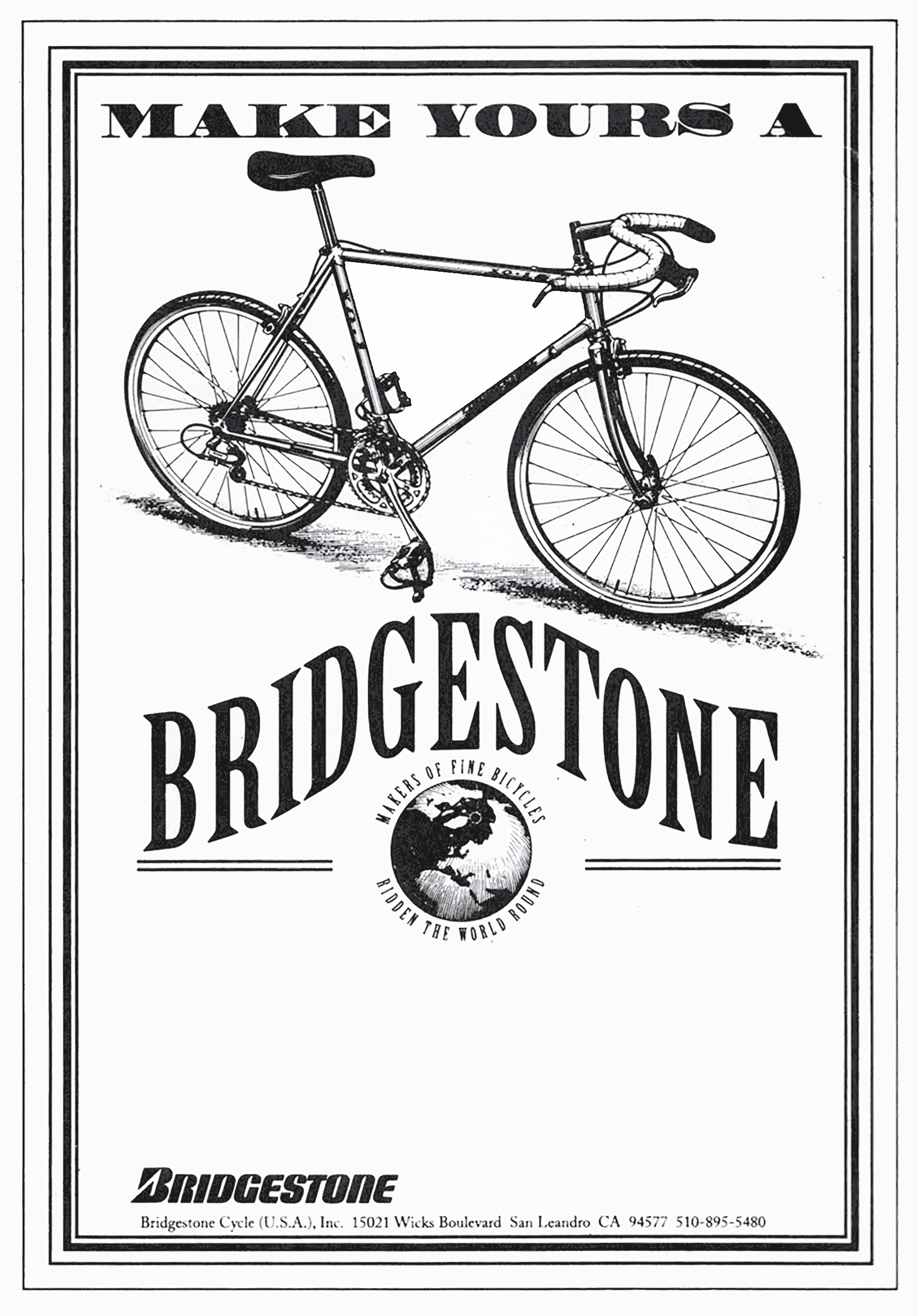 This was not Japan, where a bank president will ride what we consider a girl's bike to work, wearing a suit and dress shoes. Ours was a land where you had to prove your manhood if you rode a bicycle instead of driving. Even if you were a girl.
Grant Petersen set out to sell Americans on the idea bikes were practical yet sporty. It would not be an easy job. Coming on board in 1984, Petersen entered a design culture that probably resonated with his own perceptions – and which some say influenced him as much he did it. Certainly he had been exposed to Japanese concepts of practical sporting bikes through his friendship with Hiroshi Iimura of Jitensha Studio in Berkeley, California.
Iimura designs custom bikes, usually in the French randonneur mode, which he assigns to ateliers in Japan for construction. His bikes are reputed to be comfortable, strong and fast, and are usually able to capably address various types of riding and road surfaces with little modification.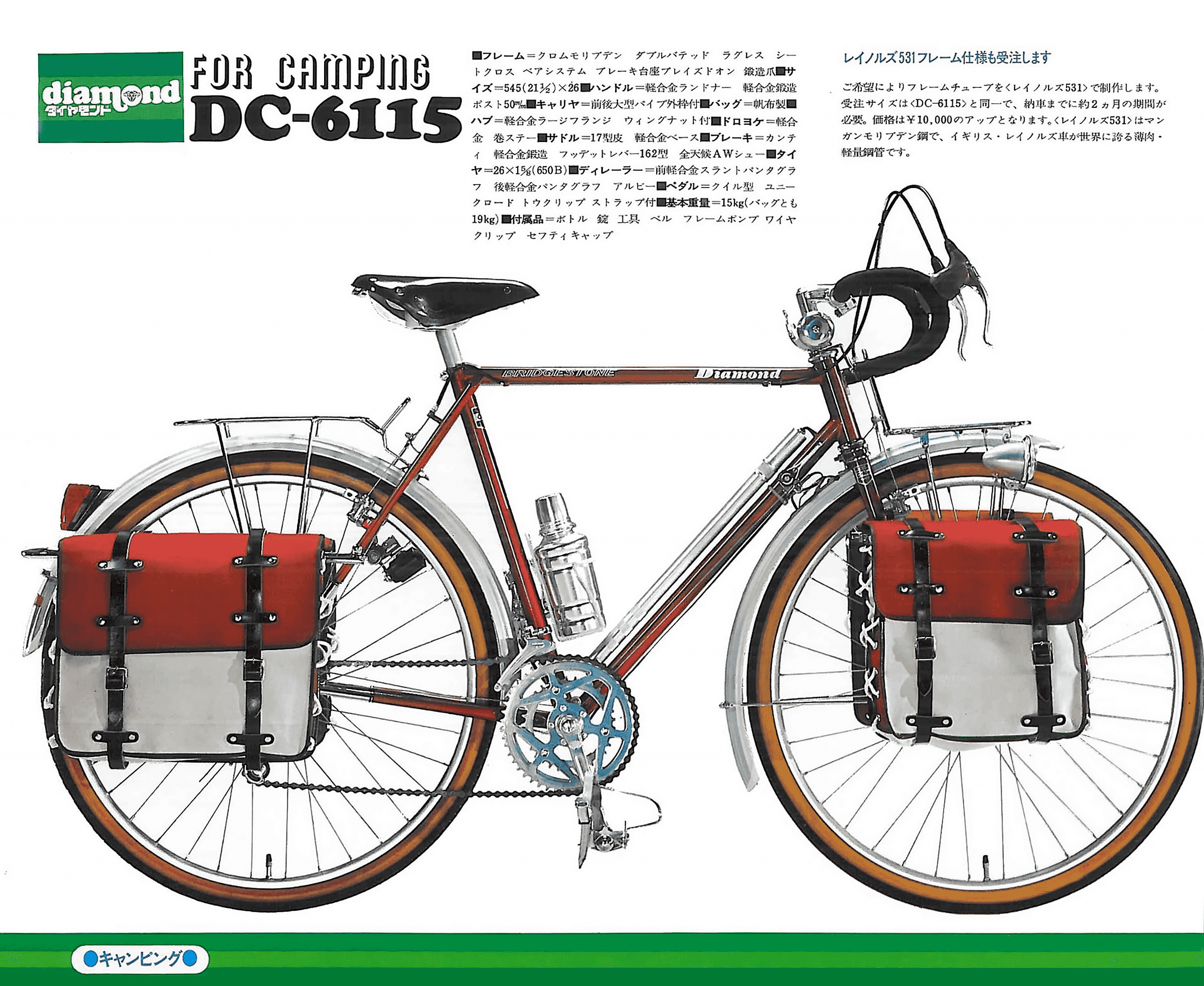 Petersen's present effort, the aforementioned Rivendell Bicycle Works, operates almost identically, except that the full custom jobs have gone to a series of U.S.-based builders, and the early production models went to Waterford in Wisconsin. They now go to Toyo in Osaka. And during the Bridgestone years, of course, the higher end models were built by Bridgestone itself in Japan, with cheaper models farmed out to capable builders in Taiwan.
Presently, I myself ride a "pre-Grant" Bridgestone, a 700c, and have owned two Grant-era Bridgestones – the RB-T and an XO-2. The 700c, while definitely a racing-style bike (the father of the famed and beloved RB-1, in fact), definitely feels like a Bridgestone: it is light but not loose, with both quick and stable handling. Perhaps this is partly because of the bike's versatile fork design.
A friend to whom I described its characteristic of simply going effortlessly wherever I looked on the road, with seemingly no input from me, called it a "telepathic bike." It has clearance for 28mm tires, and braze-ons for racks and fenders, both also fork features. It can withstand the pounding that it faces daily on shattered LA streets — streets that would give a mountain bike nightmares! It is very fast, yet comfortable enough to sit on all day long. It is your quintessential Bridgestone.
Grant Petersen and Bridgestone — despite rumors of squabbles over commercial matters — appear to have been destined for each other. Petersen's influence magnified the qualities that made Bridgestone's sporting bicycles Bridgestones. It also evoked scorn from competitors and journalists who couldn't comprehend the new paradigm forming in their midst.
It reminds me of a Gary Larson cartoon I saw years ago: two dinosaurs laugh as they point scornfully at some small, furry mammal scurrying by — while a third dinosaur looks with puzzlement at the snowflake that has just landed on its outstretched hand.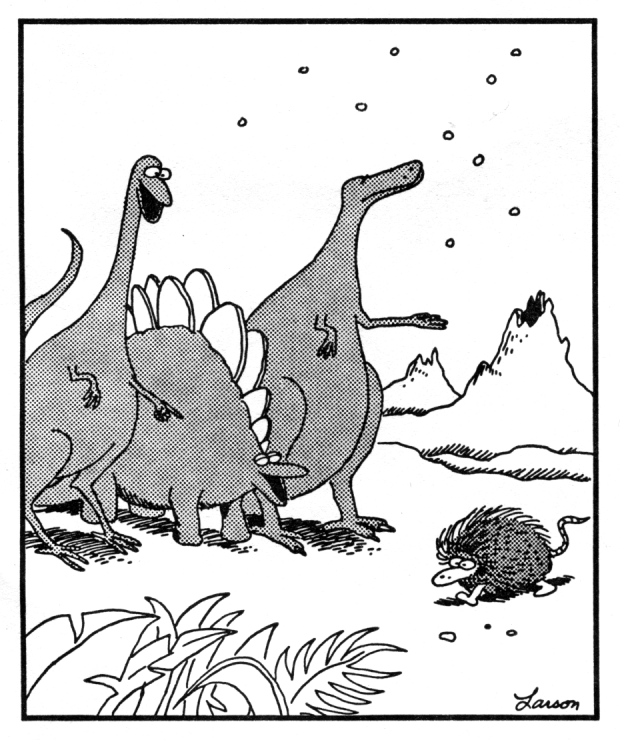 Now, with the atmosphere stewing, oil diminishing, the Gulf Stream slowing, the Caribbean dying and the last farms wavering under an onslaught of drafty McMansions, the idea of a bike you can ride to work through the rain sounds pretty attractive. All the more so if it's fast and fun, and doesn't give you hemorrhoids after using it.
While Petersen's design concepts were probably influenced by Japanese interpretations of classic French and Italian designs, his componentry specifications have a decidedly French shading to them, with their greatest emphasis on what works well and lasts long. In writing of the resurgence of cyclocross (a sport in which modified RB-Ts are surprisingly popular, considering they haven't been made in several decades), Gabe Konrad says:
"For years this 'rough stuff' and 'mud plugging' remained mainly a French indulgence until its popularity exploded when Octave Lapize attributed his 1910 Tour de France win to the off-season sport… I believe [cyclocross bikes are] also the perfect commuter, or, as Grant Petersen would call them, all-rounder bikes."
Petersen's marketing copy for his present Rivendell project makes repeated reference to "rough stuff" bikes, basically ruggedized road bikes that can run naked on narrow slicks or put on fenders, racks and wider rubber to venture as happily off pavement in the rain as on a Sunday road spin.
Most Grant-era Bridgestones came equipped for riding, riding hard and fast nearly anywhere one might want to go, without worrying about what would break next. The philosophy made no reference to contemporary bicycling fashion, and resulted in bikes that puzzled those who couldn't see beyond their own conditioning.
Bridgestone mountain bikes helped define the modern ATB — but the top end model came with drop bars! "Dirt Drops," specifically designed to the task, and among the most wonderful handlebars anywhere.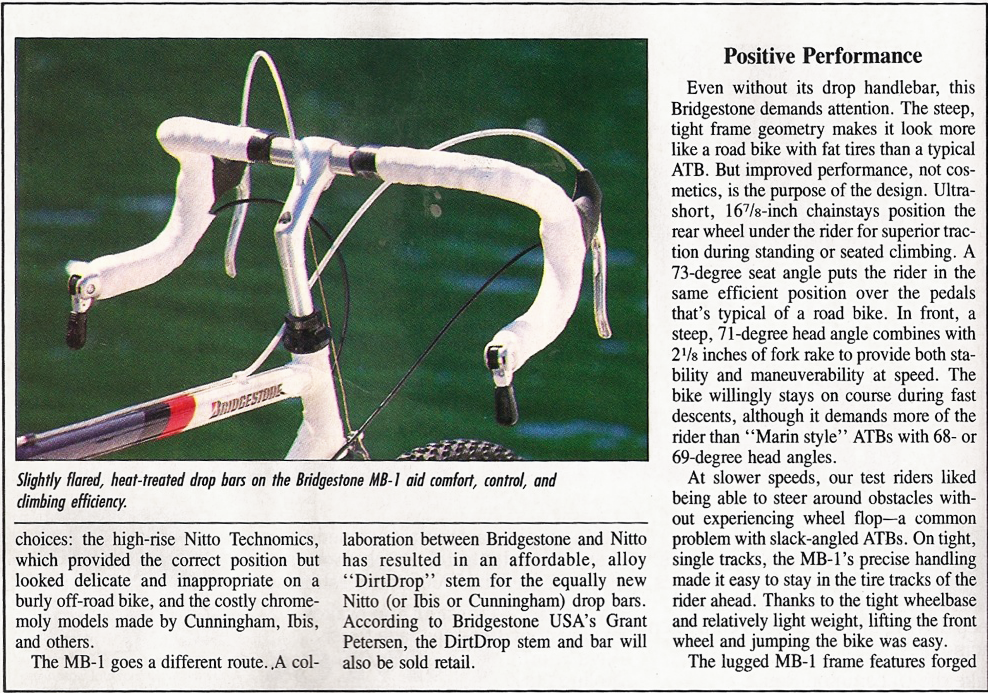 Hardtails all, they rode and climbed better than most ATBs of that time or this — but they didn't "look like" mountain bikes: no shiny (and heavy) suspensions, no oversized (and heavy) tubing, no (brittle and stiff) aluminum, no screaming graphics. Just the agility of a panther, the strength of a mule, the grace of a deer — a fitting mount for singletrack, but not the same brag value when hanging on a tailgate bike rack.
The road bikes – the RB-1 and RB-2 – were raced to great success but in the end may not have been loud enough for the glam-rock target market. Still, a clean 59cm RB-1 sold on eBay a few weeks ago for over one thousand dollars, a full twenty-plus years old.  The RB-T, one of Bridgestone's more obscure models when released, is now a popular cyclocross mount.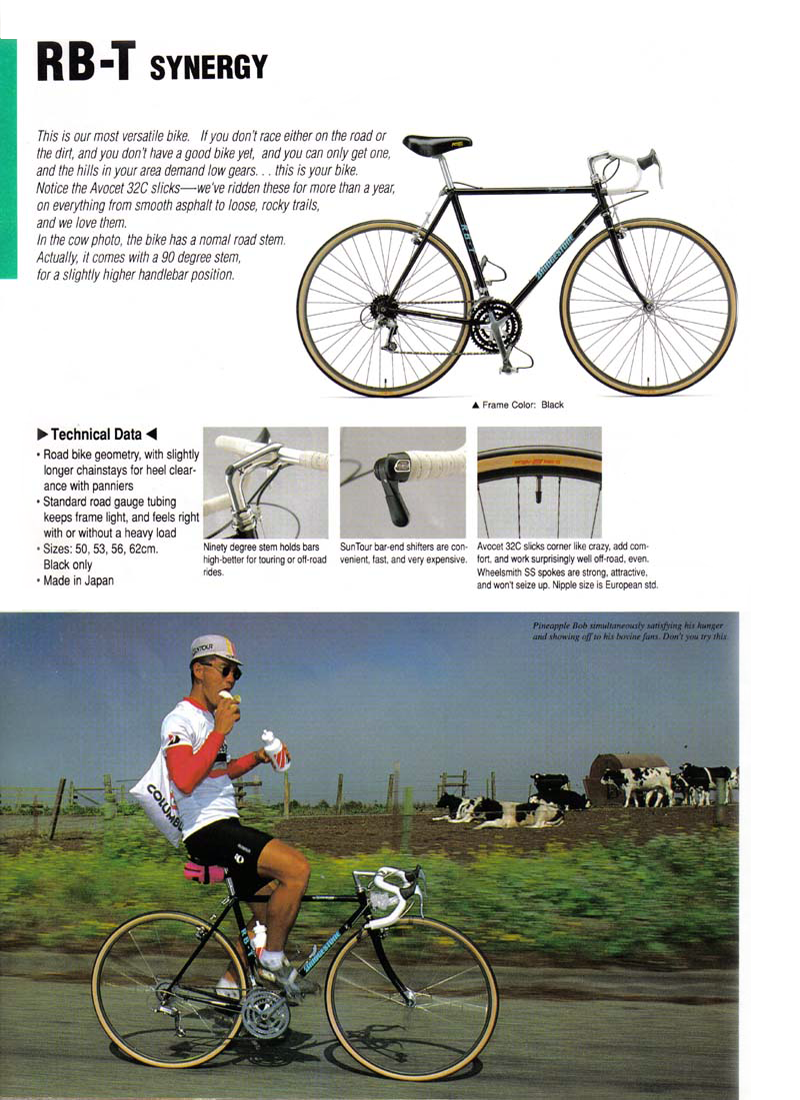 While riding mine once, I had the pleasure of falling in with a group of club racers on the Pacific Coast Highway during a ride to Santa Barbara. Loaded with panniers, fenders, 32mm tires and all, I maintained pace with them for twenty brisk miles along the winding coastline, slowing down to touring pace for the remaining half-century of my trip after they turned off the road for lunch.
Petersen also introduced the CB, or "City Bike" series, in an effort to provide novice bike commuters with something better than the neither-fish-nor-fowl hybrids offered at the time. Perhaps the "most Japanese" bikes ever offered to U.S. buyers, the CB series was hardly a significant contributor to Bridgestone's bottom line.
It was the XO series that was probably closest to Petersen's heart, and the quirkiest (for its time) bike Bridgestone ever produced. The XO was, if surmised correctly, Petersen's effort to produce something approximating the French 650B-wheeled rough-stuff bikes of the middle 20th century. They were basically road frames built for 559 (mountain bike 26-inch) wheels; they could take anything from narrow slicks to (in most cases) moderately wide knobbies; they could fit racks and fenders. They came as triples well before aging baby boomers made them common on play-racers — and they came with the beloved/notorious moustache bar!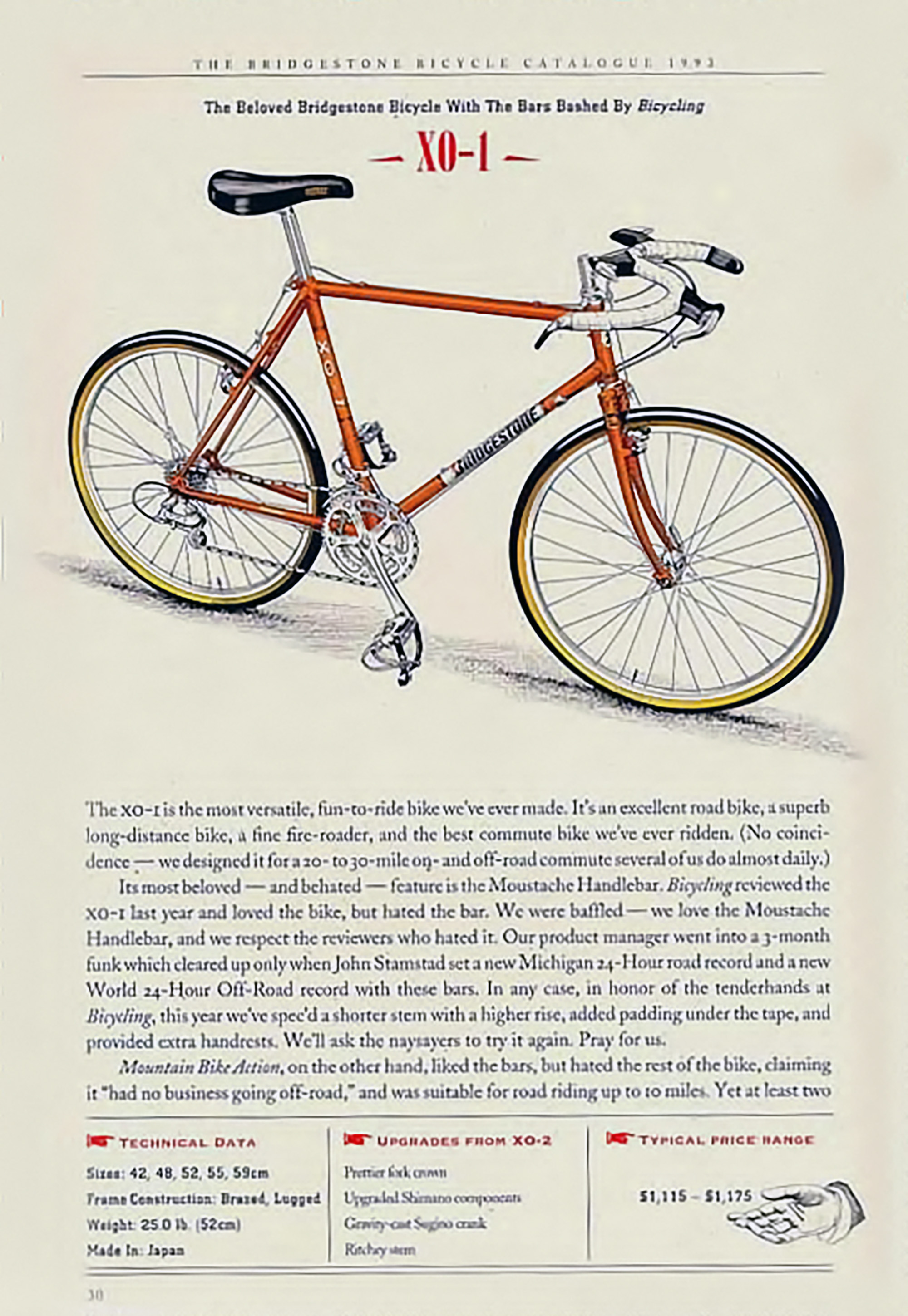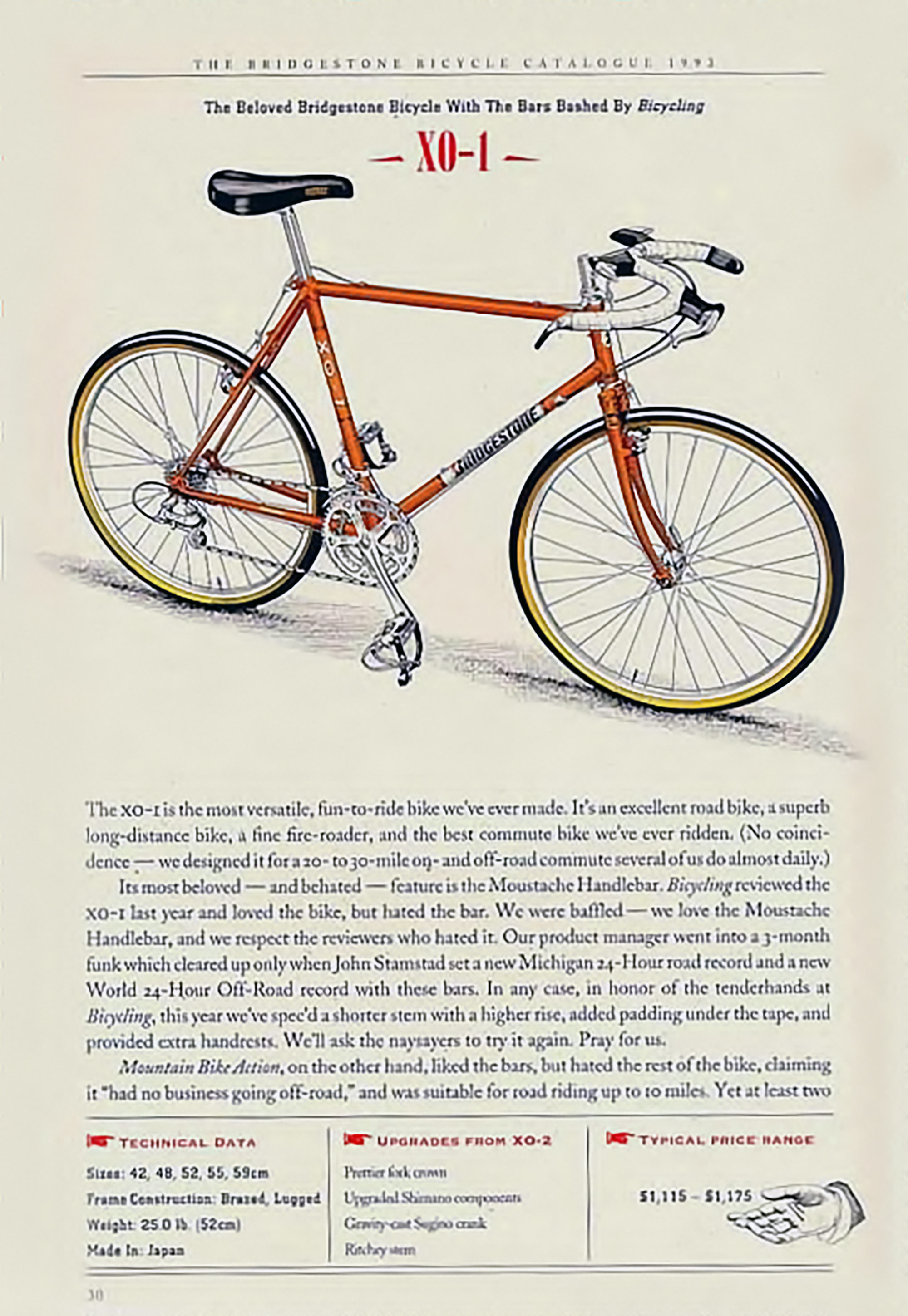 The moustache bar symbolizes Grant Petersen to many people in the bike biz, and Grant Petersen symbolizes Bridgestone, so it's worth taking a look at their relationship. The bar is a Petersen design, inspired by the handlebars made popular during the first bike boom at the end of the 19th century. To quote Petersen on the current Rivendell website:
"[It's] a variation of a shape that has been around for more than a century – longer than drop bars, even. The details of this one bend evolved during five prototypes and thousands of miles of testing and refinement during my commute to work in 1990-91. The first prototype was bent by a plumber out of copper tubing."
The bar was so controversial that to this day some folks still blame it for Bridgestone's closure in 1994, actually a result of the dollar dropping precipitously against the yen. In a twist of fate befitting Bridgestone, its popularity has grown so steadily that mega-discounter Bike Nashbar now offers an imitation in their current catalog.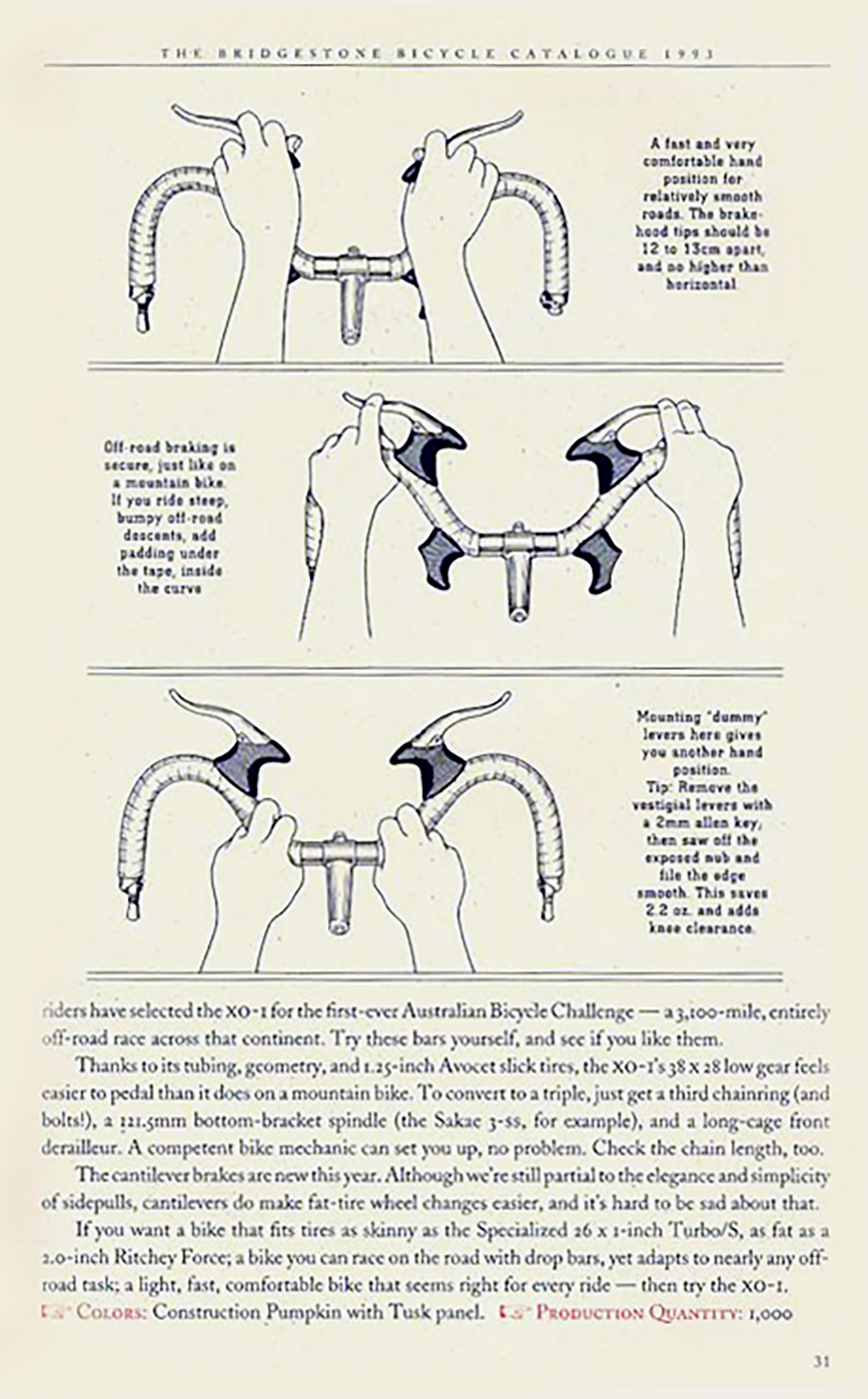 Petersen's ambition was not just selling bikes, not even well-made, affordable, practical and sporty bikes – which he did. It was rather creating a community centered on the bicycle — but going beyond the bicycle — and he structured Bridgestone catalogs to resonate this belief. Articles included topics like: the history of bicycling, the means and manners of the rider and the ride, things that in some way reflected the spirit of the bicycle and of Ishibashi's motto, and on the emotional and material qualities of utilitarian things.
Even articles on baseball gloves. The history of the derailleur. A story about an old man who straightened and reused nails he found in his back yard while mowing the lawn. Lofty pieces about economies born of love and sense. Things like that.
Petersen went on to found a sort of club called the Bridgestone Owners Bunch, the primary benefit of which was a newsletter devoted to such articles, and a few product plugs. I joined it myself. After Bridgestone shut down the U.S. bicycle division, someone restarted the BOB, as it was known, on the internet — and the iBOB list is now a lively forum logging dozens, sometimes hundreds, of posts per day.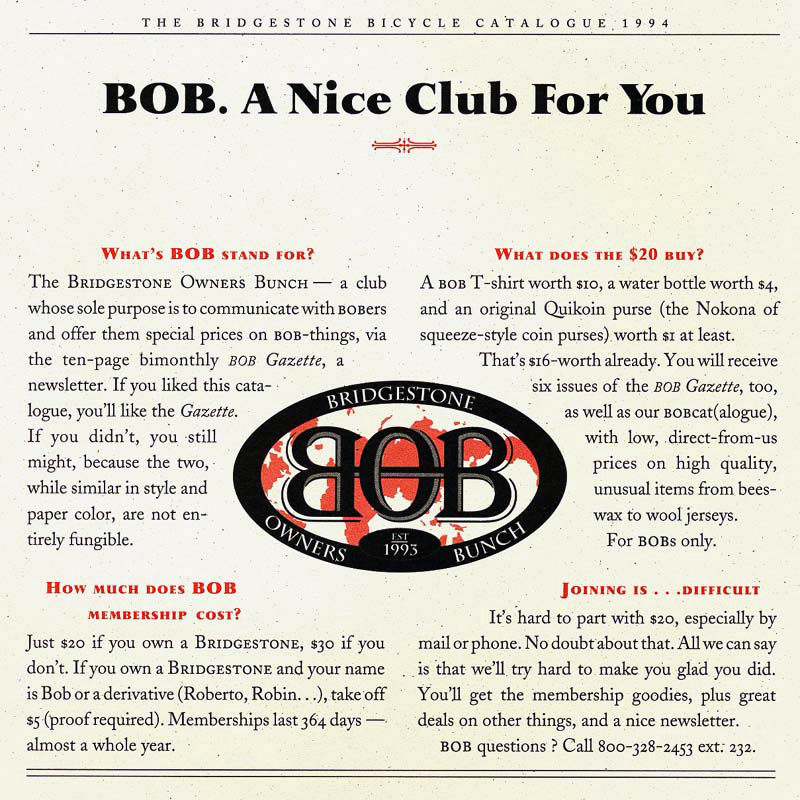 So the bikes and the spirit of BridgestoneUSA live on and live well. It seems every week I see a commuter bike wearing fenders and moustache bars somewhere in L.A. The local fixie set rides bikes that would look in place on any Bridgestone showroom floor back in the day. And lugged steel abounds in our Critical Mass rides.
Where most bike companies dare to understand only fashion, Bridgestone, under Petersen, knew the tallest tree requires the deepest roots. Bridgestone in the glory days made more than just good bicycles: it made good bicycling, and to this day it nurtures a growing planetary civility that may just save our silly little human race, bodies and souls, and give us a great ride into a happier future.
Other Bridgestone Resources:
http://www.sheldonbrown.com/bridgestone/index.html
http://groups.google.com/forum/?hl=en_US#!forum/internet-bob