Cinelli has it familiar crest, Colnago its ace of clubs, Fuji its stylized mountain, Raleigh its phoenix and Schwinn its four-point star — but Legnano may be the only bicycle company whose headbadge depicts a sword-lofting warrior. The reason why is nothing short of amazing, predictable as it may be in the end.
The warrior depicted on Legnano headbadges is none other than Alberto da Giussano, immortalized in the moment of triumph — specifically, the defining triumph of his era — at the Battle of Legnano in 1176, when the "Free Communes" of the Lombardi league, led by Milan, finally defeated and cast out the German rulers who had been lording over them the previous couple centuries.
That this remains important to Italians can be evidenced by the mention of Legnano in that country's national anthem — the only other city mentioned being Rome itself. Why it was important to a bicycle manufacturer, even an Italian one, may be a trickier but no less intriguing question.
National pride? Perhaps. The smell of victory attached to the name? More likely, given Legnano's output includes a long, rich lineage of pure racing bikes as only Italians produce, and an impressive roster of victories on the road race circuits.
There is also the darker possibility that choosing da Giussano for the headbadge was in support of nascent Italian fascism, quoting Classic Rendezvous:
The turning point comes in 1924, when Fascism was looking for sports heroes and only wanted Italian companies. Bozzi offers a lifetime contract to a young house painter, Alfredo Binda, and changes the company's trademark to Legnano, a single name. The symbol is Alberto from Giussano, the commander who fought and won over Federico Barbarossa.
Before that "turning point," the company bore the uninspiring name of Emilio Bozzi & Company. While the machines they produced were already aesthetically gorgeous and highly race-worthy, the name they would eventually carry to fame did not arise until Italian pride (and Mussolini's corporate statism) committed their original name to the history books.
While some claim the bicycle enterprise that became Legnano started as early as 1902, the earliest hard evidence comes in 1908, when Emilio Bozzi founded a company to build bicycles in his own name. Not long afterward he formed an association with Franco Tosi, who had bought some patents from Wolsit of England, a renowned English bicycle company of the time.
Tosi was also from Legnano, but the company kept Bozzi's name until 1924, when they hired Alfredo Binda to ride for their team. Having maintained a sideline busin
ess selling motorized bicycles and mopeds for many years, Bozzi and Tosi eventually sold this business to NSU in the 1930s, and finally discontinued mopeds in 1968. Bicycles were always the lifeblood of the company, especially after the duo's intense involvement in road racing beginning with Binda.
During the mid 1930s, Legnano's team, starring Binda but captained by Eberardo Pavesi, collected six world titles and won five Giro d'Italia, two Tours de France, four Tours of Lombardy and numerous less famous races. To make matters more interesting (and no doubt profitable), the racing world promoted an emerging rivalry between the Legnano and Bianchi teams, the latter being a far older company established in 1885, who must have seen Legnano as something of an upstart.
Upstart or not, Legnano was by then a maturing company, and with the world plunging into a war partly initiated by Germany's refinements of Mussolini's fascism, Legnano adds a pair of bonafide cycling all-stars to its team: Gino Bartali in 1936, followed by Fausto Coppi in 1939.
Binda, Bartali, and Coppi: three legends whose contemporary reputations outshine the warrior prince on the company's headbadge. Victory after victory followed on road courses and in velodromes, while Bartali and Coppi developed their own rivalry temporarily obscuring that between their employer and Bianchi.
All of which gets overshadowed by a war where victory will not belong to their motherland, to the extent war produces victors. Coppi sets the hour record on a Legnano in 1942 at Vigorelli, while bombs fall outside.
After the war, dazed and searching, the nation needs distractions, and focuses again on the rivalry between Bartali and Coppi, this time folded back into the renewed context of Legnano versus Bianchi, for Coppi is now riding the older firm's machines.
In 1948 Bartali wins the Tour de France on a Legnano.  In 1956, a young rider named Ercole Baldini wins in the Melbourne Summer Olympic Games on a Legnano. That same year Baldini breaks Coppi's long-standing hour record of 1942, again on a Legnano, but after that racing victories begin petering out.
The company forges ahead, though. In 1960 Legnano becomes the flagship product of Singaporean bicycle distributor KH Cycle, who refered to the brand on their website as "one of the oldest and best known cycling brands in the world at that time."
Legnanos of the era sported the perhaps-inevitable Campagnolo Record group. Somewhat more of a surprise, they also featured special Brooks saddles that — according to the inestimable Sheldon Brown — were branded as Campagnolo. Sheldon further suggests top-end models of that time may be worth several thousand dollars today — definitely collectible pricing!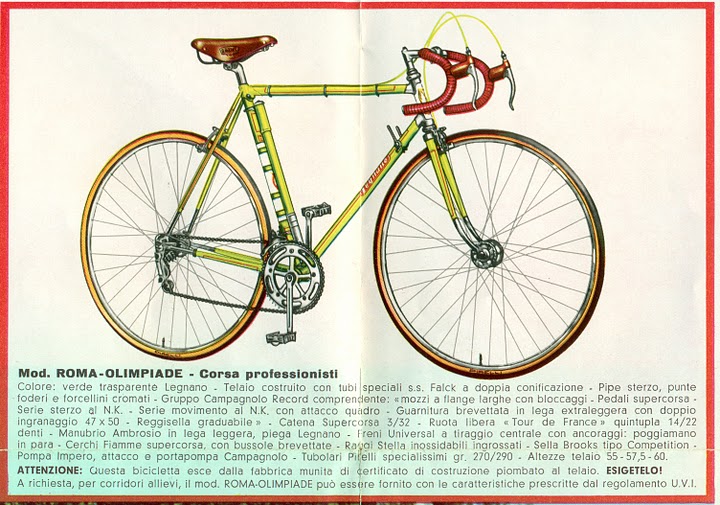 Bozzi was assassinated by Italian Red Guard radicals in the 1970s, after which the family lost interest in manufacturing. Arch-rival Bianchi bought the brand in the 1980s, and it saw racing action again under Fondriest, but Bianchi apparently did not truly have their heart set on promoting the former upstart competitor.
Legnano still lives on in name, now owned by bicycle brand consolidator Cycleurope, which has acquired many traditional names, including old arch-rival Bianchi. While Bianchi has fared very well indeed in the modern era, Legnano remains forgotten as a current brand. Of Legnano, Cycleurope's website unceremoniously but accurately used to suggest:
"Legnano offers ideal solutions for man, woman and child; bikes that are comfortable, reliable, versatile, and full of accessories which make them perfect in every situation. Discover how exciting it is to personally experience the Legnano legend."
Nothing wrong with that — the world needs all the everyday bikes it can get, after all — but it's perhaps too quiet a retirement for a brand forged in battle, and tempered in the storied races of Italy and France. Alberto da Giussano's ultimate triumph may still be coming. Bozzi and company would have wanted it that way.
Special Thanks:
Ebykr Legnano References:
Classic Rendezvous Legnano History