Durable but lightweight materials have appealed to bicycle builders since the beginning of bicycle time. From steel alloys to aluminum alloys to carbon composites, the nexus of these two build qualities is something of a holy grail among materials engineers.
That's because durable and lightweight translate to fast and expensive in most every language worldwide. Just ask the good people over at Stronglight, who have known this since at least 1933 when parent company Haubtmann merged with Verrot et Perrin, the original trademark holder of that clever name.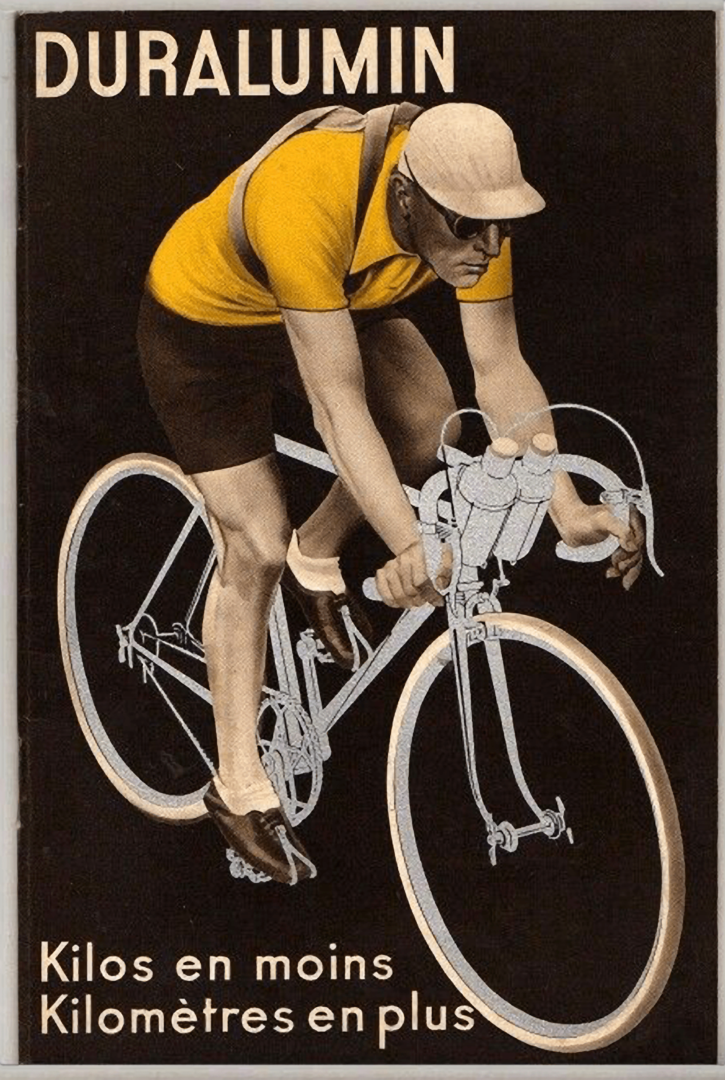 The 1930s was a breakout decade for the aluminum industry and cycling's place within it. The popularization of "Duralumin" helped revolutionize the way bicycles and their components were manufactured, thus significantly influencing their design and utility.
While some cyclists may believe Duralumin is of mid-century French origins – both because it was adopted broadly by people then and there, and because it sounds like a French word – Duralumin was originally a trade name established by German metallurgist Alfred Wilm at a company named Dürener Metallwerke AG in 1909, some six years after is was initially developed.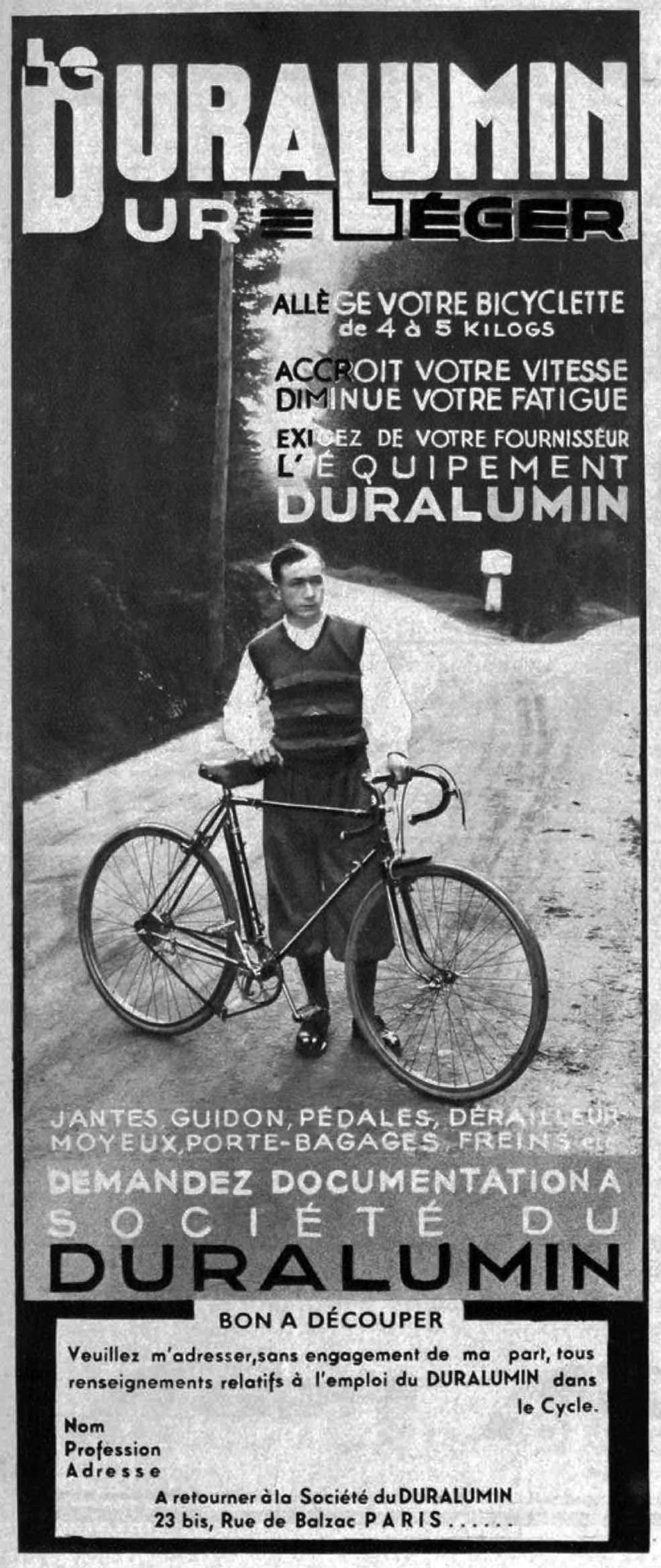 Wilm found that after quenching, an aluminum alloy containing 3% – 4% copper, .5% – 1% manganese and .5% – 1% magnesium would slowly harden when left at room temperature for several days. The resulting age hardened aluminum alloy represented a step-change forward for the cycling industry, which rode the material and its significantly improved strength-to-weight ratio to decades of commercial success.
In pioneering Saint-Étienne, several companies stood out for their early, innovative adoption of Duralumin: in 1932, the aforementioned Verot et Perrin developed the first light alloy crank arms; in 1934, Haubtmann released a complete crankset; from 1935 on, we see the manufacture of Duralumin freewheels, derailleurs, pedals, brakes and handlebars.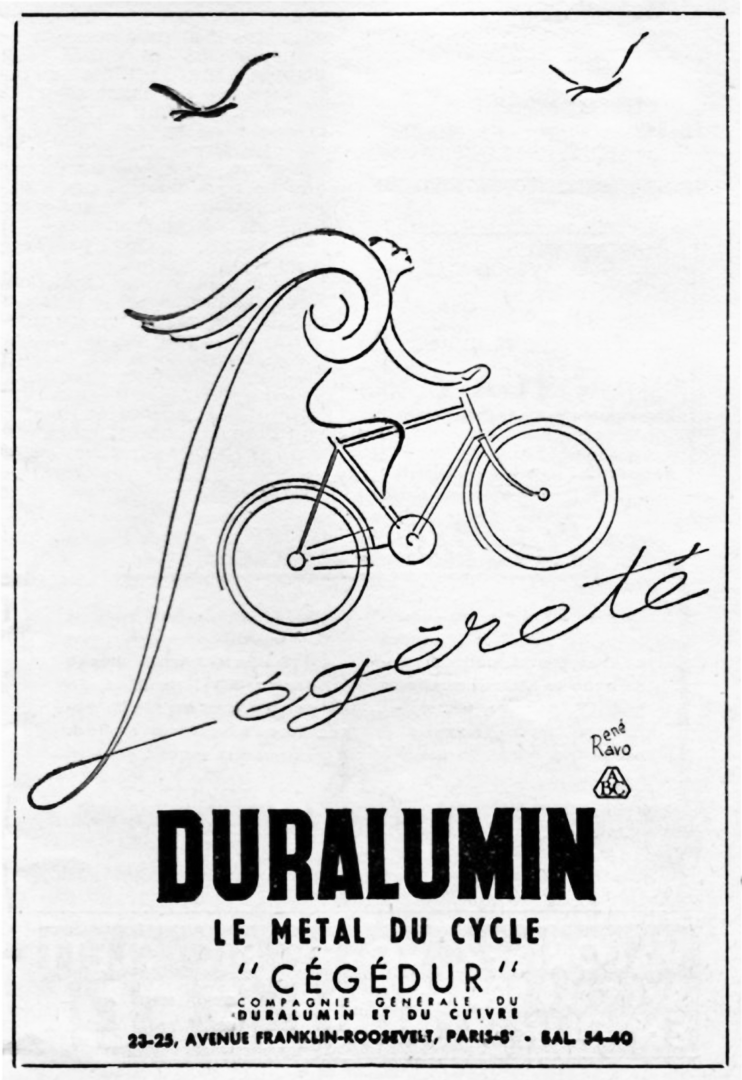 Bicycle framesets were also made of Duralumin. Manufacturers that used the material or other variants of age hardened aluminum to make frames and forks included: Mercier (and Aviac and other licensees) with the popular Meca Dural family of models, the Pelissier brothers and their race-worthy La Perle models, and of course Nicolas Barra and his exquisite mid-twentieth century "Barralumin" creations.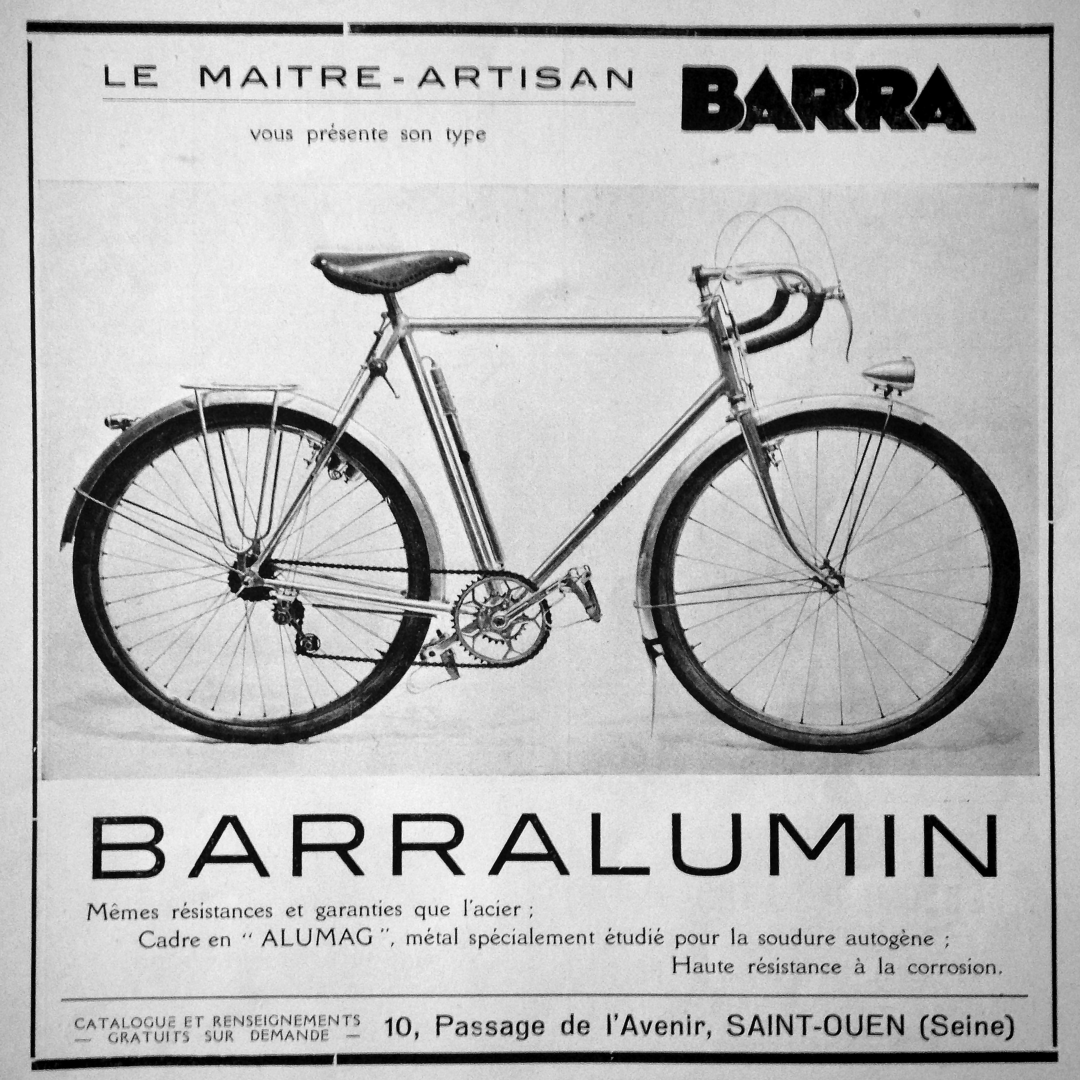 Other names that come up here also include: Pierre Caminade, with his beautiful Caminargent creations and their exotic octagonal tubing, and also Gnome et Rhône, with its deep heritage as an aircraft engine manufacturer that diversified into motorycles, velomotors and bicycles after World War Two. A full eight models of Gnome et Rhône bicycles made of Duralumin were manufactured by the mid to late 1950s, following an initial line up of five models in 1946.
An innovative new use of Duralumin came years later in 1979, when another Saint-Étienne manufacturer named Ateliers de la Rive – known for its steel bicycle tubing since 1931 – released the venerable "Vitus 979" frameset, a "Duralinox" model that became an instant classic. The Vitus 979 was the first production aluminum frameset whose thin-wall 5083/5086 tubing was slip-fit and then glued together using a dry heat-activated epoxy. The result was an extremely lightweight yet fairly durable frameset.
Ateliers de la Rive designed and produced the 979 Duralinox tube sets, forks, head tubes and rear triangle stays. Angenieux-CLB produced the cast alloy internal slip-fit lugs, bottom bracket, fork crown, drop-outs and rear brake bridges. Production of the Vitus 979 continued until 1992. Much more information on the Vitus 979 is available at Peter Kohler's excellent "On the Drops" website here.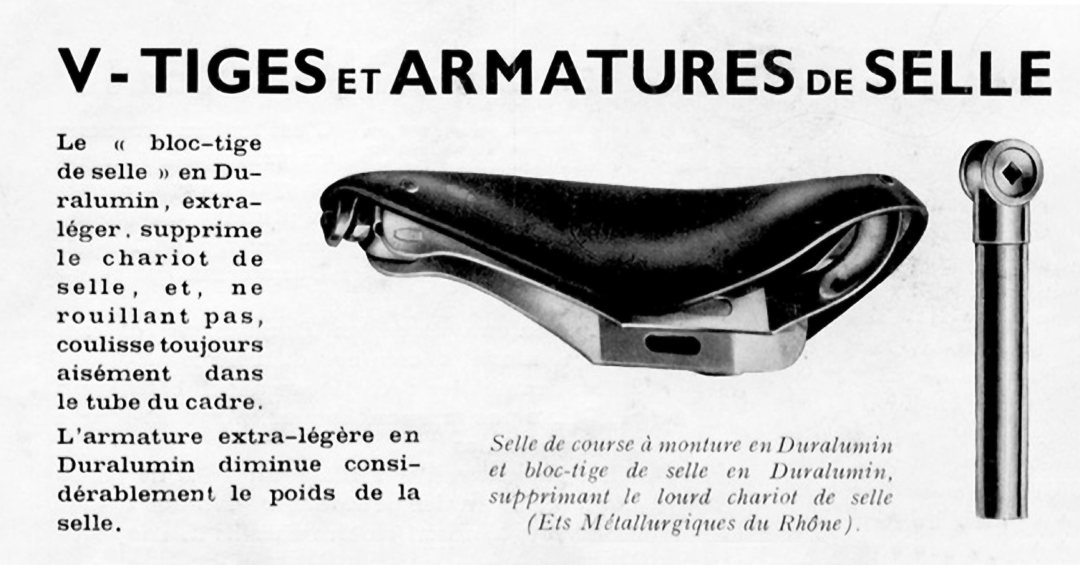 Adding copper to an aluminum alloy introduces tradeoffs. While improving its strength considerably, copper also introduces significant corrosion and reliability considerations since the resulting alloy will oxidize more quickly than a purer alloy as it reacts to the environment electrochemically. This is mostly why Duralumin as we know and still love it is no longer used when making bicycle components or framesets: stuff made with it tends to break over time.
Perhaps this helps explain why those fancy Idéale saddles with their Duralumin chassis fetch such high prices among collectors – there are fewer and fewer of them available! Thankfully, the same cannot be said of their steel chassis brethren, which are now produced again in lovely Toulouse, France by Frédéric Ducès and Katia Daydé.
Corrosion and materials engineers know a thing or two about all of this. They use high-performance coatings and other techniques to minimize the oxidative effects of time. Specific to cycling, companies like Reynolds Technology have developed modern, seamless steel (yes, steel) tubes like Reynolds 853 that allow builders to air harden their joints while still using high-temperature techniques like TIG welding or certain types of brazing. And so the bicycle building materials pendulum swings again.
More information on Duralumin is available from the wonderful Department of Seine Saint Denis website and elsewhere online. More information on the various modern and historical steel alloys used to build bicycles is available on the excellent gravelcycling website and elsewhere online.