Like so many other useful things at that time and place, cycling apparel was difficult to obtain after World War One in Europe. The continent had been thoroughly ravished by a half-decade of brutal conflict and matters of sport went largely unaddressed by everyone except for their most ardent supporters.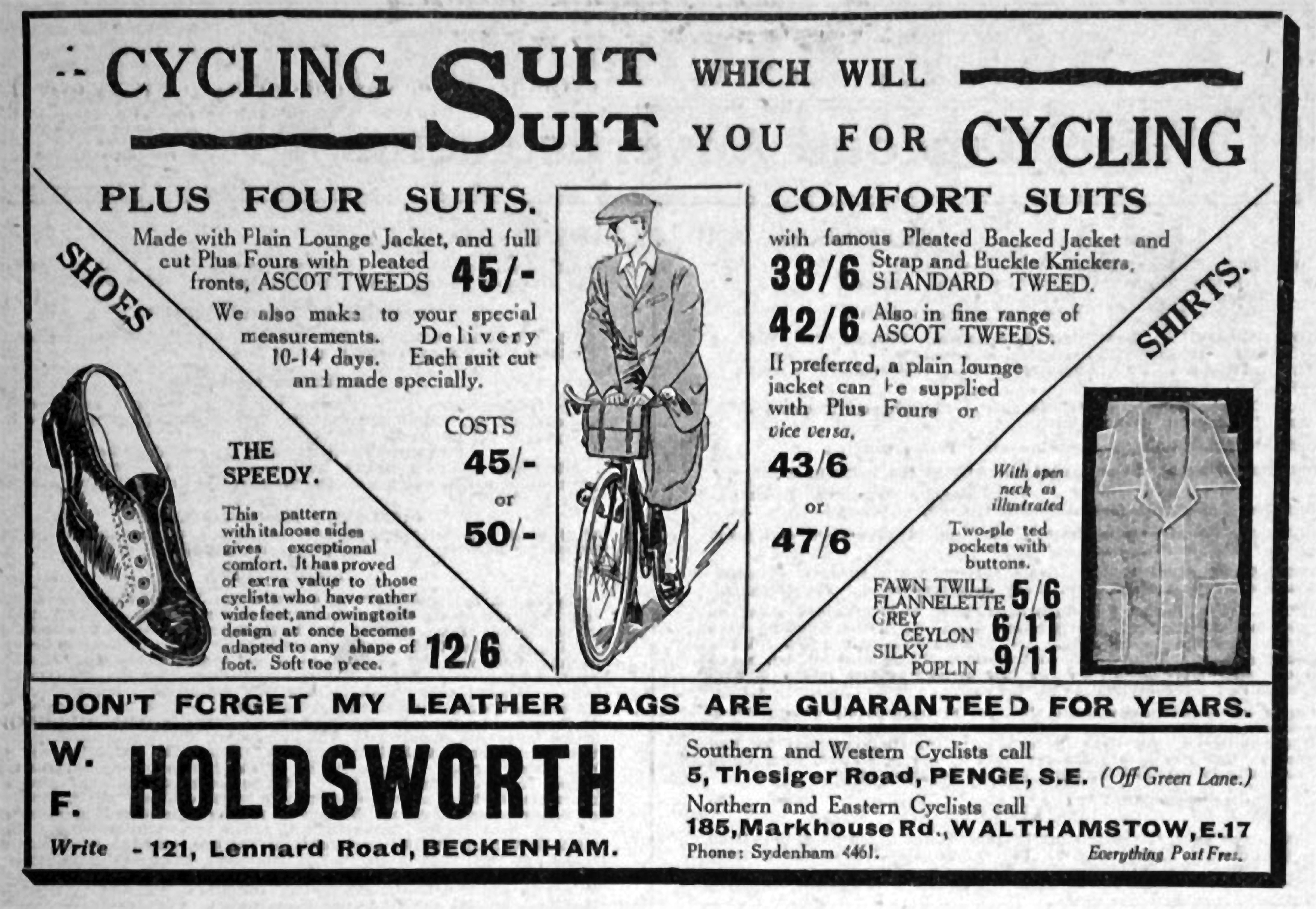 Margaret Holdsworth, longtime British postal service employee with a family history in textiles, was one such supportive soul. Holdsworth began selling shorts, plus fours and skirts that were met with growing demand for cycling apparel. Perhaps she was reminded of Susan B. Anthony's famous 1896 quote about bicycling:
"Let me tell you what I think of bicycling. I think it has done more to emancipate women than anything else in the world. I stand and rejoice every time I see a woman ride by on a wheel. It gives woman a feeling of freedom and self-reliance."
After the war, riders craved their still-familiar comforts like bicycling while also seeking to distance themselves from the viciousness of 1914-1918. Four years into her venture, "Mrs. H" issued the Holdsworth company's inaugural catalog, "Aids to Happy Cycling," right from her home in Kent.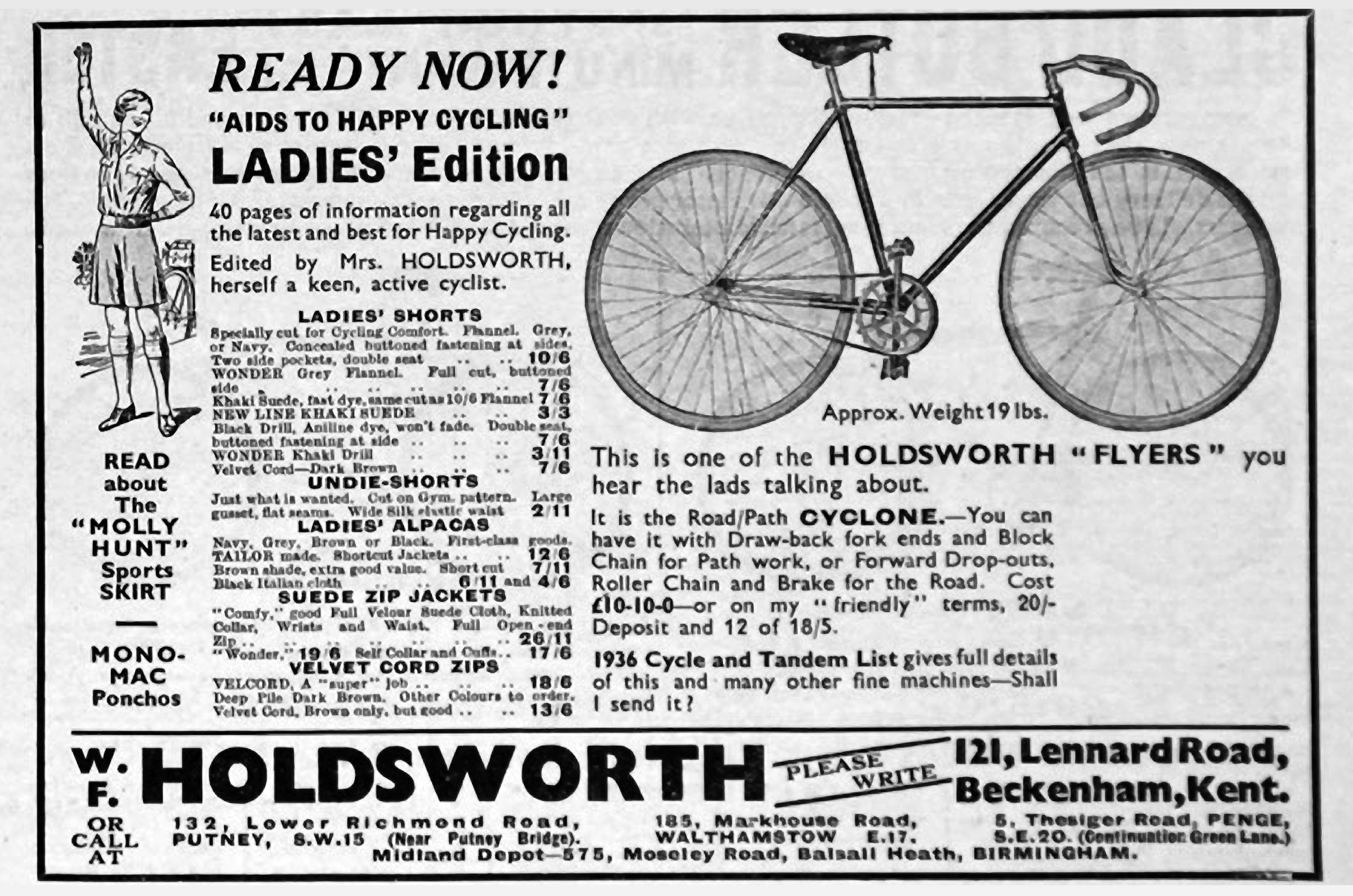 Definitive Holdsworth historian Norman Kilgariff recounts how the then-free distribution extended beyond cycling apparel into componentry. The 1930 edition shows a small selection of tires, brakes and pedals accompanying the more traditional company offerings of clothing, saddlebags and camping items. These items were available for purchase at four different locations in the London metropolitan area.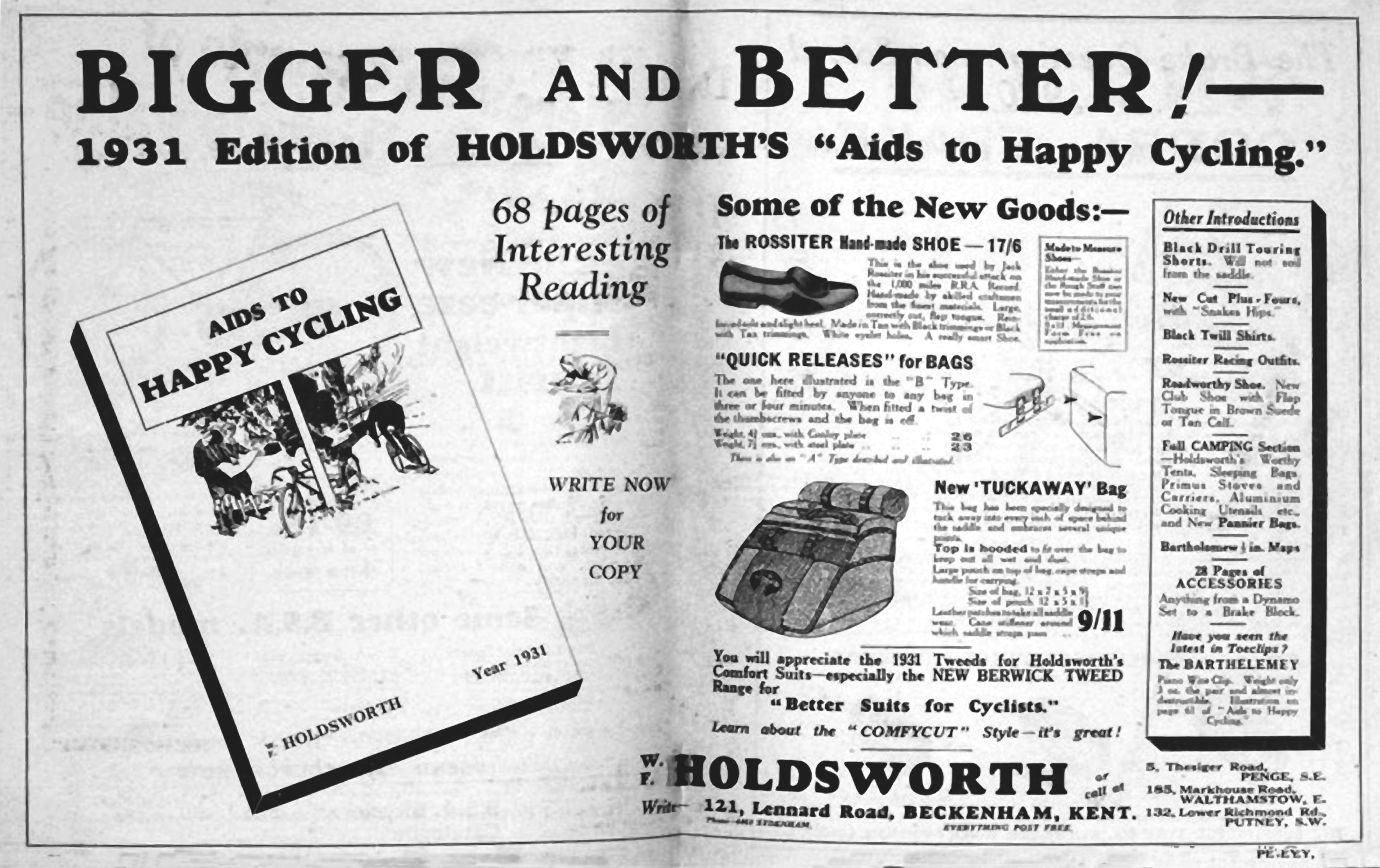 Popular telling of the Holdsworth story picks up around 1927 when William Frank "Sandy" Holdsworth — husband of Margaret — assumes ownership of a bicycle shop in London, named Ashlone Cycle Works. Sandy initially continued working at his life insurance firm during the day and appointed his wife's brother, Owen Bryars, as manager of the shop.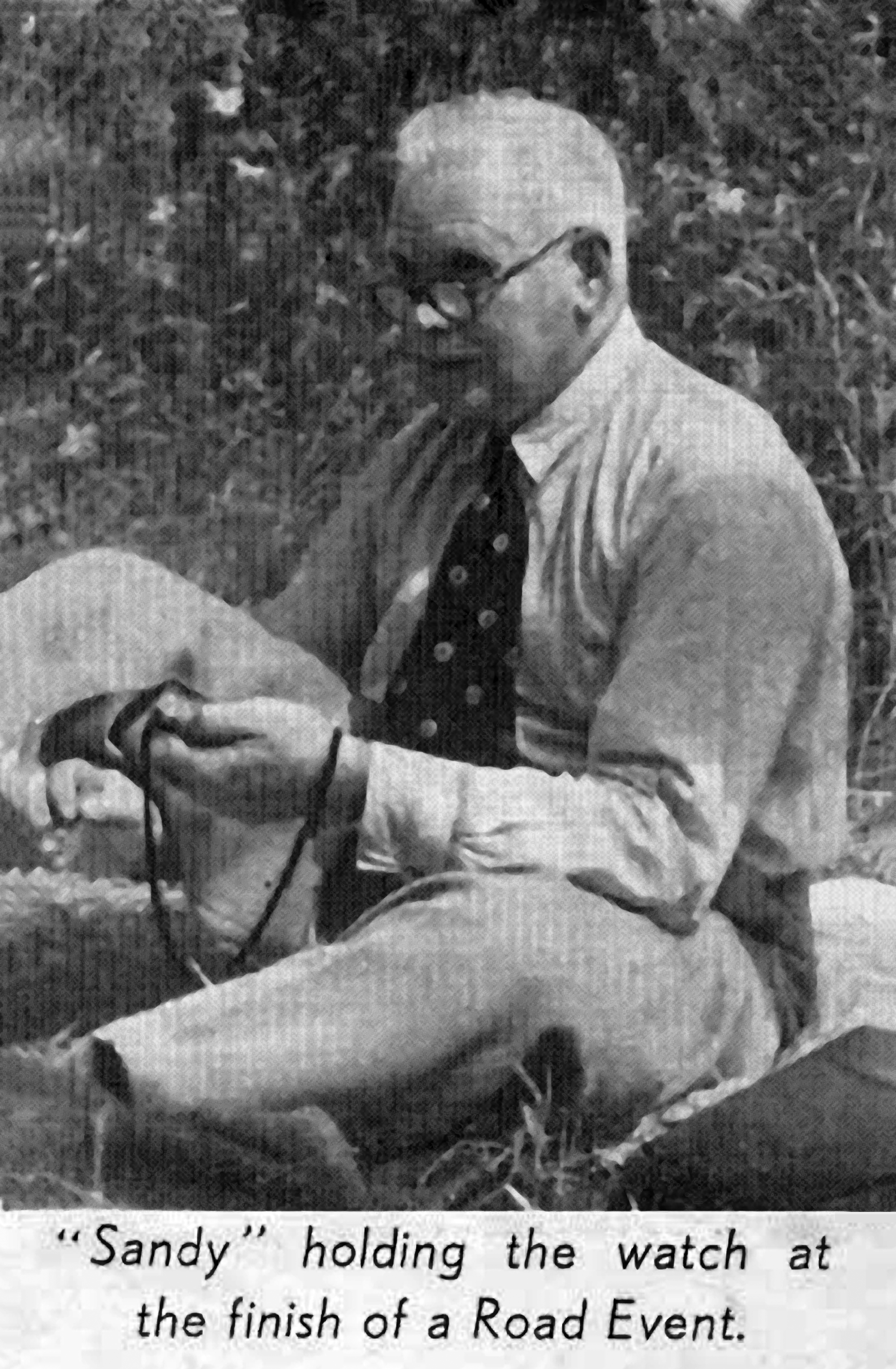 Some few years into this expanded venture the company grew its offerings to include house-made and branded bicycle frames. The shop mechanic, Jack Capeling, made the first Holdsworth frames around the end of the 1920s in a shed behind the shop building.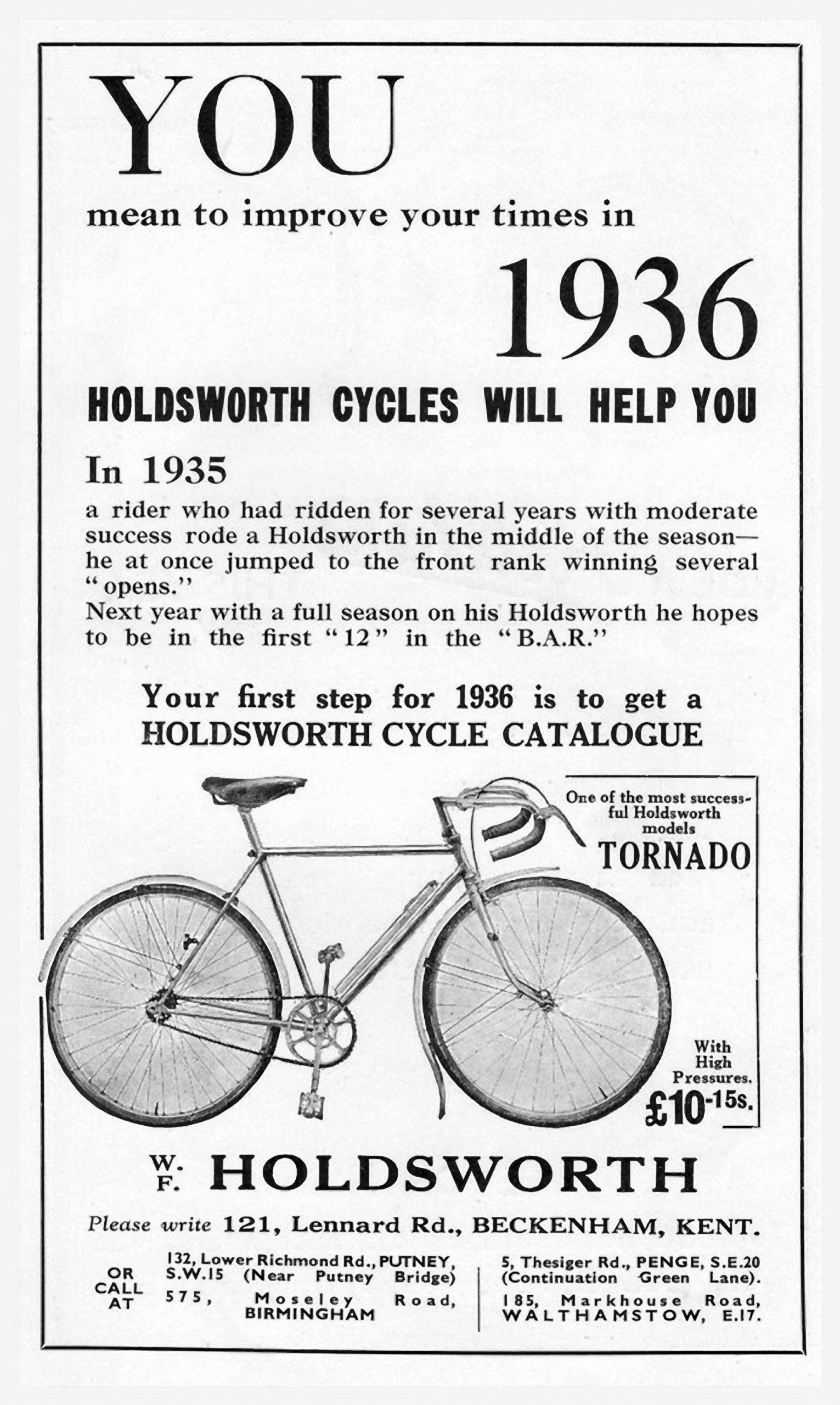 Constructed using traditional coal and bellows methods, the frames were an instant hit among satisfied everyday riders. By 1934 the Holdsworth catalog included seven single and two tandem models. Aggressive names like Cyclone and Stelvio were introduced to the cycling lexicon, as were Hurricane, Tornado and Typhoon.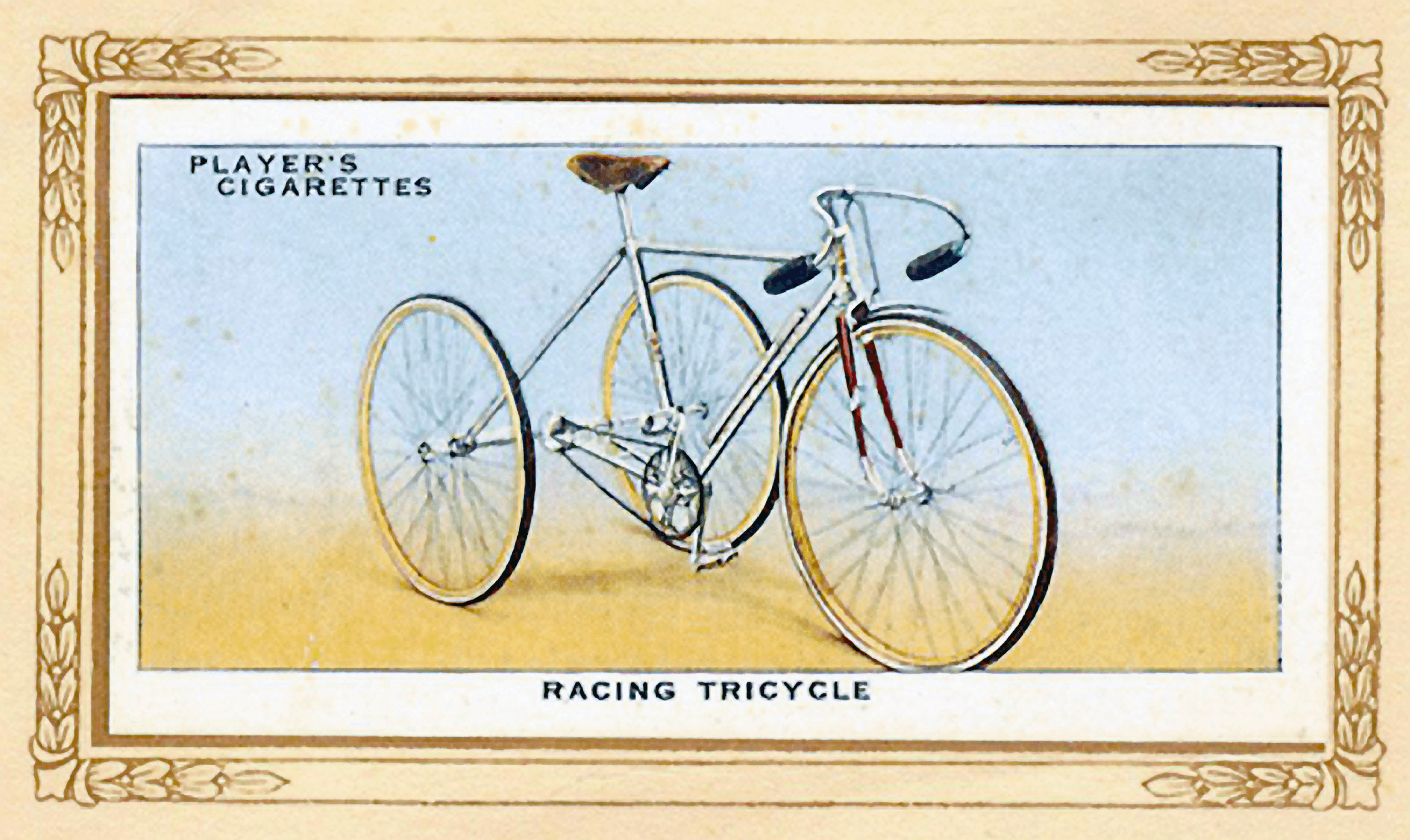 While club riders failed to connect with the brands' products, the masses kept buying them up. This populist momentum carried into World War Two, helped by a diversified product line and hard work at the factory.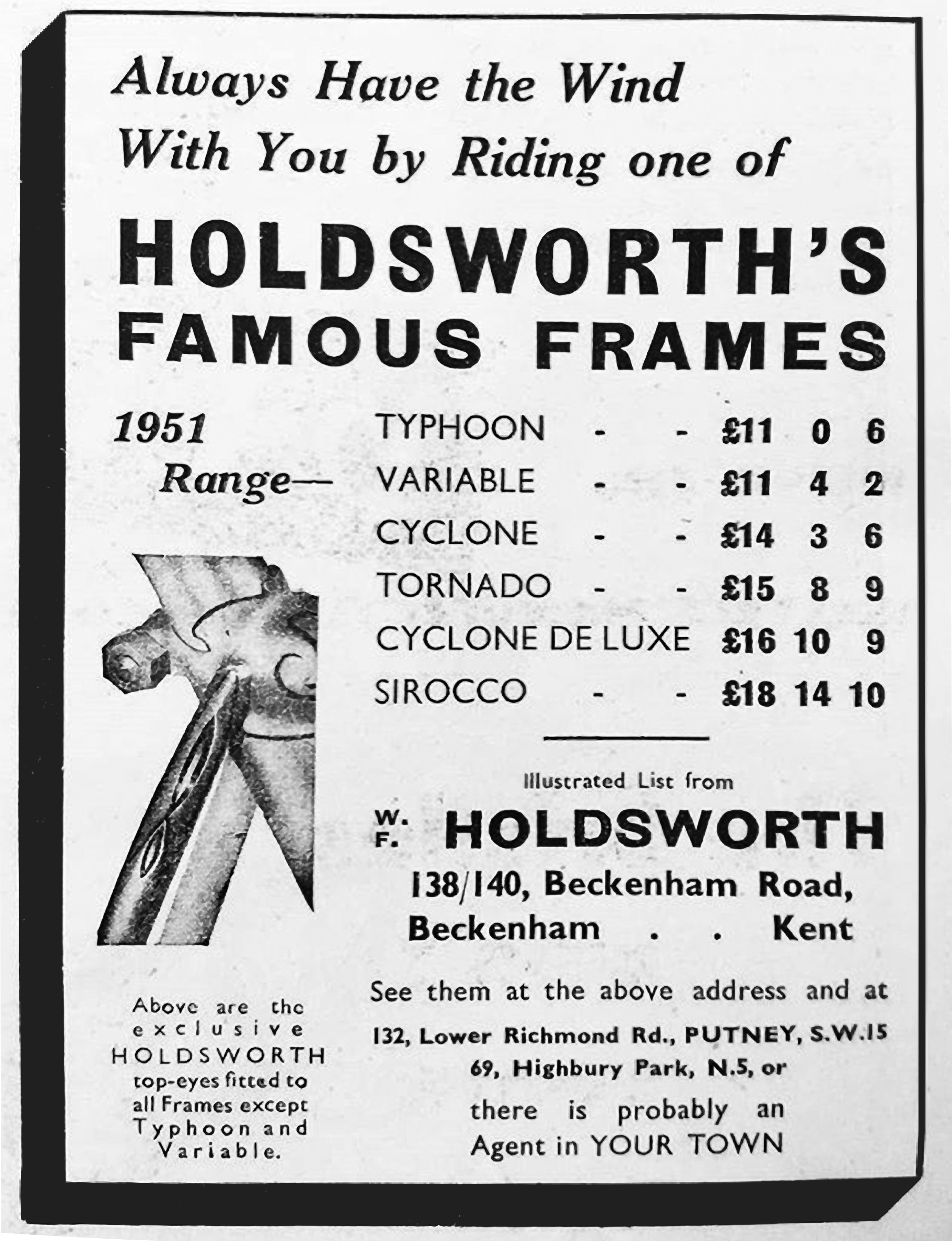 The post-War years were among Holdsworth's finest. Quality was high and sales brisk as competitive wage structures and gasoline rationing continued holding back the impending onslaught of fossil fueled alternatives. FH Grubb Ltd., one of Holdsworth's closest competitors, shut down operations in 1951. Holdsworth quickly absorbed the marque and its assets, reissuing its bikes as newly-branded Freddie Grub models until 1978.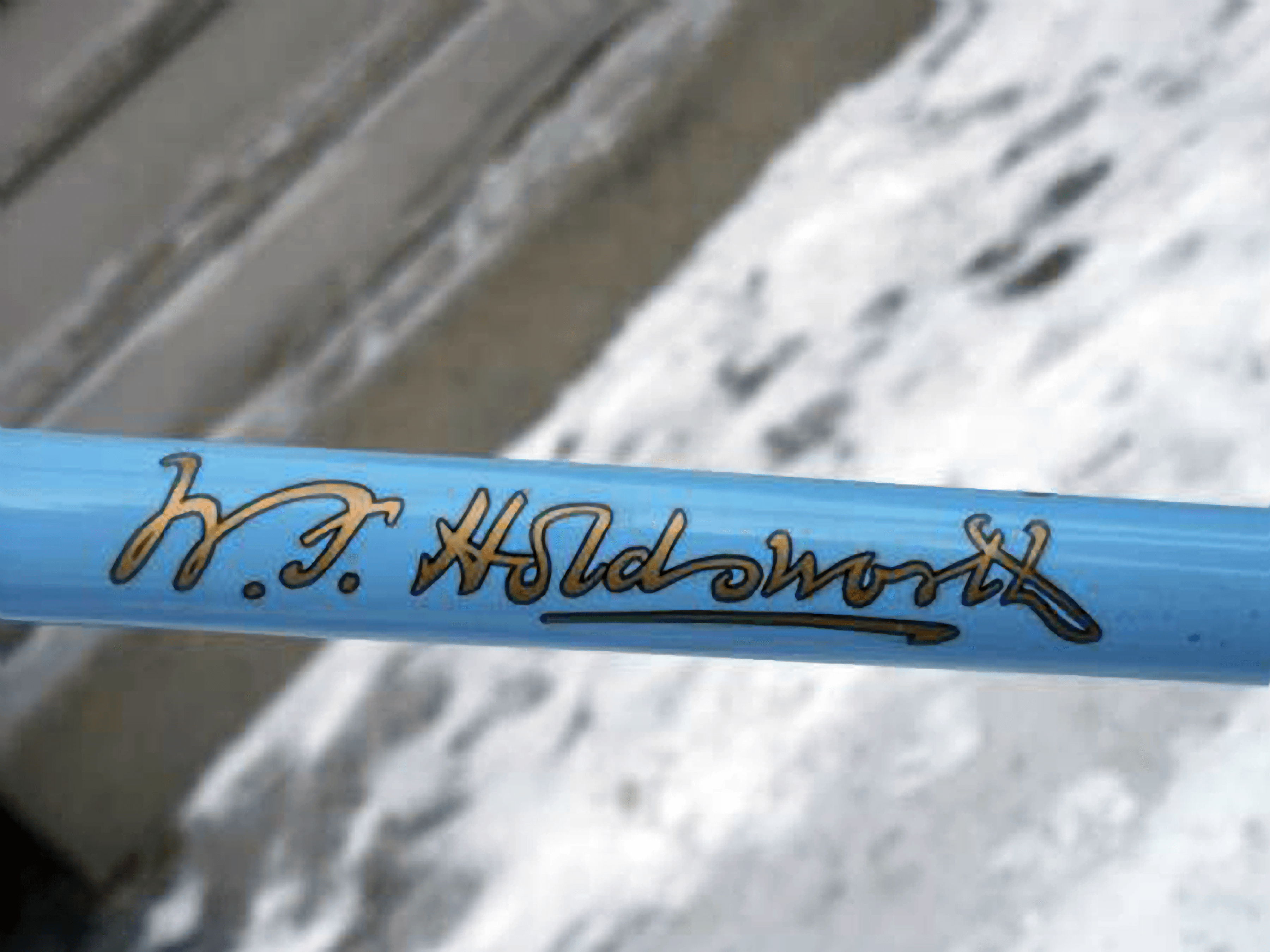 Claud Butler, another of Holdsworth's closest competitors, shut down in 1956 and was sold the following year at auction. One year later, Holdsworth purchased three Claud Butler trademarks of significance. These helped feed an otherwise lean company while persevering through another period of energy-induced national economic crisis.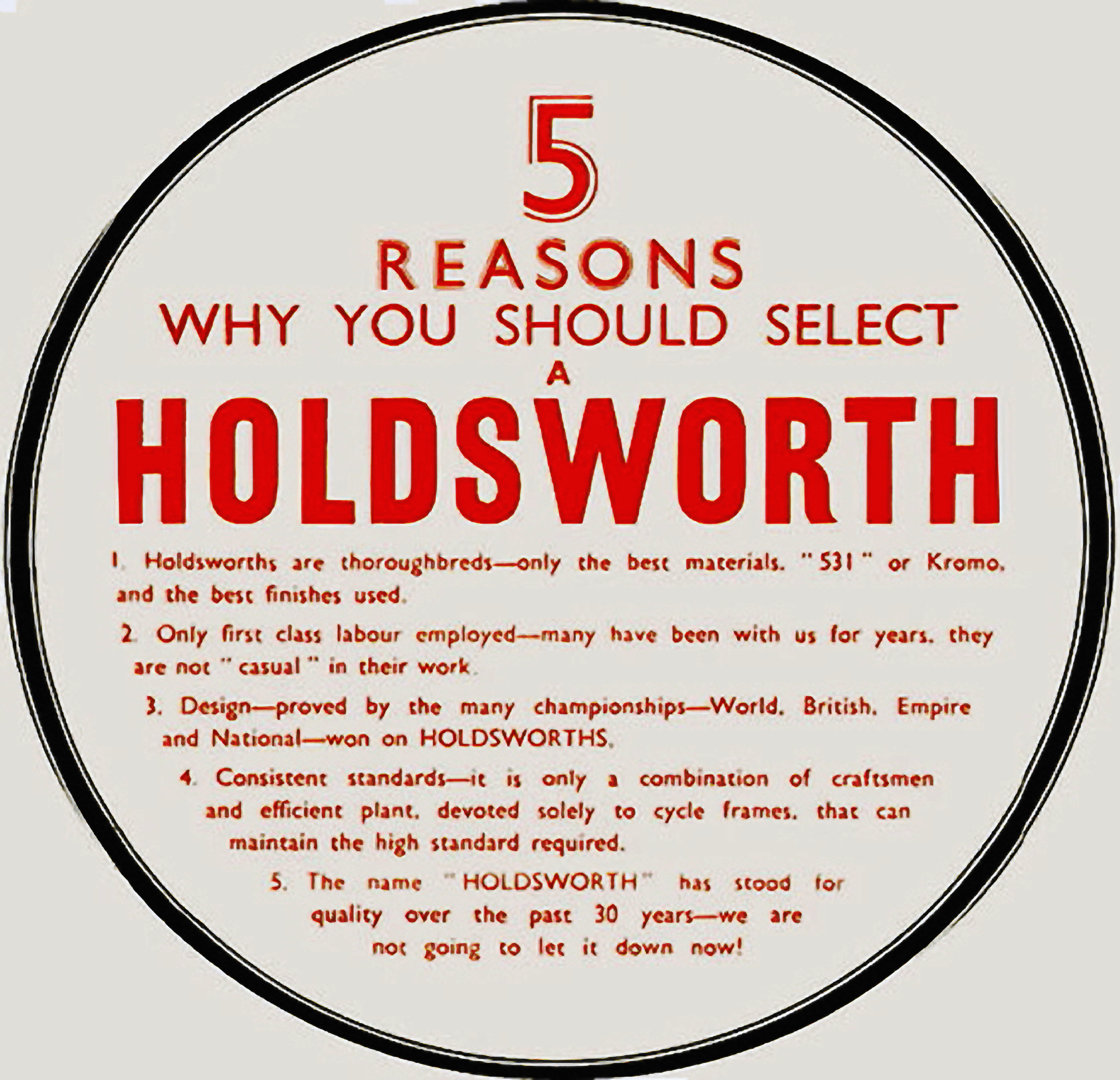 The passing of Sandy Holdsworth in 1961 and Margaret in 1964 brought changes to the company. Among the more noteworthy was signing several professional riders to a Holdsworth cycling team over the next few seasons.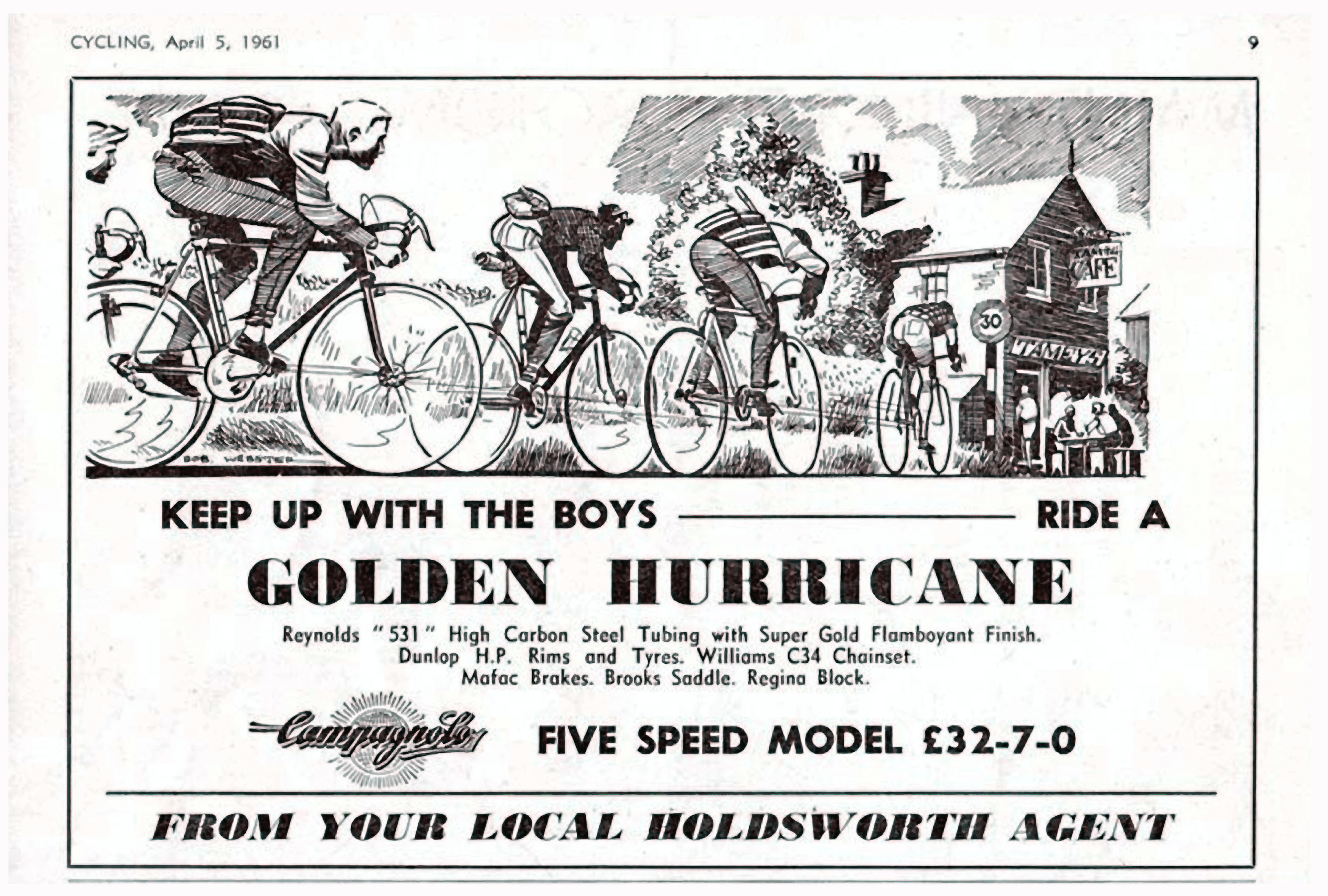 By 1969 the prestigious Holdsworth-Campagnolo team had formed and the brands' association was fully leveraged to move product. The 1970s ushered in refound emphasis on racing bicycles. For Holdsworth this dovetailed nicely with a bike boom early that same decade in the United States, already a popular export destination for the company's bicycles.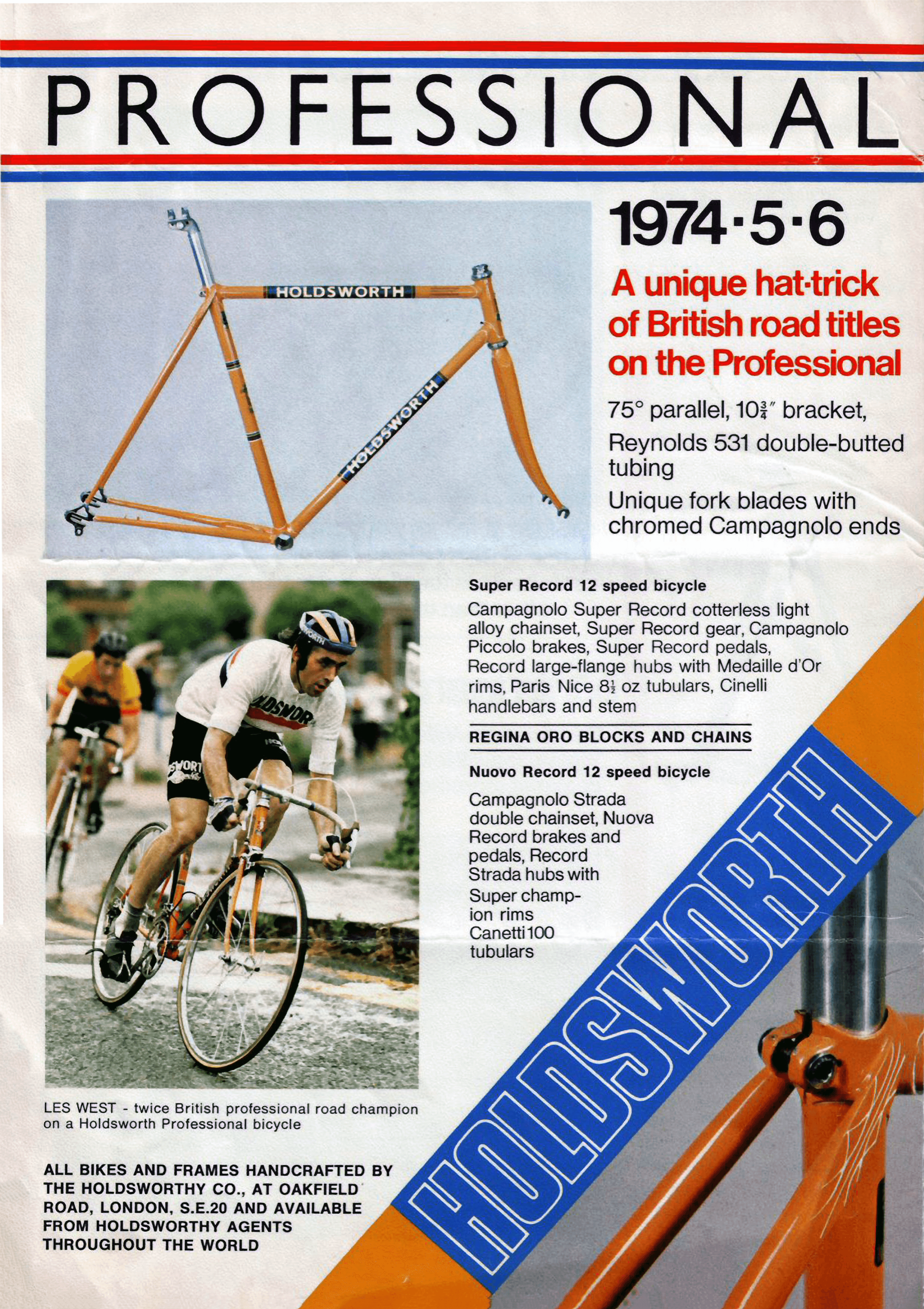 While U.S. bike enthusiasts celebrated the bicentennial anniversary of their country's revolt against British colonial rule, their industrious forebears at Holdsworth were fast at work producing a rounded line of quality two-wheeled product.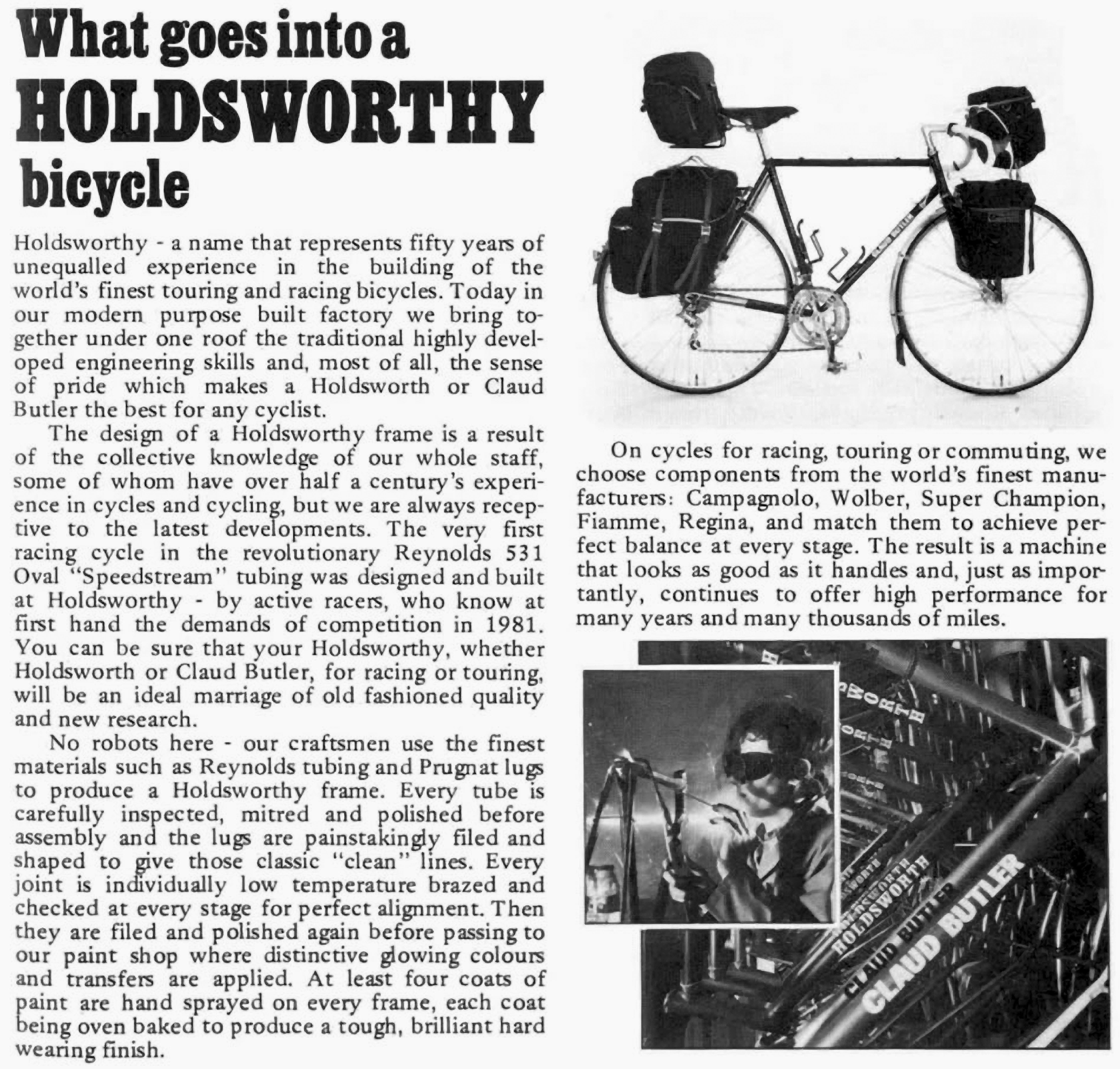 And just like that, it was over. What took half a century to build was liquidated without fanfare in 1975. Attempts at rekindling the brand gyrated through several progressions, further fragmenting the name and diffusing its relevance to the marketplace.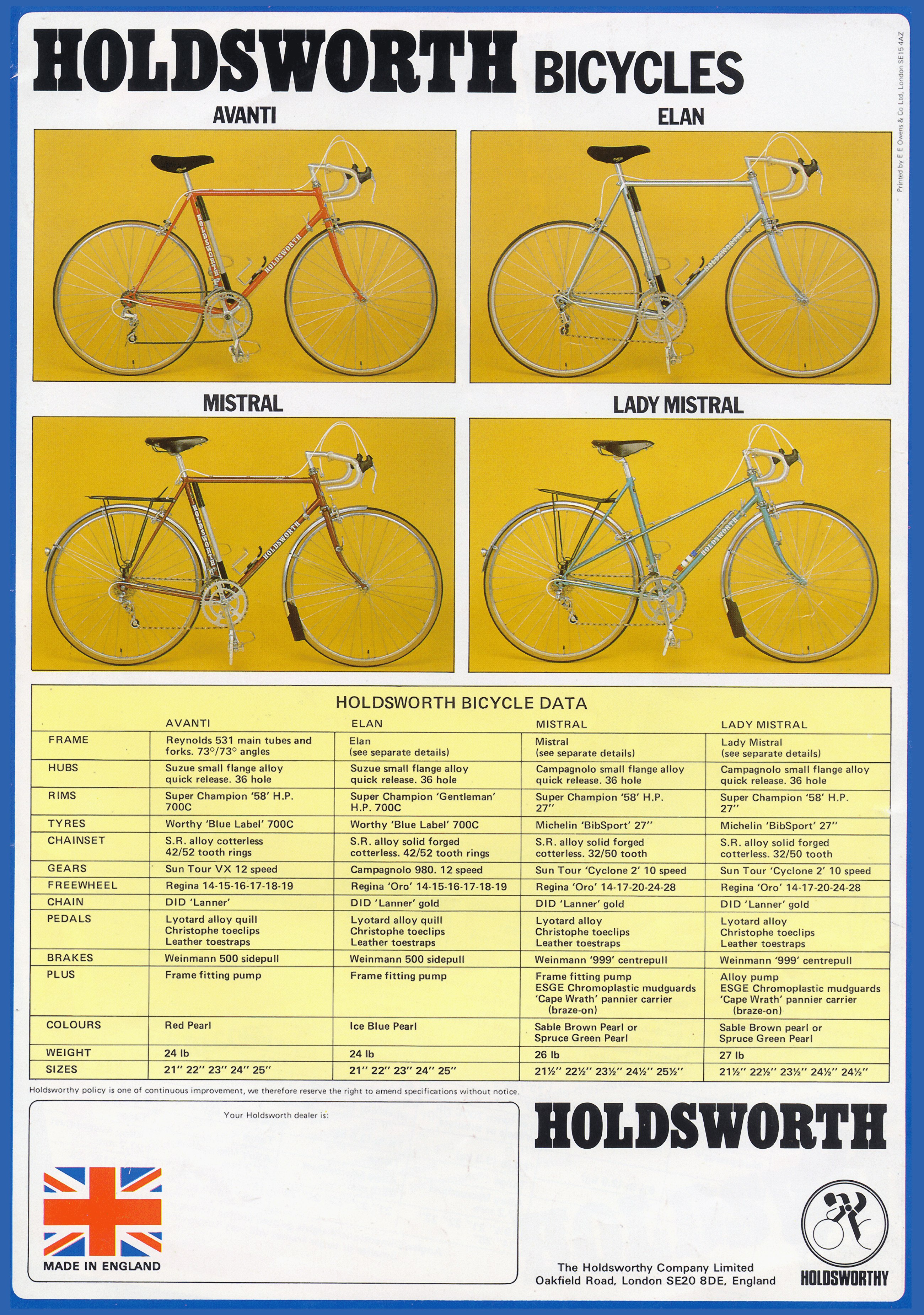 Bicycles branded with the Holdsworth marque continued being sold into the 1990s. Claud Butler bicycles remain available today. Neither maintain much connection to the individuals who can be credited with building their reputations, save posthumously providing spark to some otherwise paceline marketing copy:
"One of the best names in British bikes for well over 50 years. The Claud Butler range has been consistently in the forefront of cycle design and development utilising the best components from around the world and the expertise that long experience brings."
Note the sales material's emphasis on the company's innovative roots. If only they took this heritage to heart and treated the marketplace with its results. Margaret, Sandy and their contemporaries practically left the road map. Sometimes a tiny look backward is all it takes to make a giant step forward.
Special Thanks:
Holdsworth Ebykr References:
http://en.wikipedia.org/wiki/FH_Grubb
http://www.classiclightweights.co.uk/claudbutler.html
http://www.yellowjersey.org/hwfact.html
http://bulgier.net/pics/bike/Catalogs/Holdsworth-76/
http://en.wikipedia.org/wiki/Holdsworth
Other Holdsworth References:
http://www.classicrendezvous.com/British_isles/Holdsworth.htm