Roger Hugonnier and Jo Routens together made some of the finest (and winningest) touring, randonneuring and sportif bicycles of the mid-twentieth century. The era was one full of transitions – some moving away from World War II and others moving toward the baby boom – and change was palpable everywhere from Grenoble, France to points well beyond. Freedom and mobility had been restored, and now was the time to put them to good use again.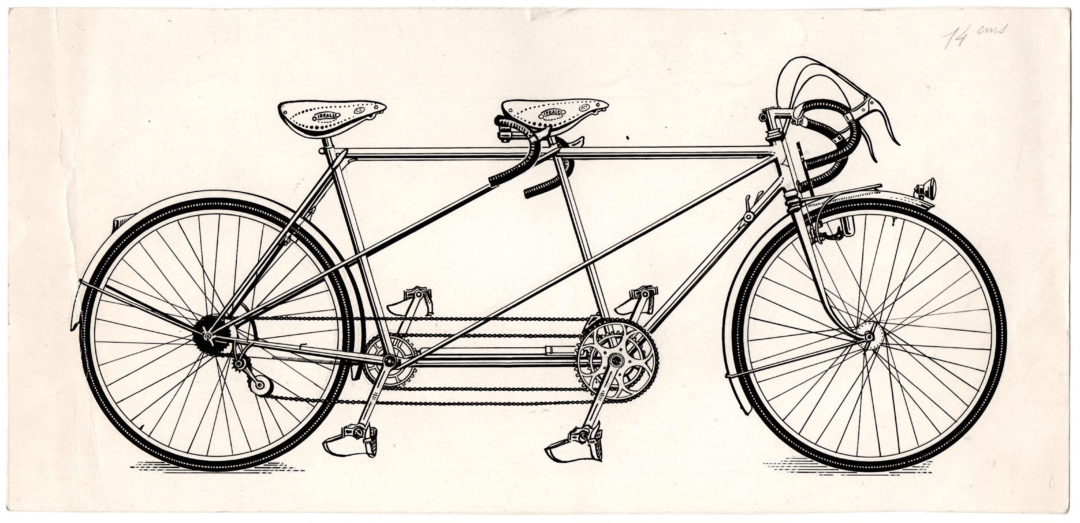 As was popular practice back then, Hugonnier and Routens captured still photographs of their finest bicycle models for the purpose of having illustrations made of these photographs for use in company advertisements and catalogs. Their late 1940s such photographs featured a range of bicycles that included mixte and tandem models alongside more familiar randonneur and sportif models. Each bicycle was special in its own way, appealing to a unique and by now well-established segment of the cycling market.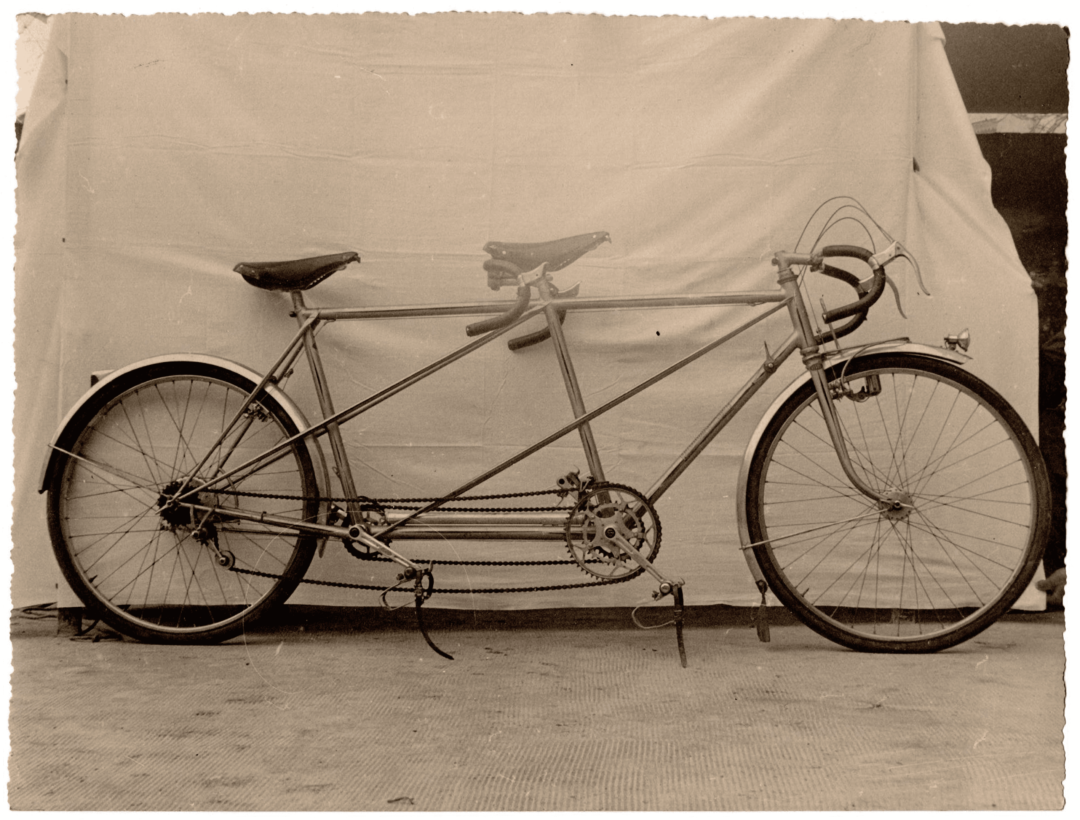 The compositions themselves were rather hastily arranged creations that were only adequately developed in the darkroom. While serving their purpose suitably enough, they did so with little extra in the way of artistry or presentation. Each bicycle was photographed against a creased, white cloth backdrop that nearly touched the floor below. Given the crudely designed arrangement, one might assume this was not the work of a professional set designer and photographer, but rather that of a simple bike builder and lover.
The five photographs sourced for the 1946-1948 Hugonnier Routens catalog illustrations were developed using sepia toning. Sepia toning imparted a soft brown tint on photographic prints by using a special chemical process during darkroom development. Originally derived from concentrated cuttlefish ink in the 1850s, its primary purposes were to prevent fading and extend a photograph's archival life. Sepia toning also imbued traditionally stark, black and white images with a more lifelike warmth and intensity that could transform austere, even harsh compositions into vibrant keepsakes.
Or into timeless illustrations of cherished bicycles, when paired with the hand of a skilled illustrator like Daniel Rebour. Indeed, it is curious that photography would be used when making illustrations, with the former seeming to displace the latter in many historical instances. That observed, it was not until the late 1940s that 35mm film became cheap enough for most consumers to use, so the visual media of illustration and photography were at peak historical overlap when these Hugonnier Routens photographs were captured and illustrations made.
Note the many differences between the original photographs and resulting illustrations. Some bicycle models have both front and rear racks in their photos, but only a front or rear rack in their illustrations. One of those models is also missing a rear taillight in its photo but has one drawn into its illustration. (If only it were so easy to reproduce a period taillight these days.) Other minor variations include details like saddle perforations and water bottles, or double versus triple chainrings. Before you succumb to finding these and other differences yourself, though, reader beware: one's eyes and mind are prone to wandering here!
To the unidentified illustrator's credit, the final drawings invariably look (and sell) better than the source photographs do. Perhaps Roger Hugonnier and Jo Routens were onto something with their photograph-cum-illustration approach to marketing bicycles, even as photography became more widely accessible as a visual medium. The deep historical tire tracks and enduring legacy of their weighty contributions would certainly seem to suggest as much. Sometimes paying homage to the past is the smartest route to the future.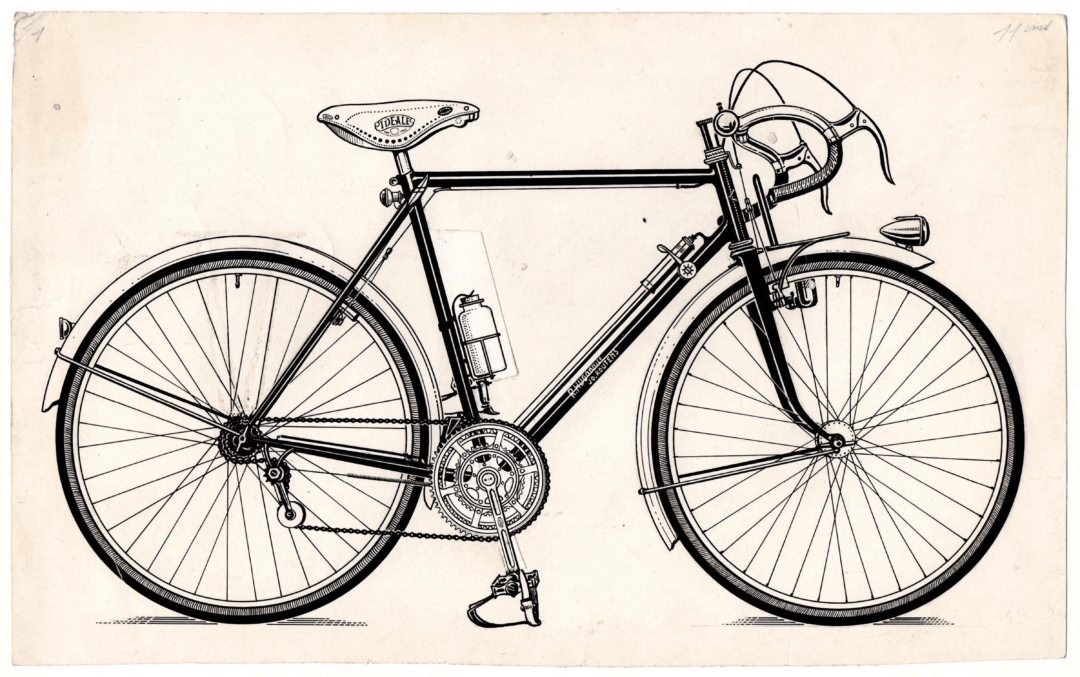 For more information on sepia toning (complete with entertaining theory on pasta photos), visit Sandy and Jack's web site at Heritage Photo Restoration.
Special thanks to Jean Paul Routens for everything he has done for cycling – both on and off the bike – and for his willingness to share some very special Routens family artifacts with us.
Thanks, too, for Jean Paul's rich Vintage Bicycle web site that chronicles many of these artifacts and presents them for all to enjoy.