Every now and then, we are reminded of something long forgotten that remains so special it needs to be remembered again. Like the deeply meaningful reasons behind national holidays or their religious counterparts, these things tend to be timeless in nature and transcendent in meaning. They usually come in the form of an obvious offering or observance while also reflecting a wider-spread understanding or belief within the collective conscious.
Our little corner of cycling has a few obvious (and not-so-obvious) examples of these things: Rene Herse vs. Jo Routens vs. Alex Singer craftsmanship, Maxi-Car's (and Harden's) distinctive hubs, Coventry and Saint-Étienne, Daniel Rebour's technical illustrations, Brooks and Idéale saddles, California Masi, Lefol fender patterns, 650B vs. 700c wheel sizes, Hetchin's fabulous lugwork and BridgestoneUSA under Grant Petersen. (Especially that last one for many of us).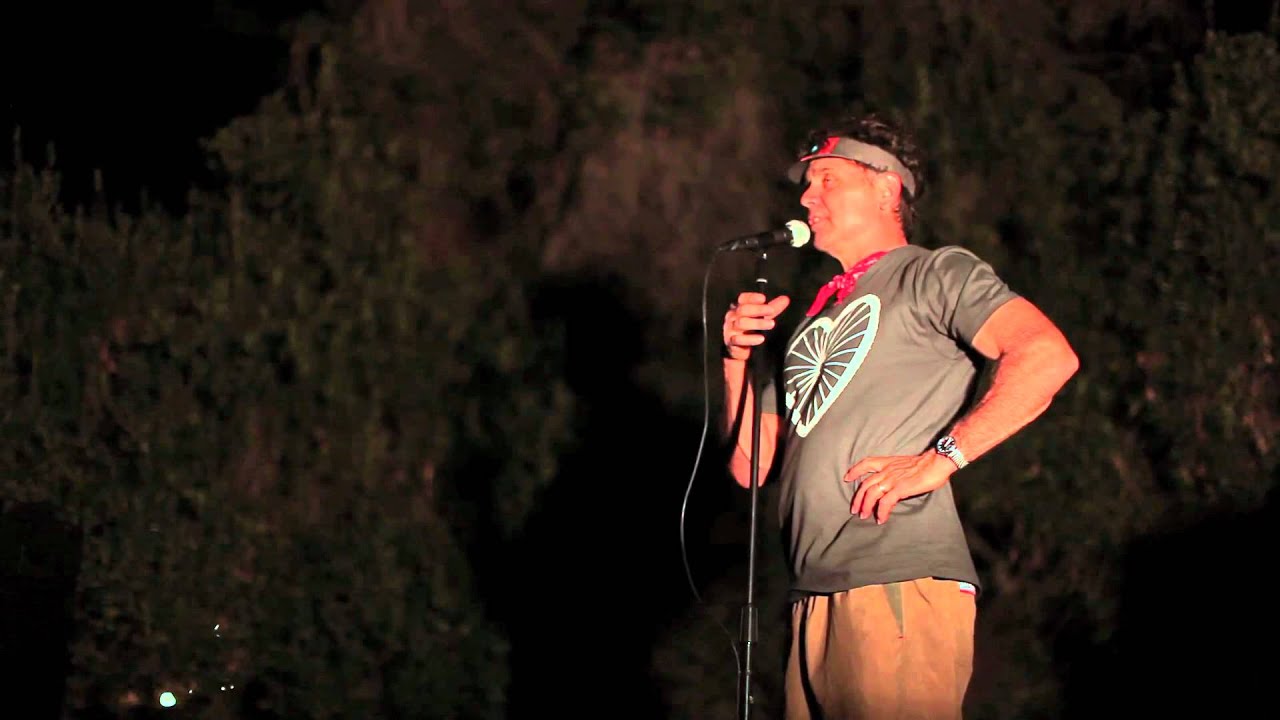 The multifaceted hold these things have on our brains (and wallets) is the stuff marketer's dreams are made of. It only gets established after providing real value to a significant segment of the market over a sustained period of time. Think about the timeless appeal of Petersen's Bridgestone XO-1, for example, with its mango-flavored presentation, mustachioed facial features and superb build elements. Indelible, segment-spawning stuff to those in the know.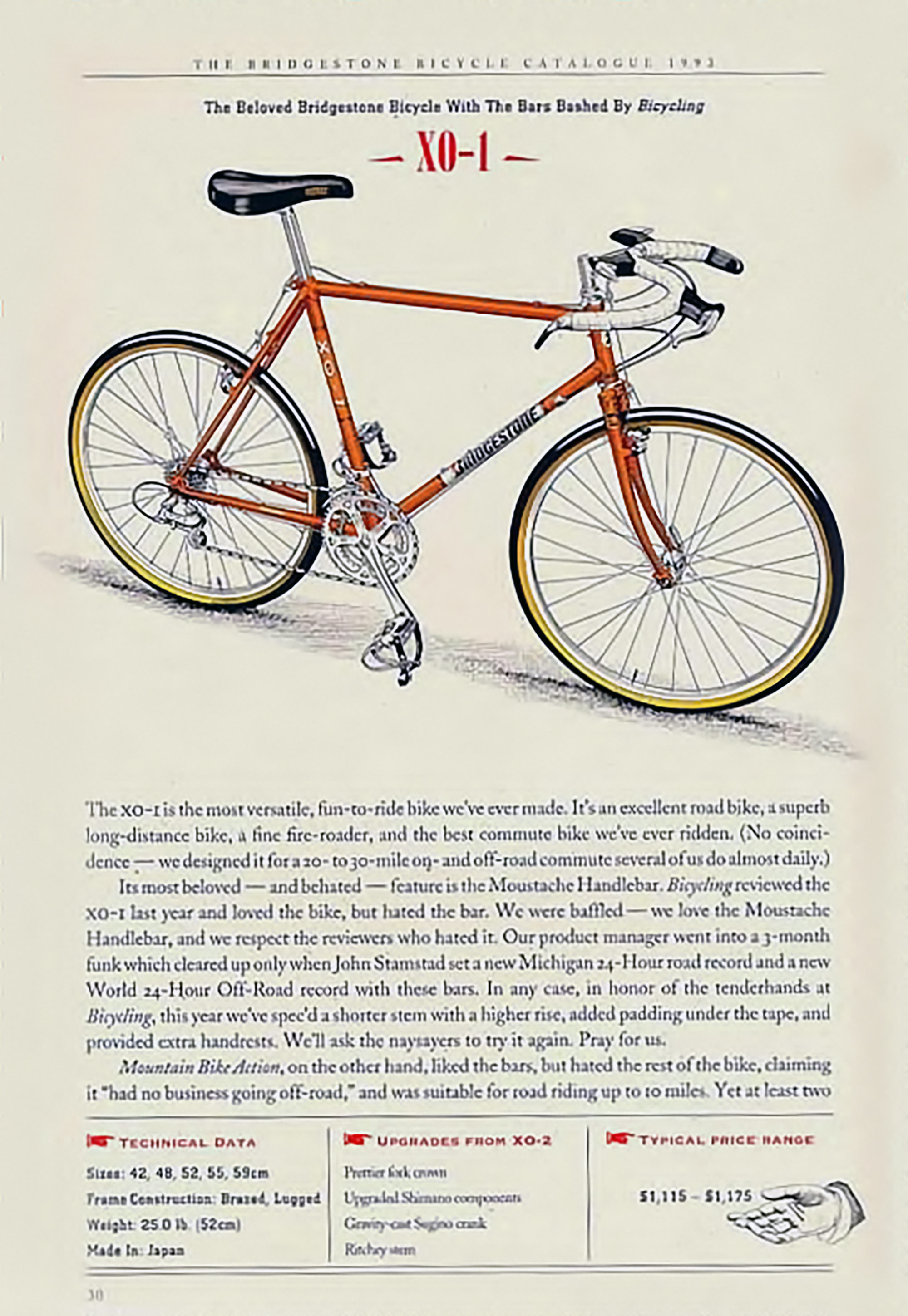 That's why it remains so surprising that Bridgestone Japan's "Eurasia" system of bikes and cycling accessories never made it stateside, let alone grew to the prominence these other things attained. Before pondering the subject of why the system never took off, though, it may help to first remind ourselves of what the system was – both in concept and execution. Spoiler alert: Way-cool collection of nice bikes and interchangeable parts coming up!
"System parts play an active role. Ideal model depends on the purpose."
The year was 1976 and many cyclists had by now divided themselves into various tribes or market segments, depending on which side of the cash register you fell on. Then as now (at least with road bikes), the most popular segment included sportif-style models, essentially stripped down race bikes with a few extras for comfort, durability and/or extensibility. They were/are relatively inexpensive to produce and procure, and help cyclists of all ages and levels of experience get from place to place and remain physically fit. They also look like the bikes used in the Tour de France and Olympic Games.
What more could your average cyclist ask for? Well, how about a rounded line-up of cyclosportif, randonneur and cyclotouring models made to roam about the earth, for starters. Maybe add an integrated library of 90+ accessories to extend your bike's range anywhere the compass points. Sounds nicely liberating, yes? That's what Bridgestone Japan's Eurasia system was all about. Fill your vacuum bottle, buckle your panniers, test your flashlight, reset the odometer, cinch your toe straps and let's roll, Eurasia-system-style. Getting ready should be easy — every one of those things is part of the Eurasia system!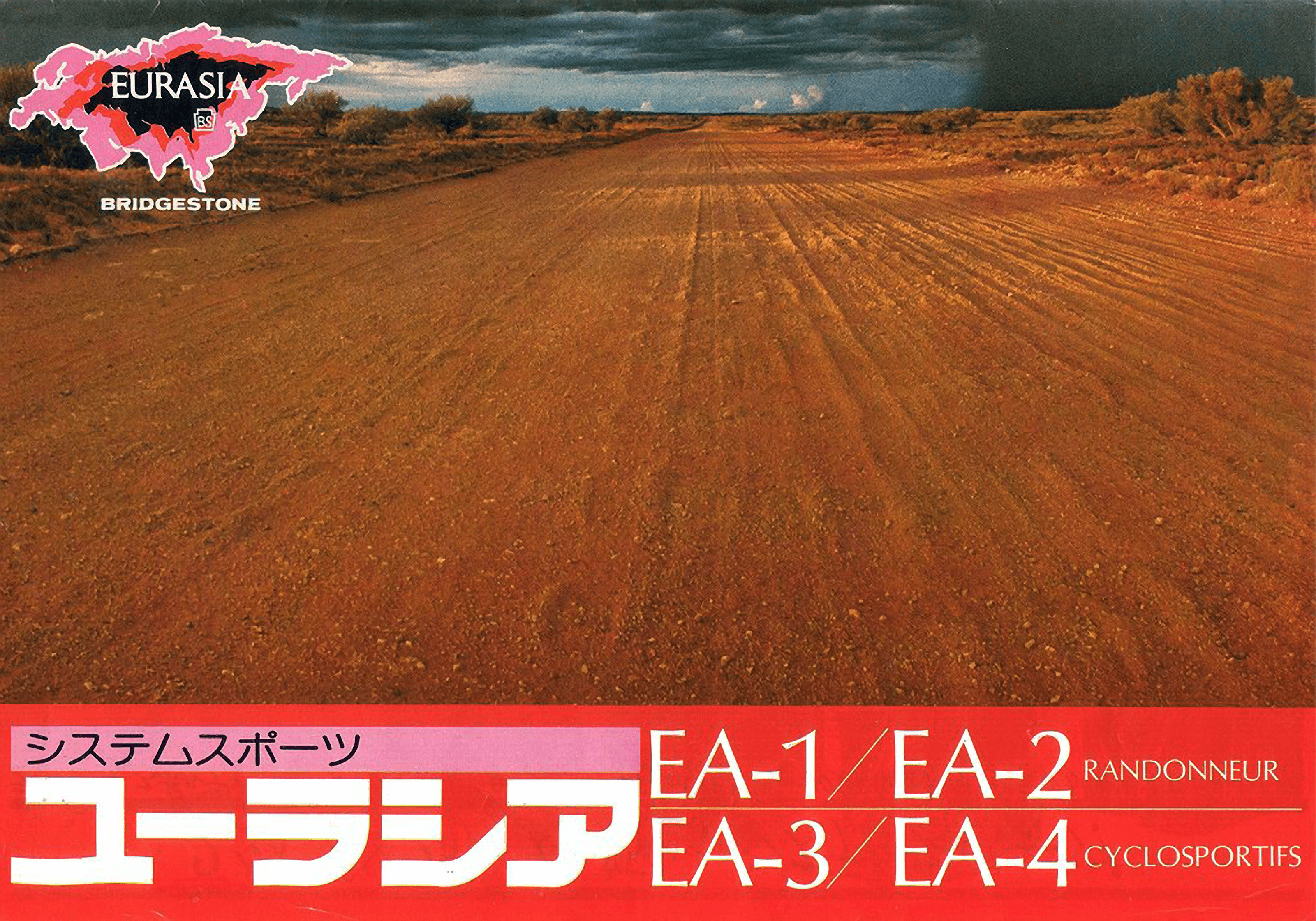 The 1976 Bridgestone Eurasia catalog suggests customers should choose a bicycle of their preferred purpose and size, and personalize it by utilizing system accessories. Makes sense. Bikes serve a variety of purposes and few bike makers address the full range of purposes they serve. To its credit, Bridgestone sought to do just that by designing, manufacturing, marketing and distributing a highly-matrixed system of bikes and bike accessories.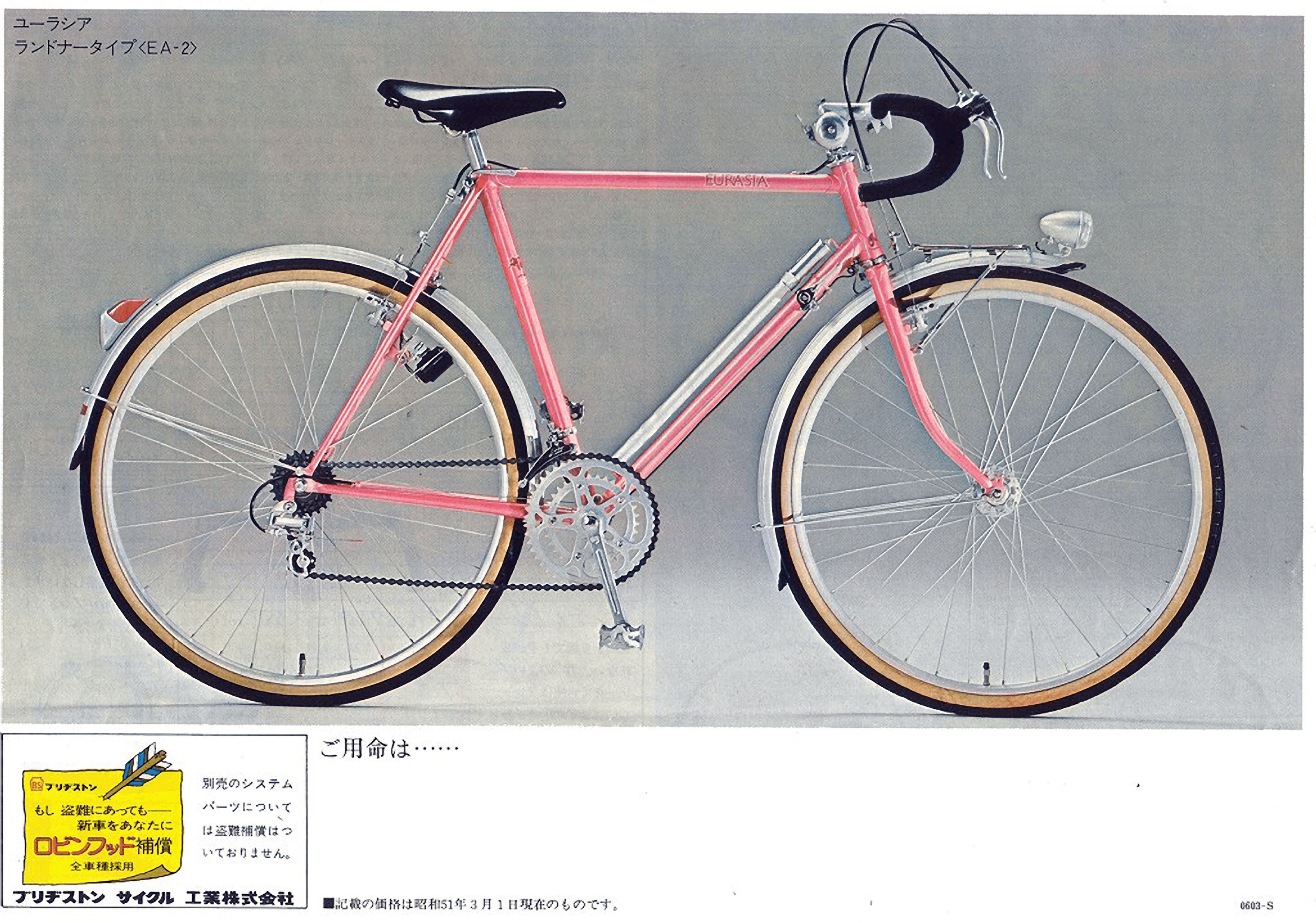 Intuition tells us that good bike systems start with good bikes. The first Eurasia models were introduced in 1976 – the 26 x 1 1/2″ EA-1 and EA-2 randonneur models, and the 27 x 1 1/4″ EA-3 and EA-4 cyclosportif models. These four models would be our first indication that the Eurasia system really stands apart. Each had front triangles made of plain gauge cromoly steel tubing, drop-in rear dropouts and top aluminum alloy components. The EA-1 and EA-2 cockpit featured randonneur-style handlebars that flared out at the bottom and a drivetrain with 43T/34T Sugino five arm Super-Maxy cranks mated to 15T/17T/19T/21T/24T Suntour Perfect 5 speed freewheels.
The EA-3 and EA-4 cockpit featured racing-style handlebars with ordinary drops and a drivetrain with 50T/42T Sugino five arm Super-Maxy cranks mated to the same 15T/17T/19T/21T/24T Suntour Perfect 5 speed freewheels. They were all finished in soft enamel colors and included fenders, front rack, pump and bell. The EA-1 and EA-2 rando models extended things with 6V dynamos that powered 6.5W front and .5W rear lights, and strong cantilever brakes instead of traditional centerpulls like those spec'd on the EA-3 and EA-4 cyclosportif models.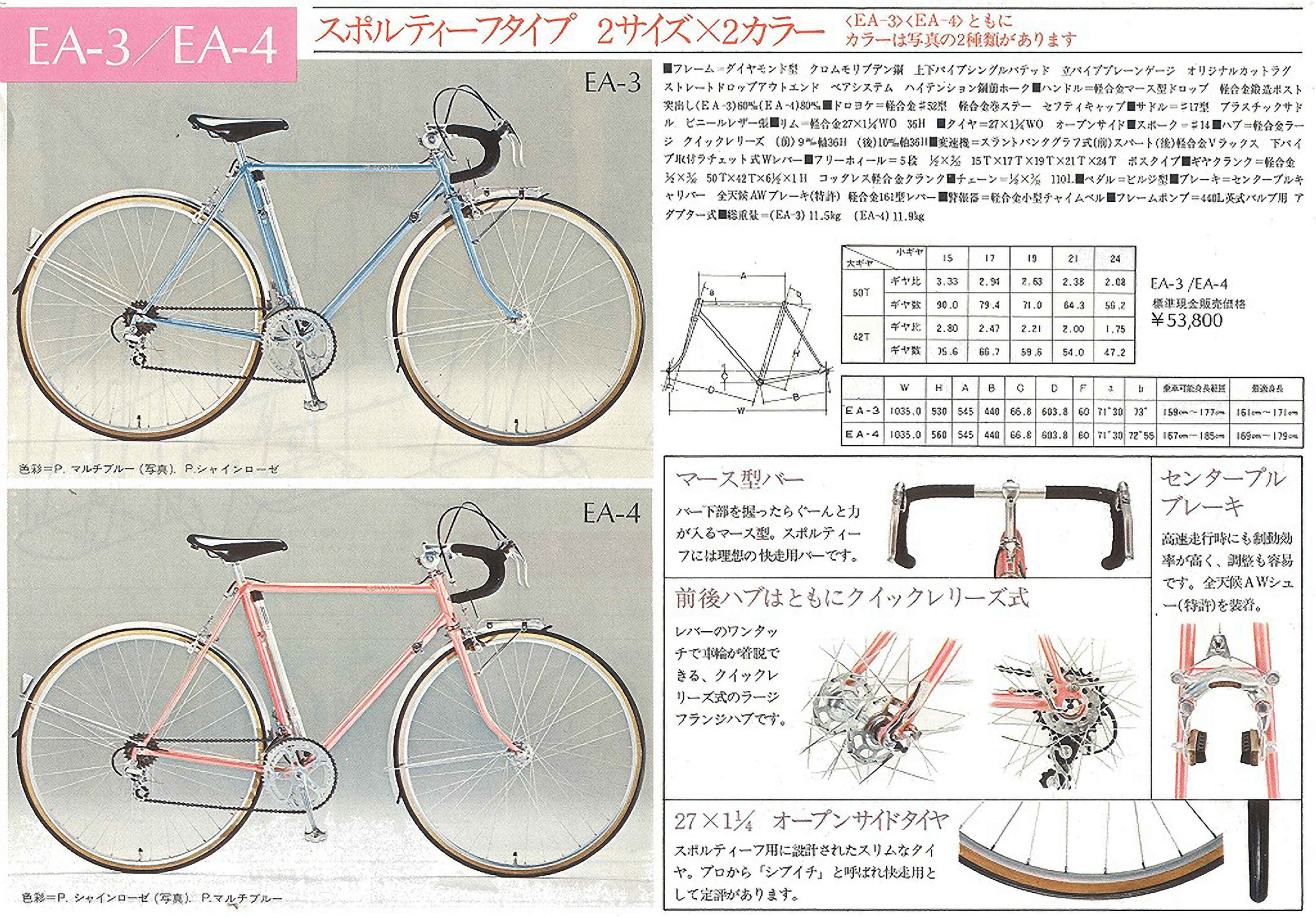 Intuition also tells us that good bike systems need more than just good bikes. Here we see Bridgestone Japan introducing 13 accessories alongside its first Eurasia bikes in 1976. Designed to increase the utility of those initial models, these first accessories included: three racks, three front bags, three rear panniers, a handlebar bag bracket, kickstand (sensibly), toe clips and flashlight. Together with the bikes they outfitted, these accessories represented the minimum setup necessary to mount multi-day cycling expeditions. That they did so while keeping the rider comfortable, economical and stylish is testament to the careful thought that went into the Eurasia system's bikes and accessories. Or so it would seem, for a prosperous few years.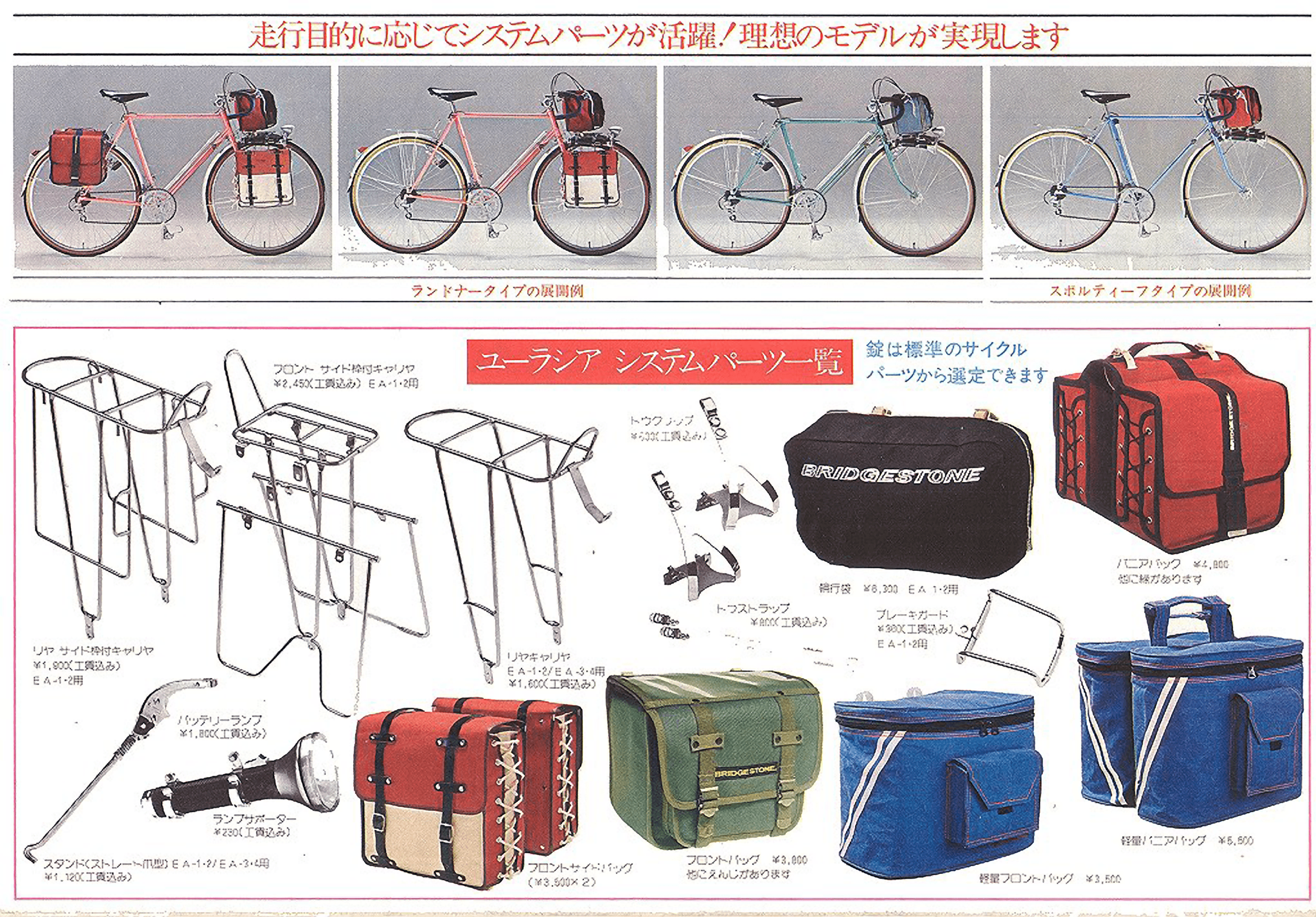 The Eurasia line of bikes grew to include nine models by 1982. In addition to the cyclosportif and randonneur models already introduced, new ladies, racing and touring models were also introduced. The ladies model – marketed as the EAG-L "Grand Lady" – had a striking, metallic light green mixte-style frame that really set it apart from all the other diamond/double triangle Eurasia frame designs. Other EAG-L one-offs included: upright handlebars and flat brake levers, front wheel T-block dynamo and women's-specific double sprung leather saddle suitable for long days spent out and about. Ladies looking for a well built, nicely finished and highly versatile bike in the early 1980s would have done well looking at the EAG-L.
The two racing models introduced in 1982 – the EAG-R1 and EAG-R2 – differed from each other in frame size only, with the EAG-R1 at 53cm and the EAG-R2 at 56cm. Much like their more capable but slower brethren and sistren, the two EAG-R "Grand Road Racing" models included a bell and hand pump. That, however, is where many of the similarities stop. The EAG-R models came with big gears, skinny tires, sidepull brakes, narrow saddles and even toe clips, which were optional accessories on all other Eurasia models. Clearly, the EAG-R1 and EAG-R2 were meant to go fast.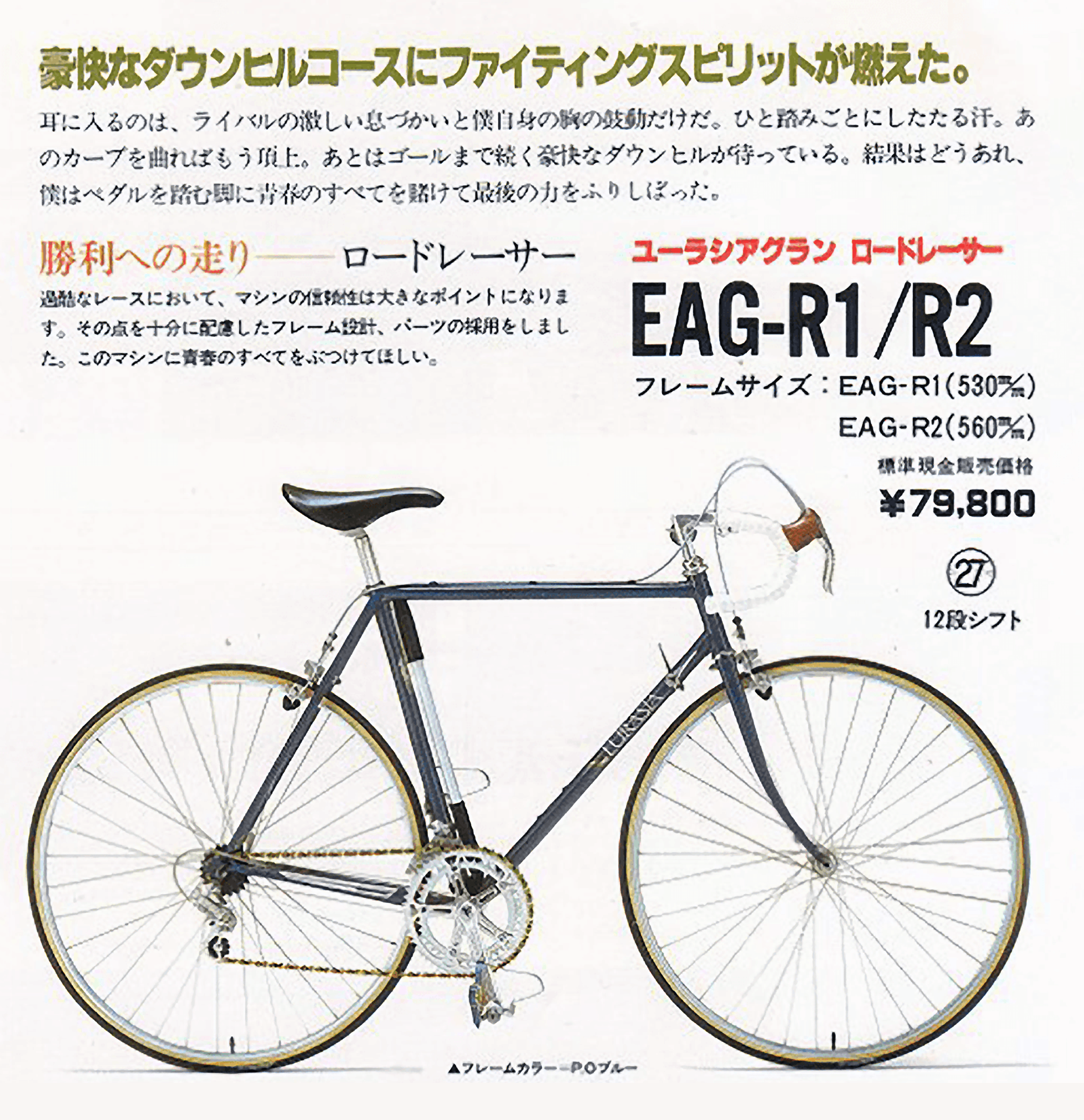 The EAG-T1 and EAG-T2 were meant to go anywhere. They represented the Eurasia system's two "Grand Touring" models, differing from each other in size only, with the EAG-T1 at 52cm and the EAG-T2 at 55cm. These models were available in three colors: pewter, indigo and imperial red, each one striking in its own way, particularly the opalescent-hued pewter color. Outfitted like a proper touring bike of the era, both EAG-T models included: cantilever brakes, dynamo/lights, fenders and front rack. Eurasia marketing materials noted the model's suitability for both on and off road riding.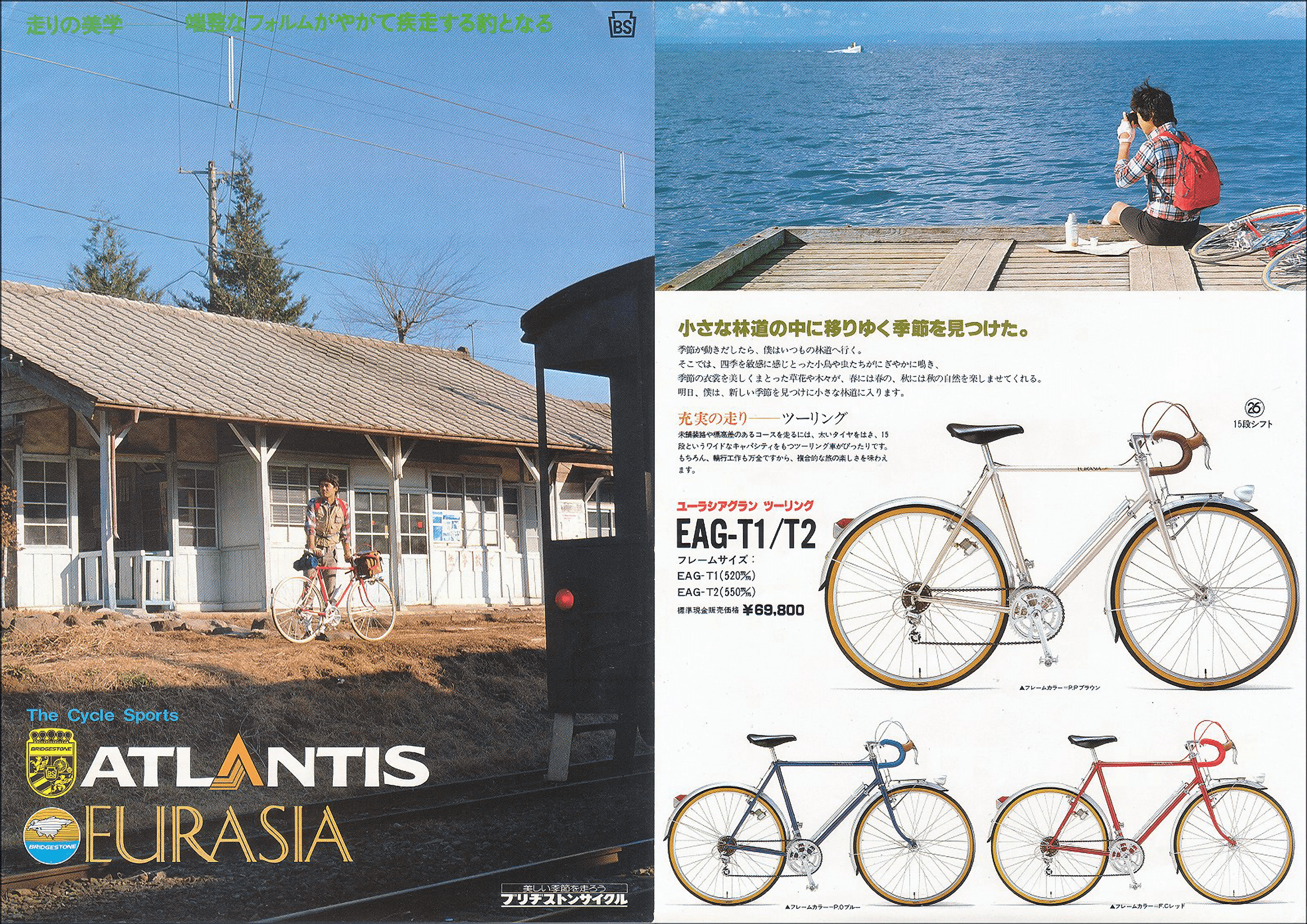 The EAG-S1 and EAG-S2 were meant to go anywhere quickly. Sure, they were fully equipped cyclosportifs by modern bicycle outfitting standards, with front rack, full-coverage fenders,  bell and hand pump. But these "Grand Sportif" models also had optional hollow-body 700 rims mounted with 28C tubular tires and sidepull brakes for the truly weight conscious. Customers could even choose between drop-in or horizontal rear dropouts, ostensibly depending on brake type. Notably compared to the lineup's other touring and light touring models, the EAG-S1 and EAG-S2 were not spec'd with dynamo/light combinations, much like the EAG-R1 and EAG-R2. Even venerable Bridgestone recognized that the most adventurous riders have their limits.
The EAG-D1 and EAG-D2 models nonetheless fit neatly between the Eurasia family's touring and cyclosportif models. These "Grand Diagonal" models were spec'd with a versatile mix of frameset features, parts and accessories. Frameset touches included: compatibility with cartridge bearings, easy on/off fender mounts, chain rest attachment point and wheel axle/skewer guides for rapid wheel mounts/dismounts. Parts included: 700 rims and 32C tires, a TA 48T/44T/32T or 50T/44T/36T x 6 drivetrain, and either fender or rack-mounted lights (or both) and dynamo. Sportif or touring bars were available, with cantilever brakes standard spec for better braking in inclement weather like rain and snow as stated in Eurasia marketing materials.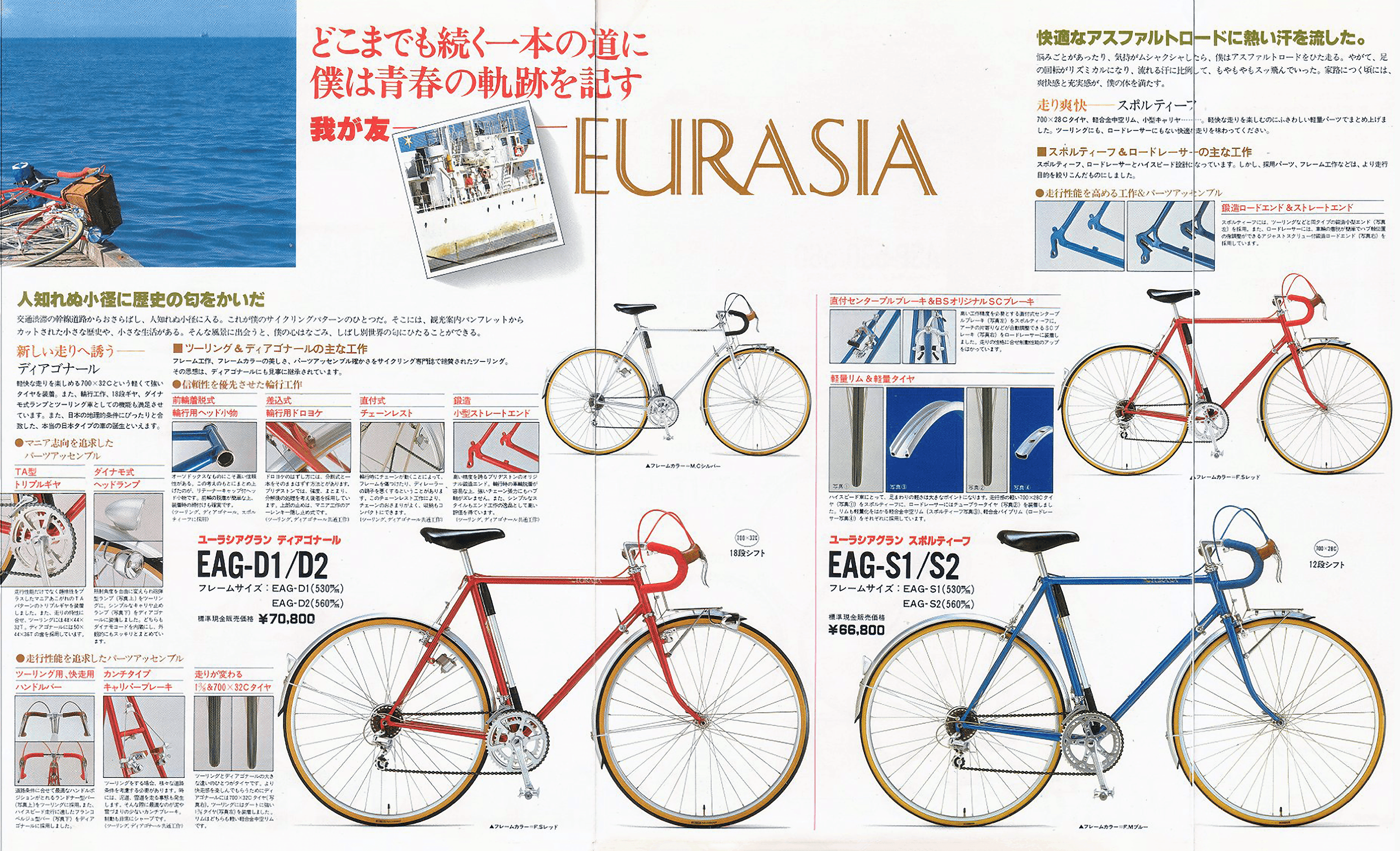 Better braking in rain and snow is a fitting metaphor for what Bridgestone was going after with its Eurasia system of bikes and cycling accessories. Like a mirage destined to remain distant on the horizon, the thought of better braking in rain and snow — which still occupies some of the finest engineers and product designers today — underpinning a five bike, 90 accessory cycling system was perhaps as ambitious as it was misguided.
Sure, cantilever brakes were proven and popularized long before Bridgestone's Eurasia system came about in 1976, let alone were perfected by company engineers (unless they also worked at MAFAC in France four decades earlier). Same with racks, fenders, bells and pumps, among many other system accessories, all of which had been around before and remain around today. Still, it takes a considerable amount of chutzpah — maybe even naivete – – to market anything close to what the Eurasia system was: comprehensive, integrated and purposeful — embodying all the hopes and dreams of aspirational and real sportifs and tourists alike. In other words, the Eurasia system promised something for everyone.
And to everyone it marketed something. Just not something they were likely to continue using the following season or the one after that. The Eurasia system was hampered by: poor fit for all but the most average of bodies, highly commoditized and cheaply manufactured accessories, broken promises made about freedom and mobility and nature, and so on. You know, the standard stuff of big, outdoors-related organizations the world over. Ones that become too big for their own good, outgrowing the very people or things they portend to serve or save, all while blundering into the future unaware of their outsized inadequacy.
Such was the fate of Bridgestone's Eurasia system, which faded into relative obscurity after the 1982 lineup was released and never made it stateside to the U.S. market. Who knows? Maybe the domestic U.S. market was ready for something as innovative as the Eurasia system. Maybe we are all riding semi-custom bikes filter spec'd by Bridgestone right now in some parallel universe. You gotta dream.