Carlton Cycles is one of the most deserving bicycle companies to be better known than it is. While revered by its cliquish followers and well-known among enthusiasts of fine road bikes, a mention of Carlton to any member of the general public — even the lad or lassie tooling along the bike path on an aluminum hybrid — would elicit a blank stare of incomprehension, a blank stare you would never receive upon mentioning Schwinn, Raleigh or even Huffy.
Strange as it may seem, Carlton Cycles played a part in the successes of the latter two companies. Raleigh has a somewhat storied history with Carlton, with the larger incumbent marque killing off the smaller ascendant marque in an apparent fit of commercial jealousy. Prior to those family histrionics, Huffy briefly imported Carltons in the 1960s and raised the marque's lowly stature considerably upon doing so.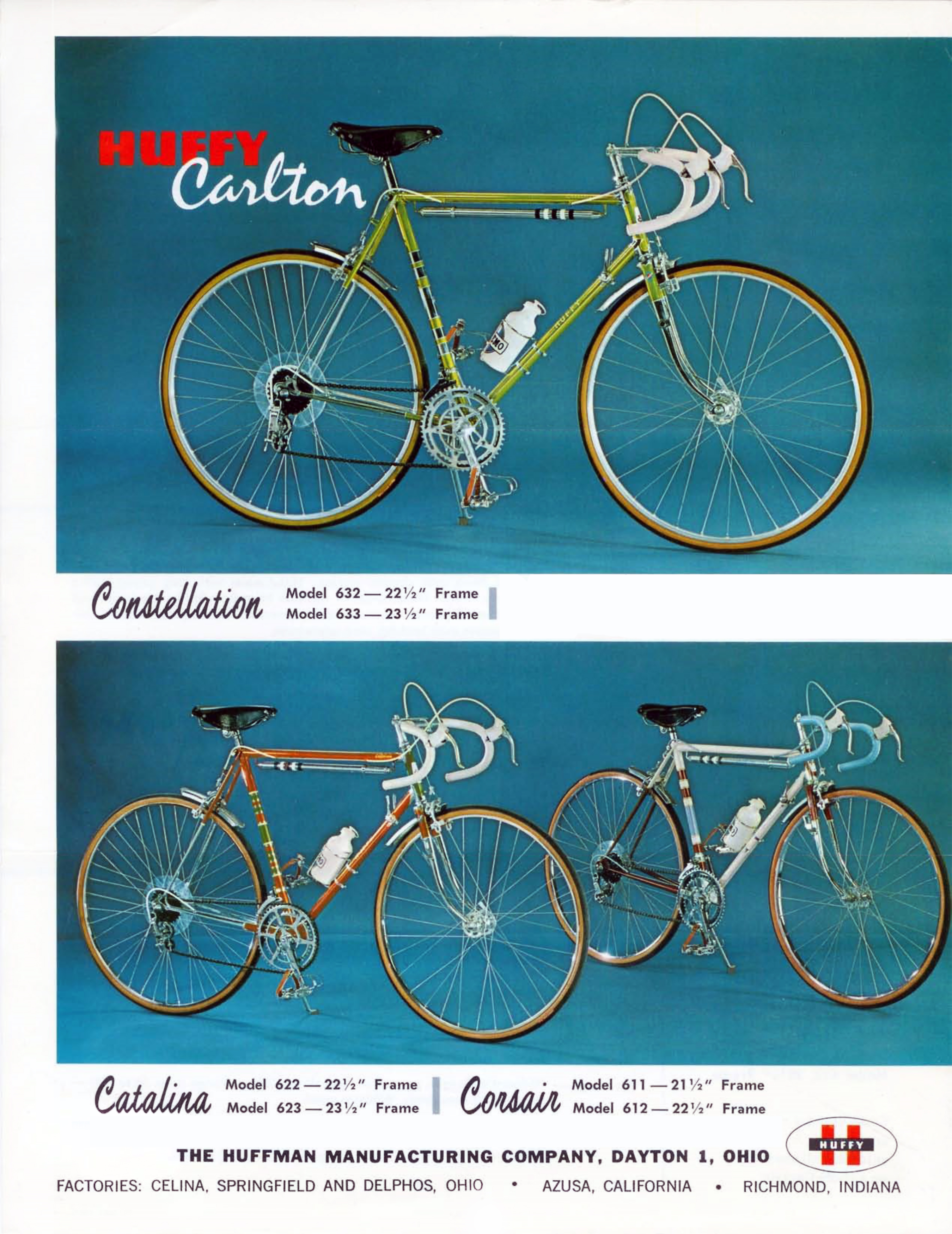 Carlton Cycles was founded in 1896 by a good fellow named Fred Hanstock in Carlton, England, at the tail end of the first great bike boom. Judging from extant photographs, he built bikes that were fairly typical for the era and its unimpressive roads — wide-tired upright roadsters for middle-class transport and pleasure riding.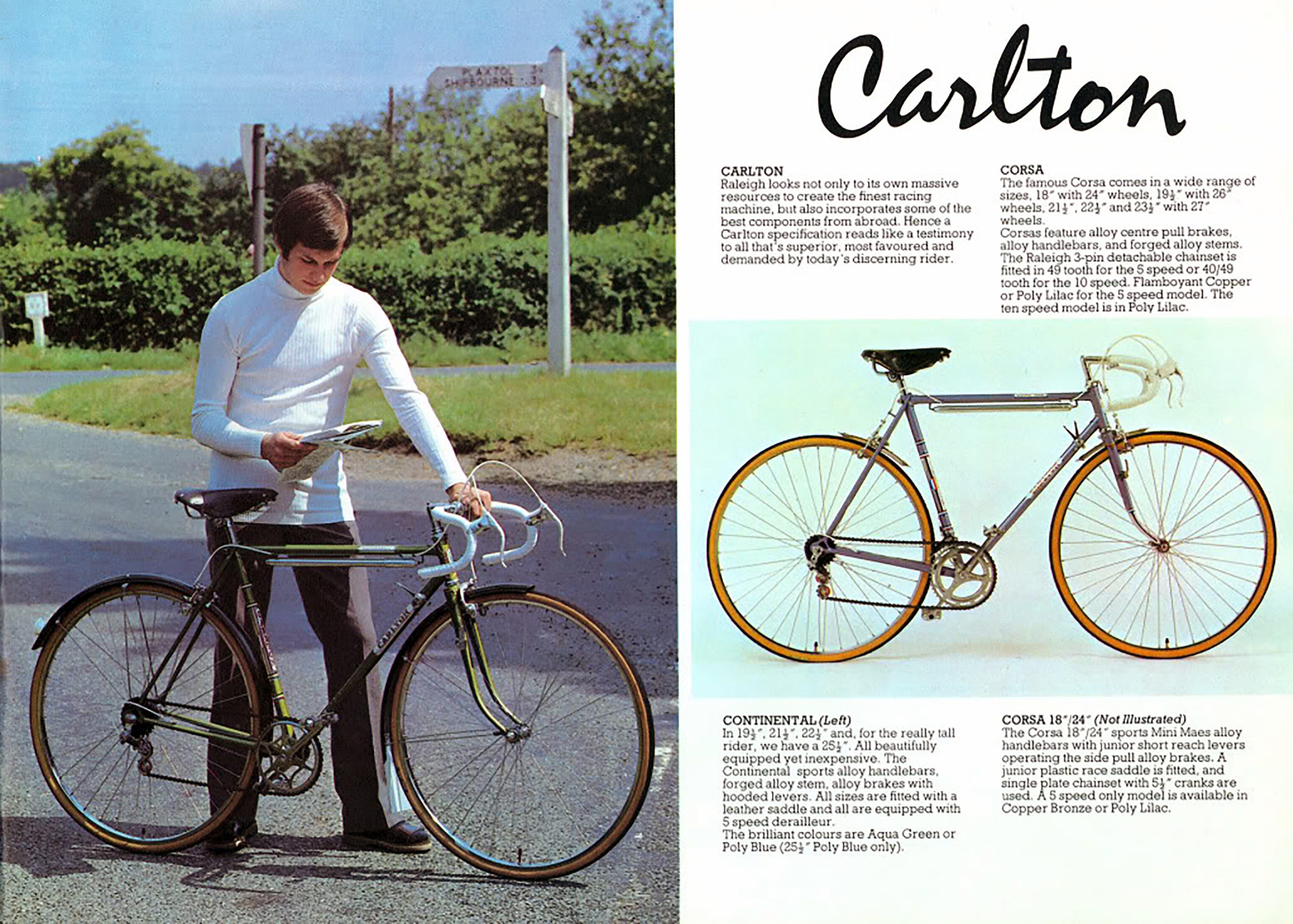 Hanstock also dabbled in motorcycle production (as did Raleigh and even Sturmey-Archer), but his emphasis always remained on the bicycle even as his designs evolved with changing social and road conditions not to mention technological advancement in the craft. Despite his approach to business being a rather placid one, the quality of Hanstock's products kept the company healthy if not burgeoning.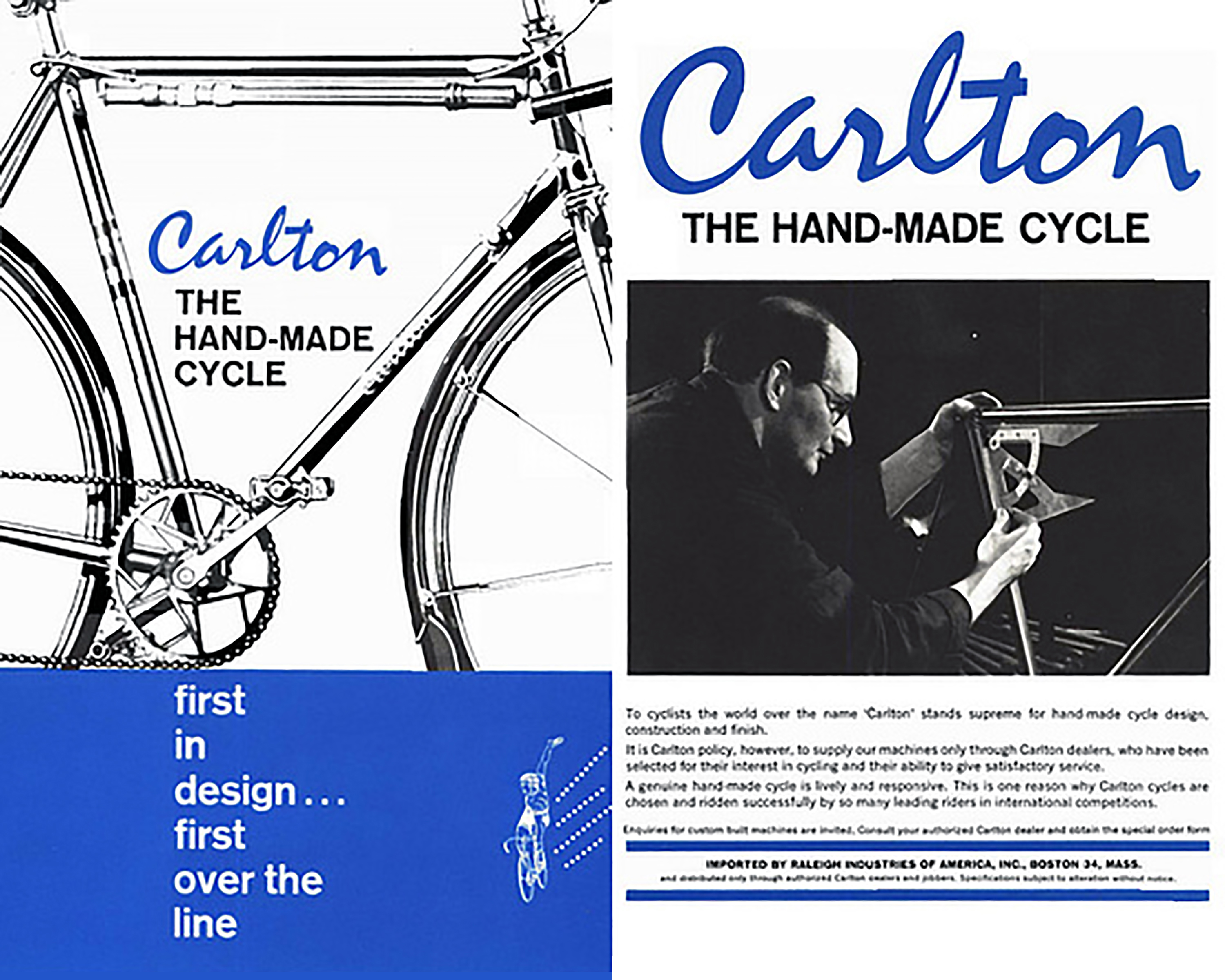 Carlton's great growth was to come from the fortuitous infusion of fresh blood in the person of Dan O'Donovan, who joined the company in 1937 or '38. O'Donovan had been working in the motorcycle business, possibly for Norton (itself one of the more revered marques in that world), when he wandered by the Carlton booth at a trade show and, for reasons unrecorded, asked for a job.
They needed a salesman and he joined on the spot. Simple as that. Carlton cycles lucked out, for O'Donovan was a marketing marvel and within a short while the dealer network he established was going great guns, and the factory was — quite happily — forced to expand. In 1939, some two years after that fateful trade show, O'Donovan took over the company and established a family legacy that would later see his son joining in 1958.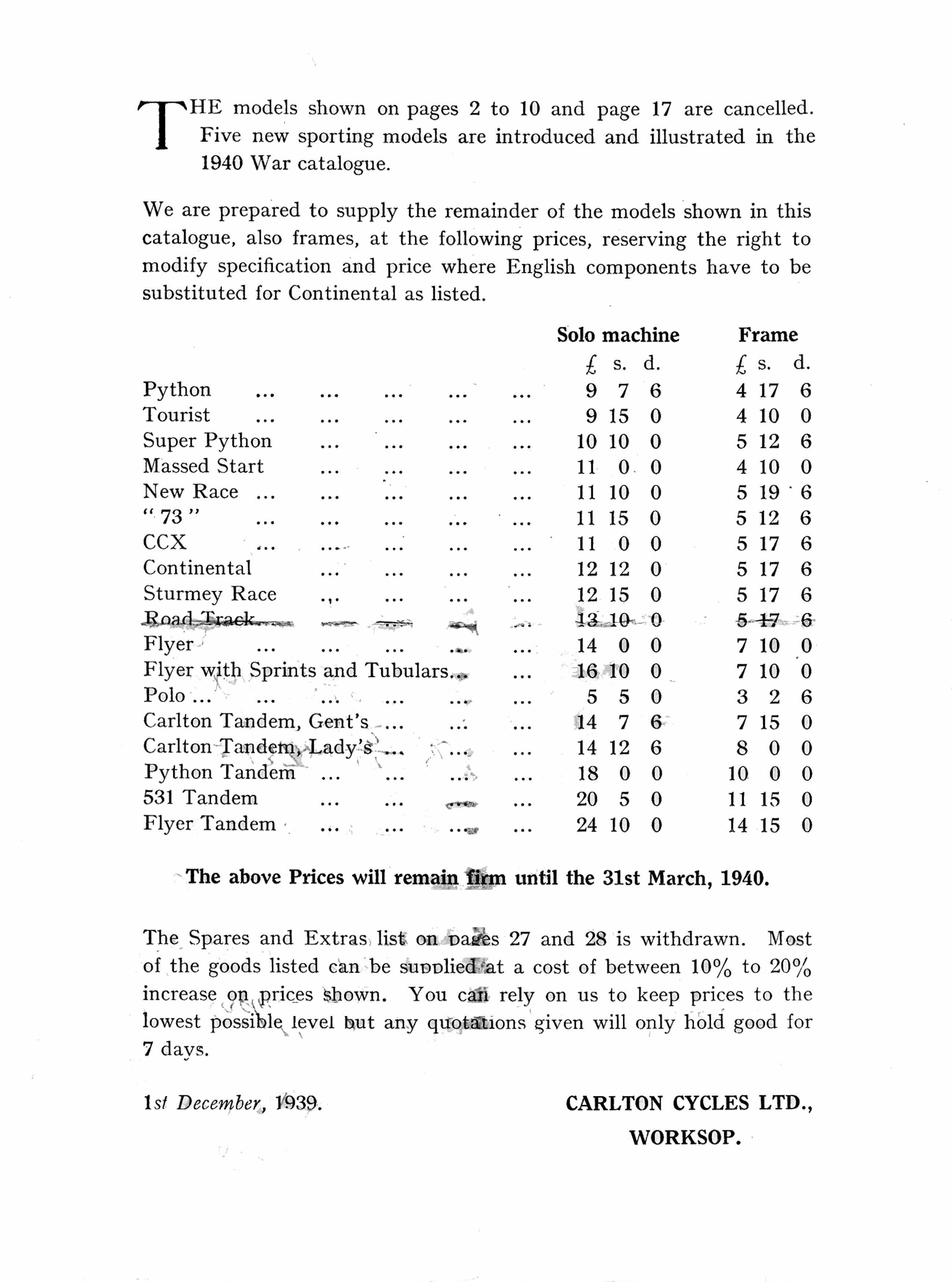 Hanstock moved on to concentrate on specialty motorcycles under his own name, with more than a little success. O'Donovan, though, was by all appearances contented with his own move in the opposite direction, with many photos of the time show him pedaling vigorously on the local roads.
Carlton's very first bicycles were typical roadsters. Around 1936 the family reorganized the company to focus design and production on racing and club bicycles aimed at the sporting market. With the advent of good public transport and the spread of cars and motorcycles, the utility bike market seemed to stagnate (though in England it never entirely vanished as it did in the U.S.).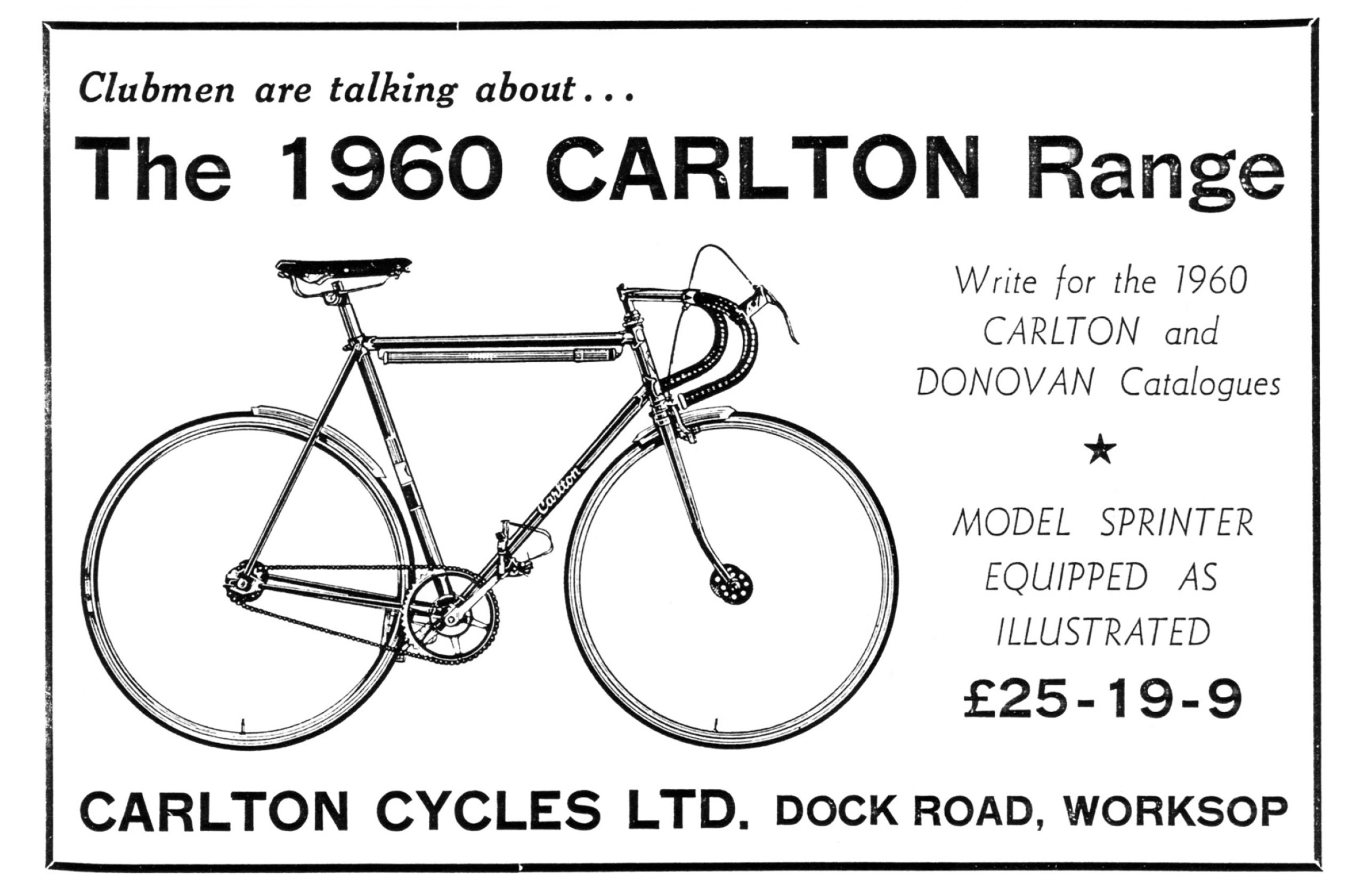 Sport cycling clubs were expanding rapidly at the time so the change in emphasis, followed by the appearance of O'Donovan, provided a double boost to the company's fortunes. Carlton's first lightweight was custom built for a local racer named Tommy Ashurst in 1932. By 1937, a year after their paradigm shift, they offered bicycles with names like: The Flyer, Massed Start, Massed Start Special, Super Python, Continental, and Silver Clubman – all obviously aimed at the sporting market.
Add O'Donovan's assertive marketing and good things were bound to happen. Even World War II failed to slow things entirely. Production was constrained to available materials and skills had to be repurposed for the war effort. Carlton wisely started producing bicycles for the military for the duration of the War, in addition to establishing a large repair facility that kept the company going during the dark years.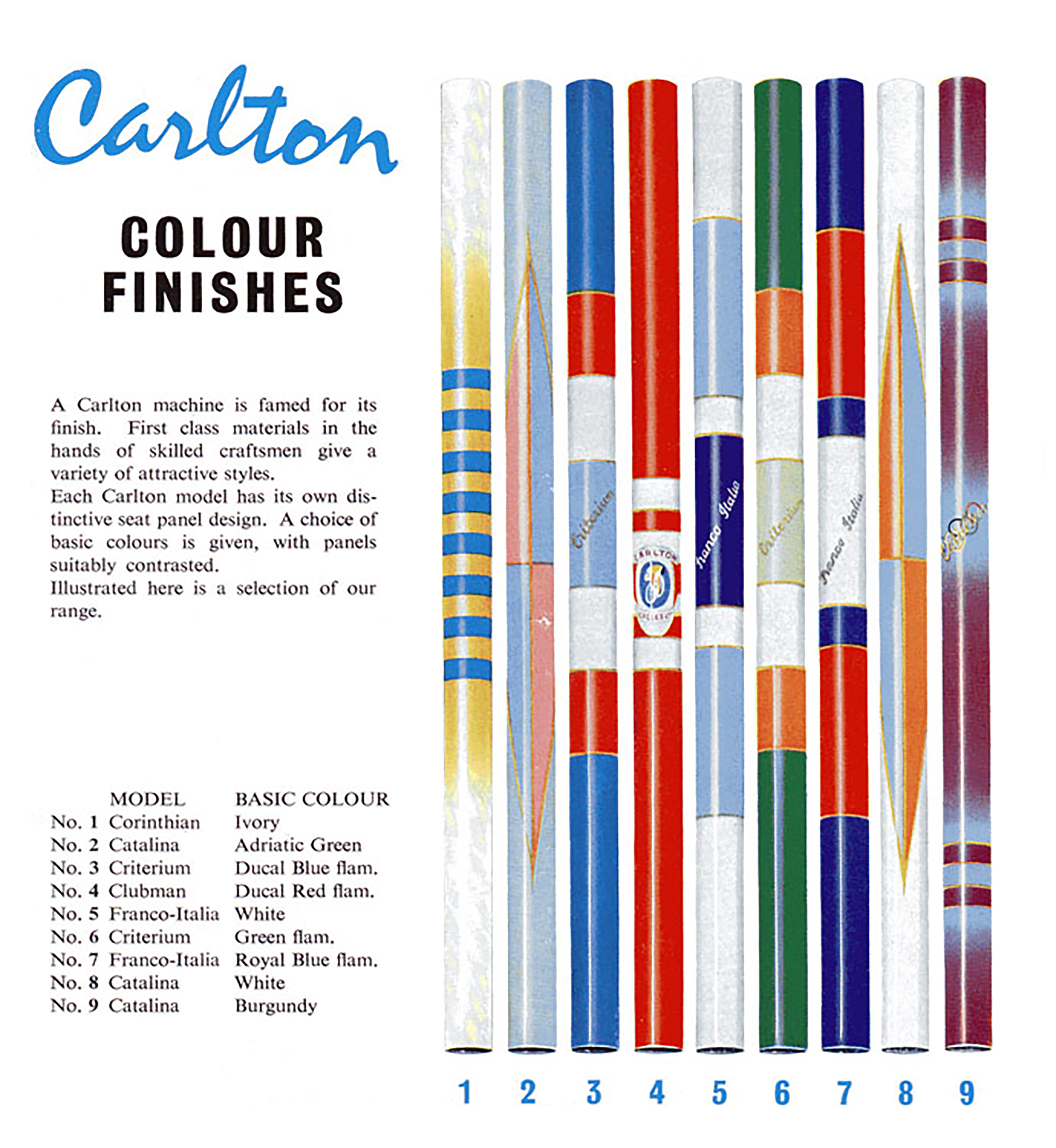 Through it all, Carlton remained dedicated to quality, as this excerpt from an article by Harry Keates in the November 15, 1961 issue of Cycling Magazine testifies to:
Work study has been and is still being applied to improve production methods whilst retaining the best of craftsmanship. It was an easy task, therefore, to follow through the various stages – the brazing of fork ends and crowns before assembly into the frame proper, bridging, and the addition of brake and gear cable eyelets, bosses, etc. Major joints are all carefully effected by hearth brazing, minor ones by gas and air torch, with oxyacetylene welding, for the eyelets. The risk of over-heating at any stage and thus weakening the frame is reduced to a minimum.

Constant checking is carried out to ensure that the frame and fork ends are completely true; the methods used are so well-tried and accurate that rejects are few and far between. Shot-blasting, filling-in and filing follow, the time taken on the last varying from the 45 to 60 minutes spent on the cheaper range to the 2 1/2 to 3 hours on the Carlton Jewel.
After the War, pent-up demand for lightweight bicycles spelled prosperity for Carlton, prosperity which even the loss of their factory to fire later in 1962 could not extinguish. Through it all — expansion, war, fire and ultimately absorption into a large comglomerate — Carlton remained committed to its mission of providing refined, hand-built lightweight sporting bicycles to an educated public.
It was this dedication and the company's ability to deliver on it that drew Raleigh's attention in the early 1960s. Raleigh was famous for building roadsters — essentially moderately refined descendants of the bikes Carlton started building earlier the century before. While Raleigh had built high-end bicycles in their time, and even supported competitive racing, this interest had vanished by the 1950s.
When Raleigh was looking to break into the burgeoning postwar market for lightweight racing-style bicycles, one of their employees — none other than former star racer Reg Harris himself — suggested they simply buy an established company already in the lightweight market, and they approached Carlton to do just that.

Carlton Cycles became a subsidiary of Raleigh in 1960, which was itself a division of a cycling conglomerate named TI Raleigh. Carlton was eventually assigned the Triumph, Sun, Phillips and Rudge lines of bikes, and their payroll expanded to 60 employees, with Dan O'Donovan's son Gerald now running operations.
By 1963, Carlton was sponsoring a racing team whose roster included George Shaw, Michael Coupe, Mike Harpham and Sean Ryan, all notable riders of the time and place. From this point forward until the company's doors closed nearly twenty years later, all of Raleigh's handbuilt frames were produced by Carlton in the Carlton factory at Worksop.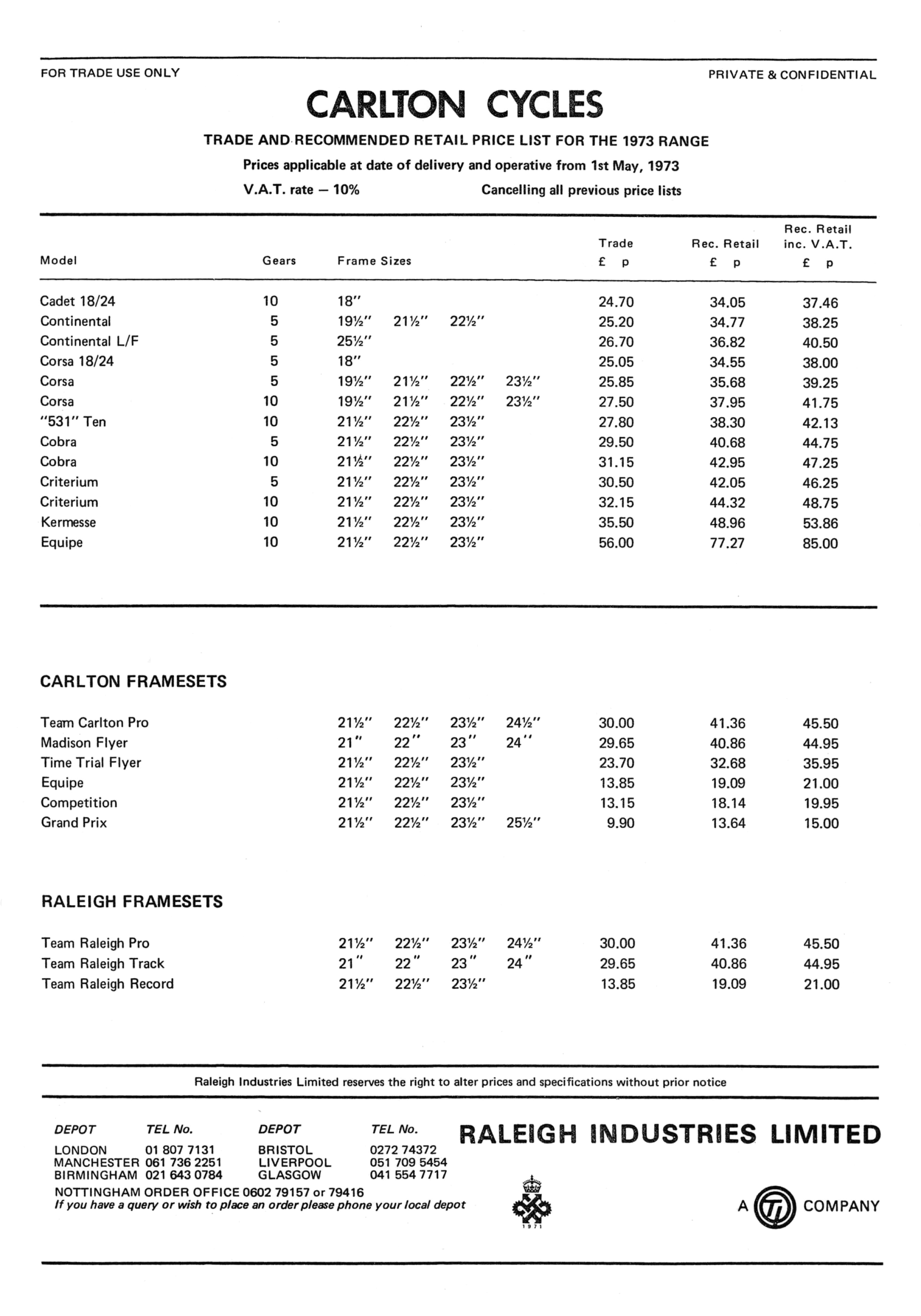 In a dizzying series of naming flip-flops that resulted from corporate infighting, the team's name changed from Carlton-BMB to Raleigh and back to Carlton over the next five years. This was perhaps an adumbration of Carlton's eventual demise. If nothing else, it kept the marketing staff busy at the time.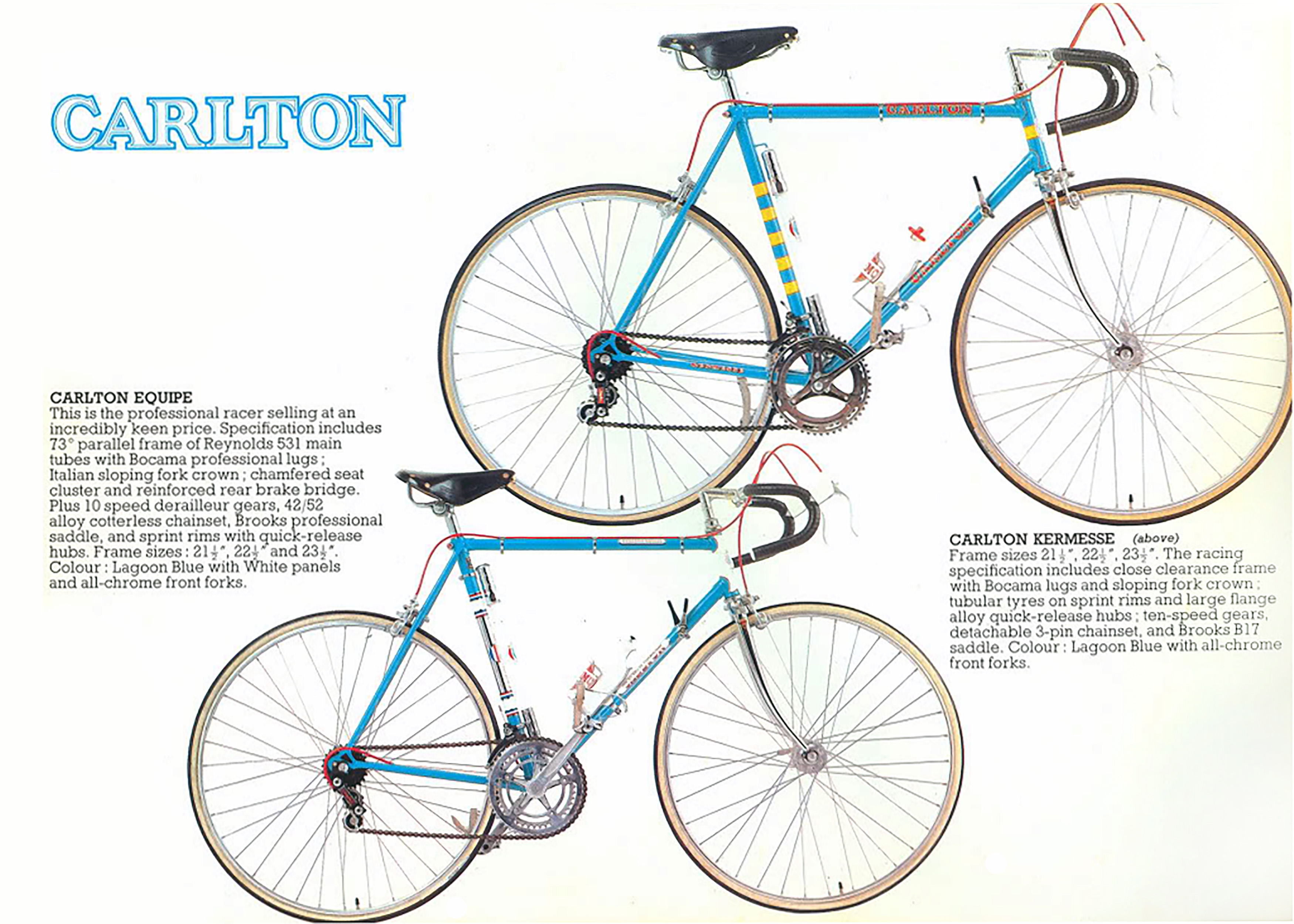 The company introduced a new range of frames in 1967, including the "Team Carlton" in trademark blue with "flamboyant" yellow and white panels. Meanwhile, the racing team riding on those frames racked up a record of forty first-place wins in road, track and cyclocross races during the season. Not bad, whatsoever!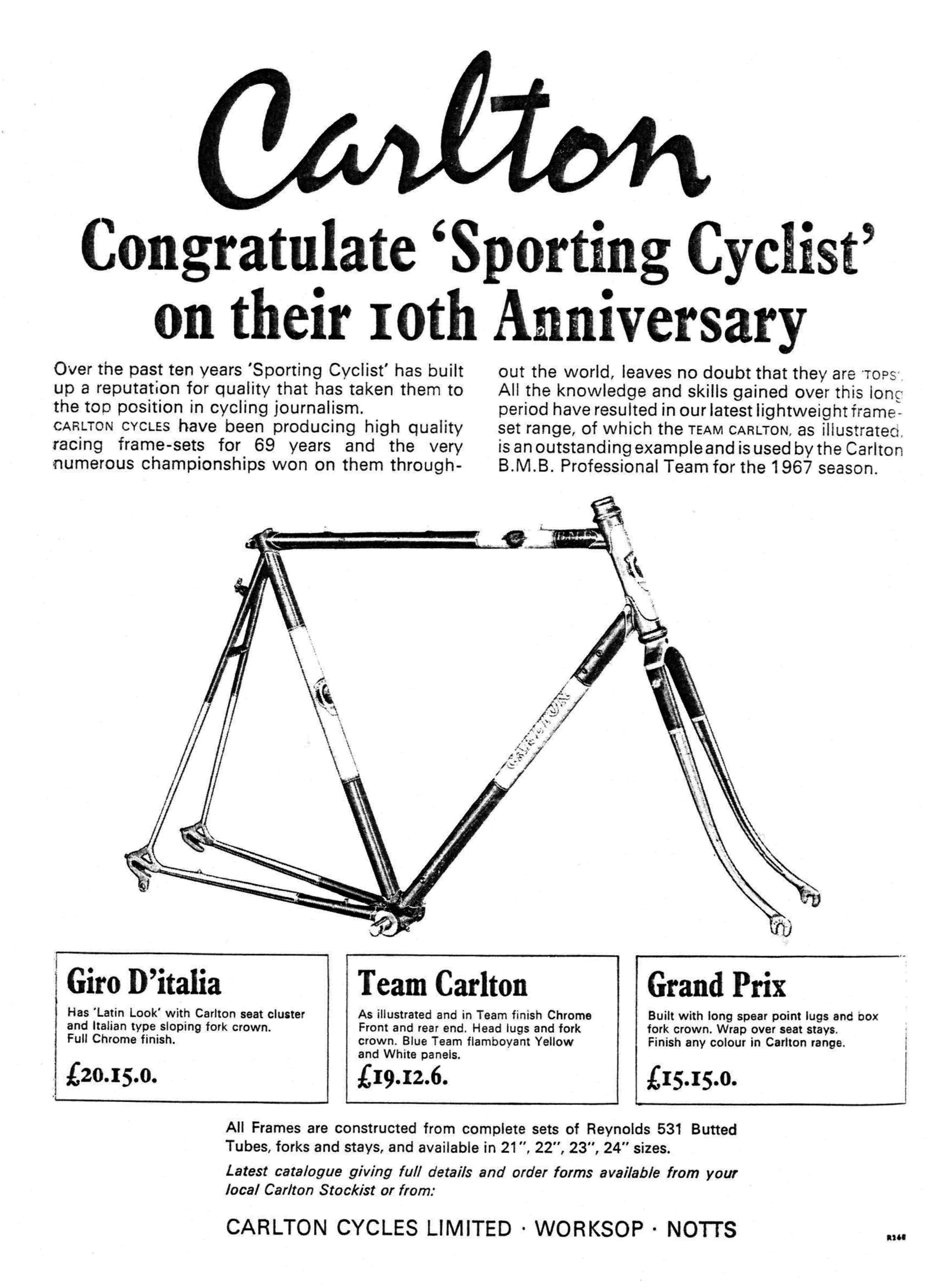 Only a few years later, the U.S. bike boom of the 1970s began and Raleigh — not unsurprisingly — was eager to address that market, too. Quoting Tony Hadland, from a paper written for the 11th International Cycle History Conference held in Osaka, Japan in 2000:
"In the USA between 1970 and 1972, demand for lightweight ten-speed cycles increased forty-fold. Raleigh Record and Grand Prix models, based on Carlton designs, sold there in massive numbers. At one point they were being made in Nottingham, at Worksop (by Carlton), in the Netherlands by Gazelle, by Raleigh Ireland and possibly even in Malaysia. …

Production of high end cycles at [Raleigh] ended in the late 1950s with the Reg Harris era. Awareness of, and interest in, the demands of the serious competitive cyclist died with it. The acquisition in 1960 of Kevin and Gerald O'Donovan's Carlton Cycles generally filled this gap. However, as Carlton was for the most part run autonomously, the association of the Raleigh brand with performance products ceased in the UK."
Hadland goes on to write,
"The export situation was very different. Raleigh products designed and built by Carlton were an important part of the range. They sold well in their own right and were not used just to lend credibility to the rest of the range."
In Hadland's opinion, this actually led to Raleigh's decision to eliminate the brand, as "the success of Carlton was seen as diluting the Raleigh brand and therefore the Carlton brand was killed off." Others suggest more global economic factors were primarily at play, specifically the recession in the U.S. which followed the one-two punch of the OPEC oil embargo and first failures of supply-side economics.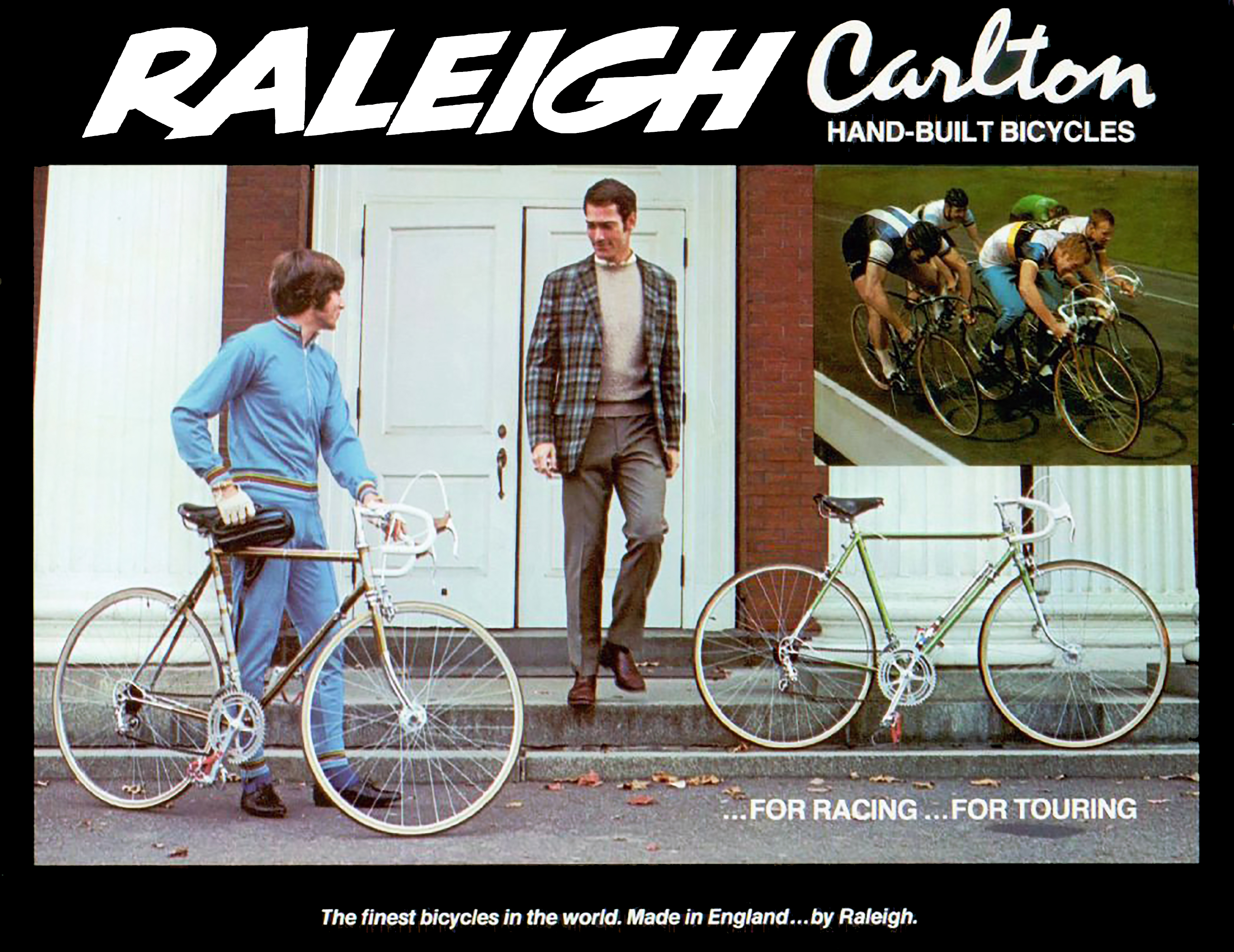 Whatever the cause, sales of Carlton bicycles plummeted and waves of layoffs followed: 100 in 1974, 160 in 1979, 650 in 1981, with the last 202 employees leaving on May 29th, 1982, upon Raleigh's shuttering of the legendary Worksop facility. Raleigh halfheartedly produced a few of the Carlton models at its Nottingham factory for a short little while until the marque faded into history.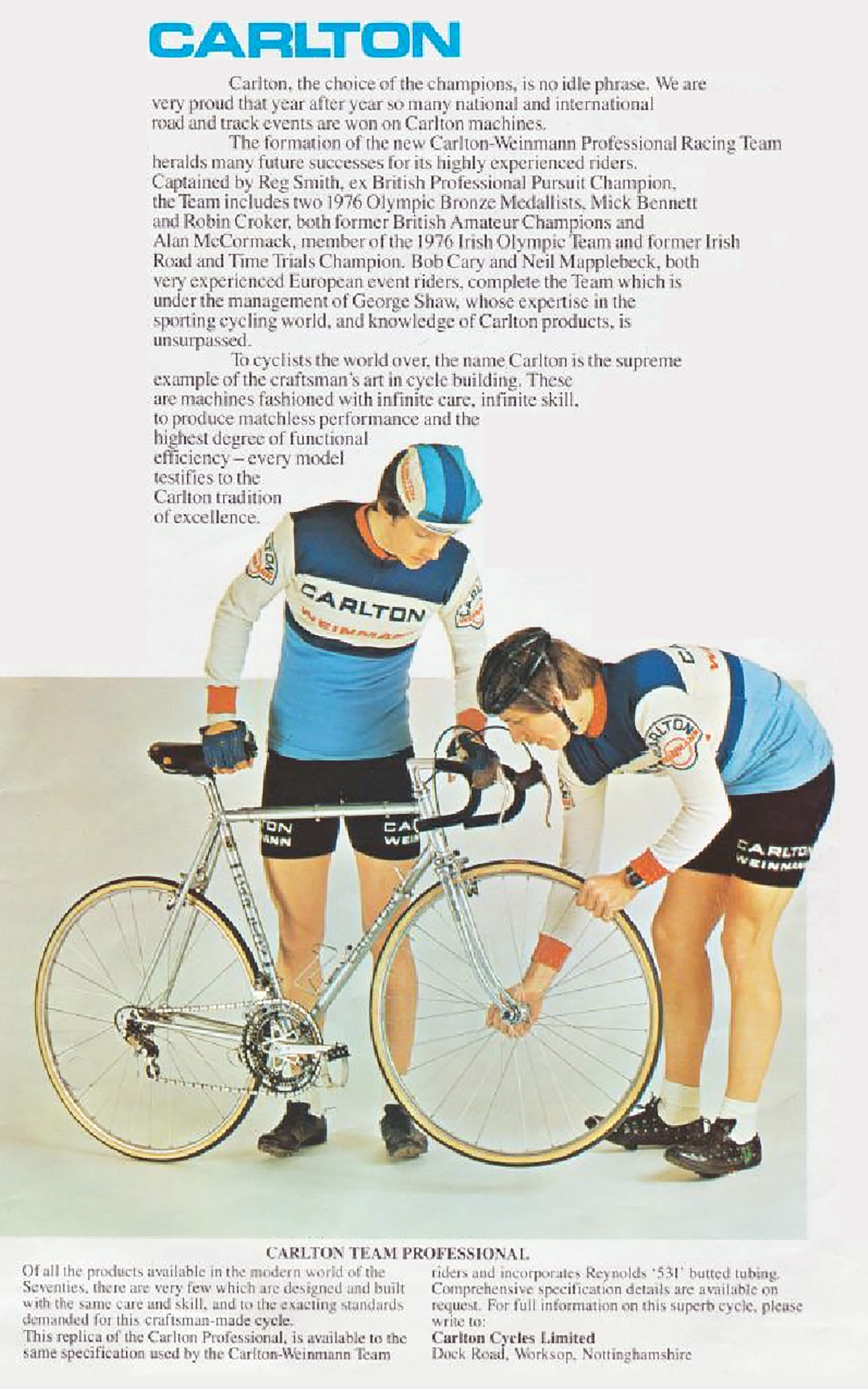 Carlton influence lives on, as do many of the individual bicycles it produced. The company contributed to the prosperity of Raleigh at a difficult time in that larger company's history and added a cachet to Raleigh's name that has enabled it to remain competitive to this day. These are significant contributions from a corporate development standpoint that should never be forgotten.
In a more personal sense, Carlton bicycles provided inspiration to high-end individual builders of the present day, among whom are Andy Newlands of Strawberry Cyclesport, who wrote to Raleigh for advice on framebuilding way back in 1972. Gerald O'Donovan himself answered with a jovial two-page letter that included the following lines:
"Don't be afraid to be different. The buffs who buy custom frames like to have something individualistic – give up aftershave and use strong smelling rubbing oil and always wear a track suit to the office. Take a good Italian name (your local Cosa Nostra family probably have a leasing scheme) buy a good selection of lucky charms (see the small ads in Voodoo Weekly) go to church regular and watch your horoscope. In all seriousness, custom frame building is not easy and you will need luck; I hope you get it."
Dedication to quality and a love of the bicycle provided a foundation for greatness at Carlton Cycles, just as Carlton's quality and reputation provided a foundation for Raleigh's contemporary success in the sporting market. Carlton Cycles was a marque that deserved better than what it got — because "better" was what it always delivered.
Carlton Cycles Article References
Carlton Cycles Enthusiast Site