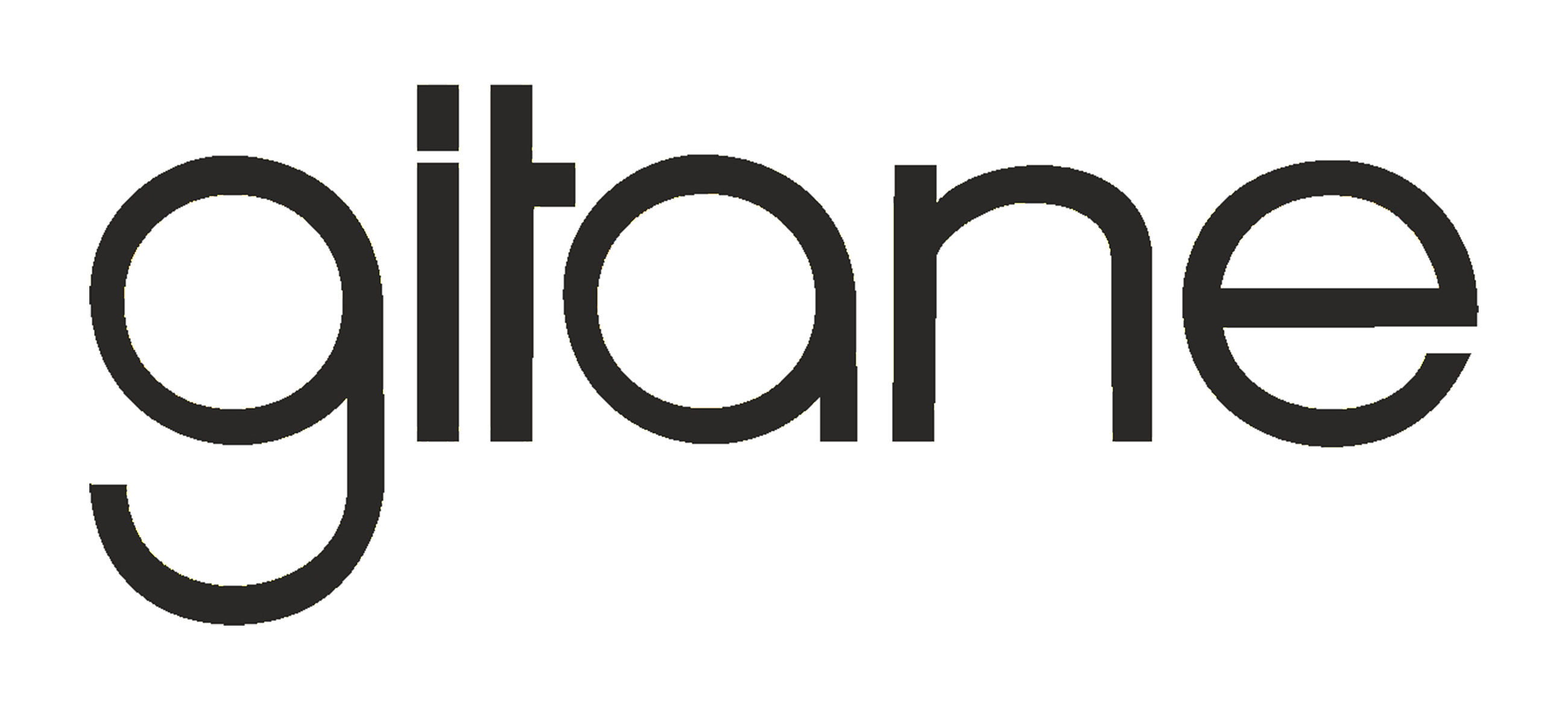 "Gitane" is an unutterably lovely word if you speak French, both in sound and meaning. It is pronounced "zhee-TAHNN" and represents the more romantic of the French words for "gypsy." There could not be a more evocative or euphonious name for a bicycle in all the history of pedal powered transport.

Indeed, most bicycle manufacturing companies are named after their founder or first builder: Alex Singer, René Herse, Bridgestone (after Mr. Ishibashi, "Stone Bridge" in Japanese), Schwinn and of course the modern boutique builders such as Gilles Berthoud, Richard Sachs and others. Some, like Waterford, follow the British tradition of naming one's company after the town in which it was founded. Others have regrettable names that seem derived from a consensus of pinstripes in boardrooms, such as Giant or Trek, though they do may make fine focus-group products.
A few clever ones use names that associate the bicycle with a pleasant image — Vanilla, Ibis, Rivendell — and these keep company with Gitane. But none has chosen so perfect a name for the most perfect machine ever to spring from the minds and hands of men. Indeed, the dark-eyed wanderers of Europe — mysterious and free and more than a little wild — are the perfect symbol for the simple device that spread mechanized transportation everywhere.
But did Gitane bicycles themselves live up to their chosen image? And do they still?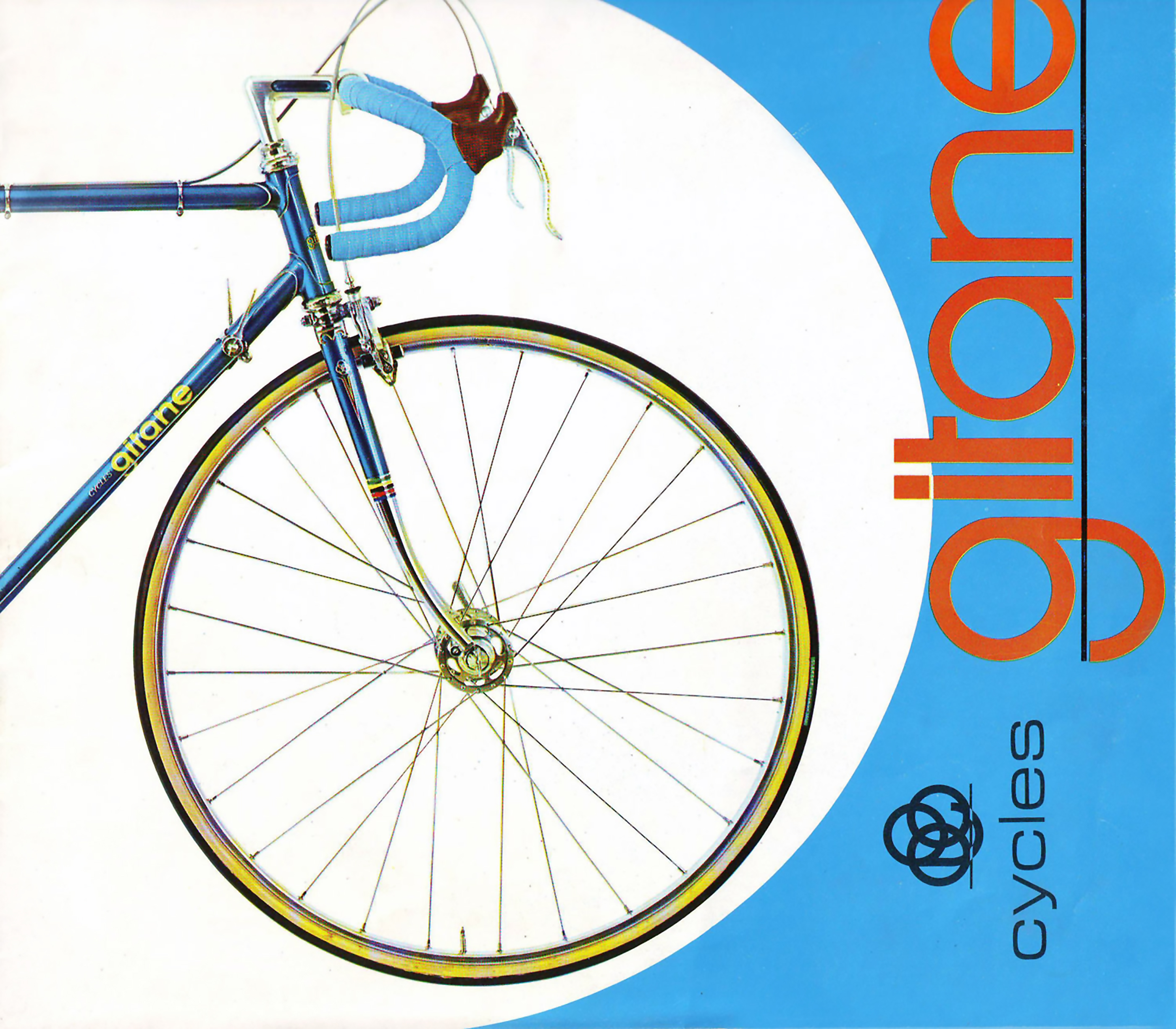 One's first impression might be that a company trying to live up to such a name would make cyclotouring bikes – and cyclotouring was for many years the mainstream of French bicycle-making tradition. Many go so far as to argue the French invented the concept, or at least defined it.
Gitane, however, is most famous for two types of bicycles, neither of them suitable for cyclotourism: pure racing bikes — the company nearly dominated the Tour de France for many years — and a slew of 1970s bike boom product, some of it excellent, some not so fine.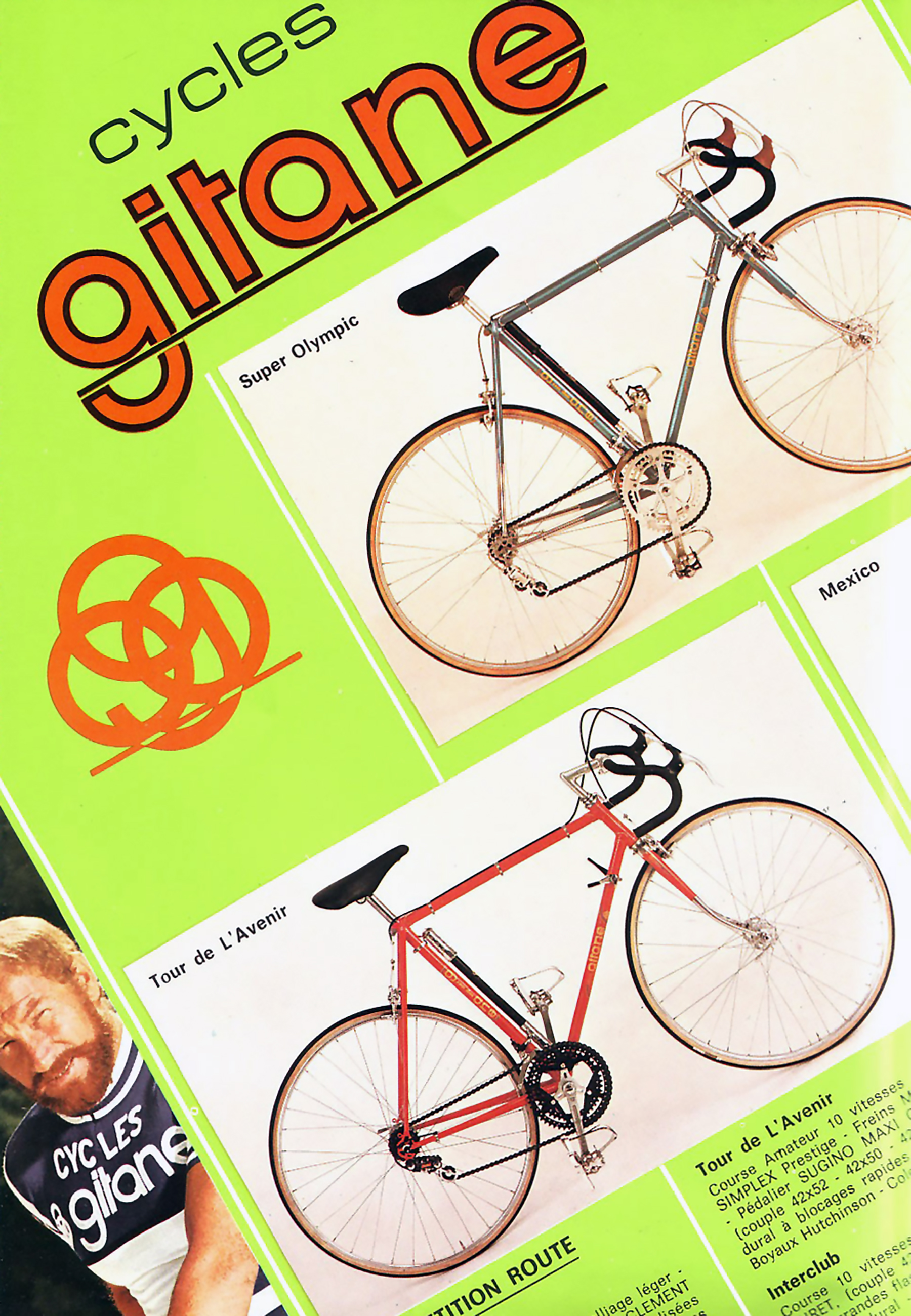 According to Cycleurope (the name's current owner), "Gitane" was derived from its founder Marcel Bruneliere's nickname, given to him by his wife because he traveled all over Europe establishing business contacts and making deals.  Bruneliere's deal-making started with selling spare parts for farm equipment in 1925. Within a year, he was selling bicycle components and assembling bicycles for marques like G.M.B. and Marbru.
Marcel Bruneliere was considered a fabricator at the time, not a bicycle manufacturer. Regardless of labels, the allure of the dark-eyed wanderer remains inseparable from the company's image, reinforcing the idea that the hard-eyed businessman must not have been unconscious of its marketing value.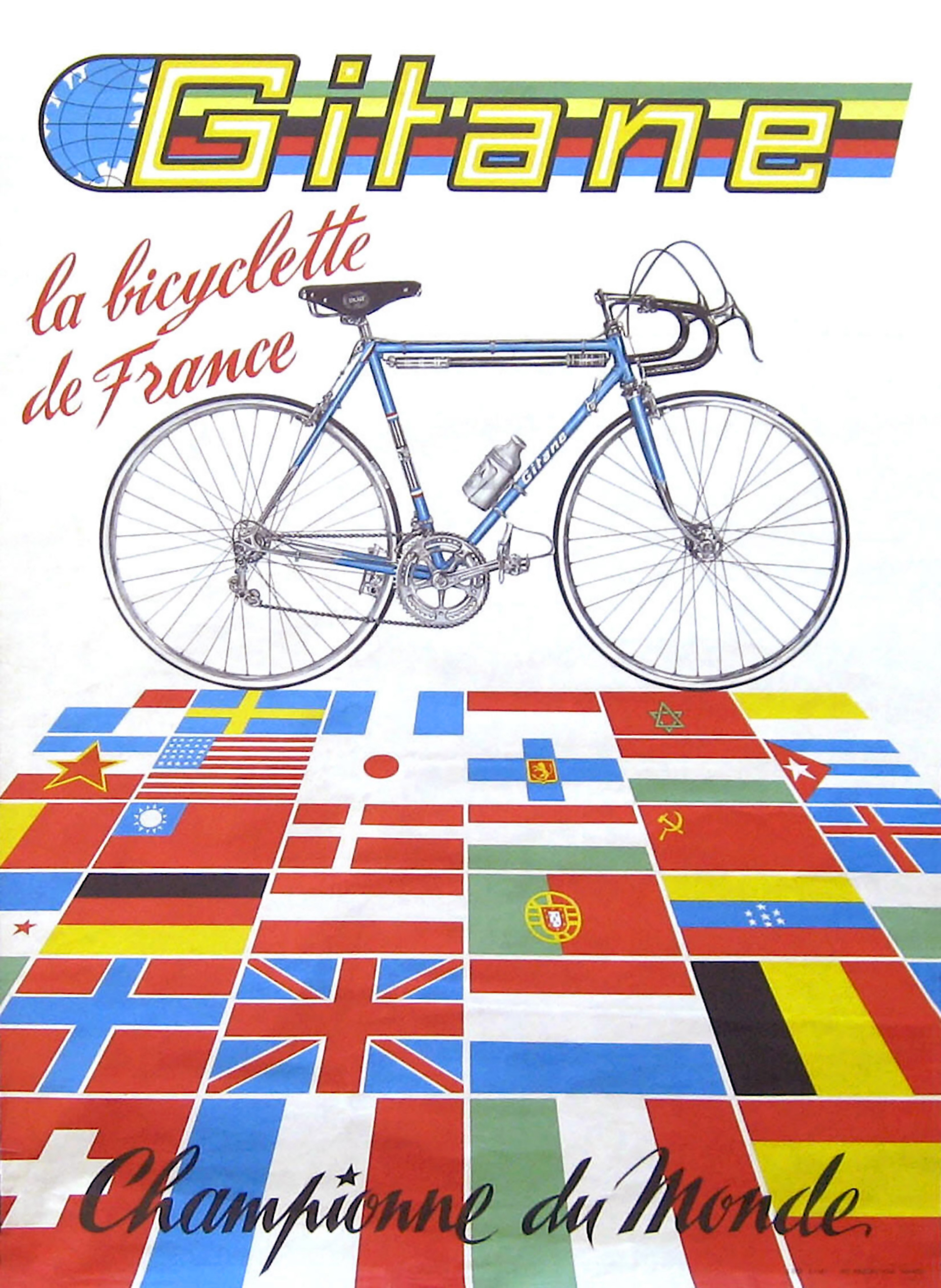 Still, it took Bruneliere a good while to understand the full potential of the Gitane image, as during his company's first few years the name "Marbru" was used for the bicycles he produced at a pace of two or three per day. At the time, Bruneliere's factory occupied an abandoned stable on Rue des Redoux in the small horse racing town of Machecoul, tucked quietly into the Loire-Atlantique department of western France.
By 1930, the "factory" employed all of ten workers, and it was that year Bruneliere first applied his given nickname to the products he sold. Oddly, Gitane did not build its own frames until around 1940, when according to seminal resource Gitane USA, the company finally began producing complete bicycles.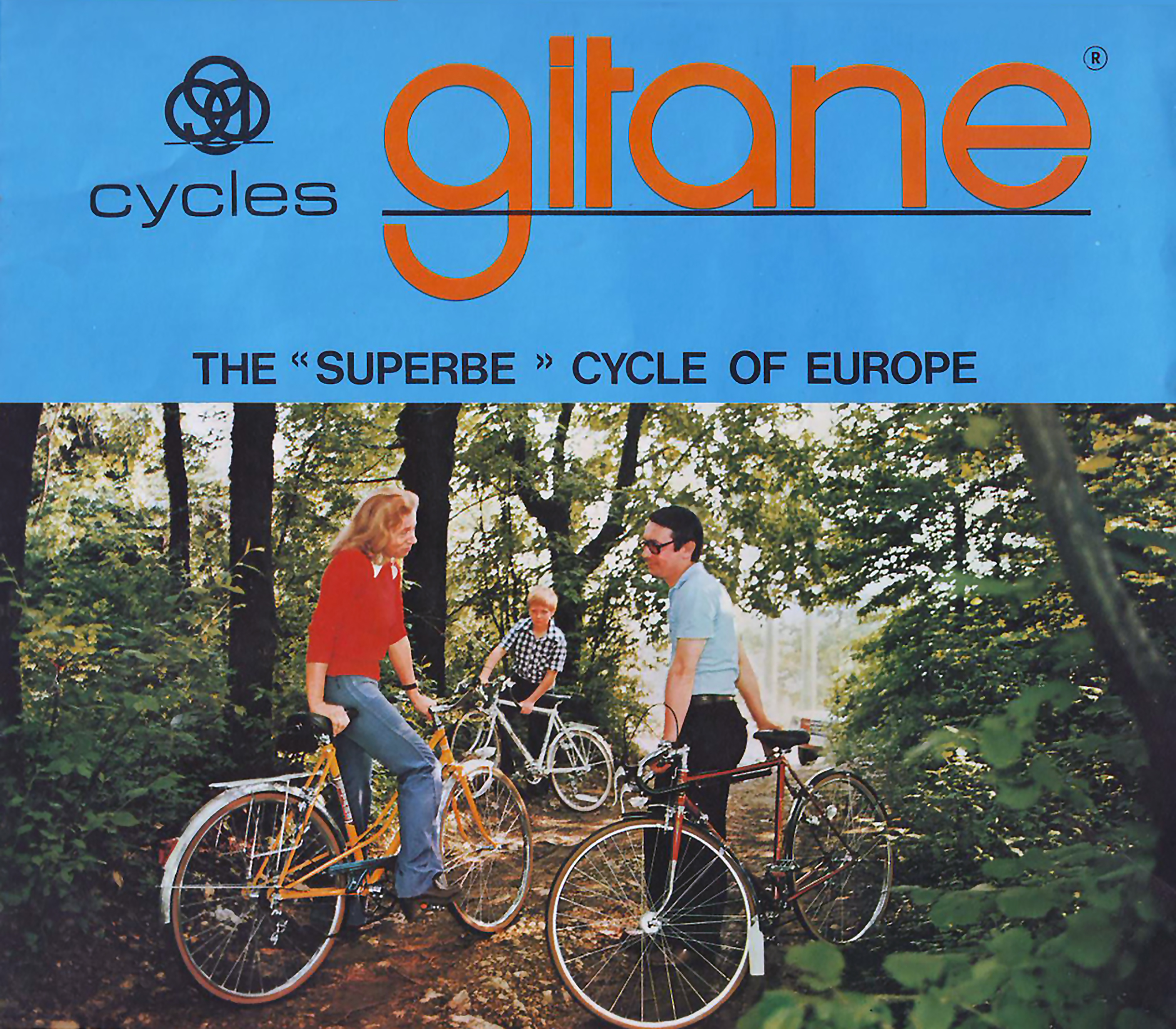 Gitane's primary legacy draws from the company's racing successes and they have been formidable: the bikes have propelled Tour de France winners at least eleven times, including such immortals as Jacques Anquetil, Bernard Hinault and the American Greg LeMond, possibly the last person to win the Tour on a lugged steel bike, naturally a Gitane. Anqeutil was the first racing great to ride for Gitane and three of his five Tour wins were aboard the marque.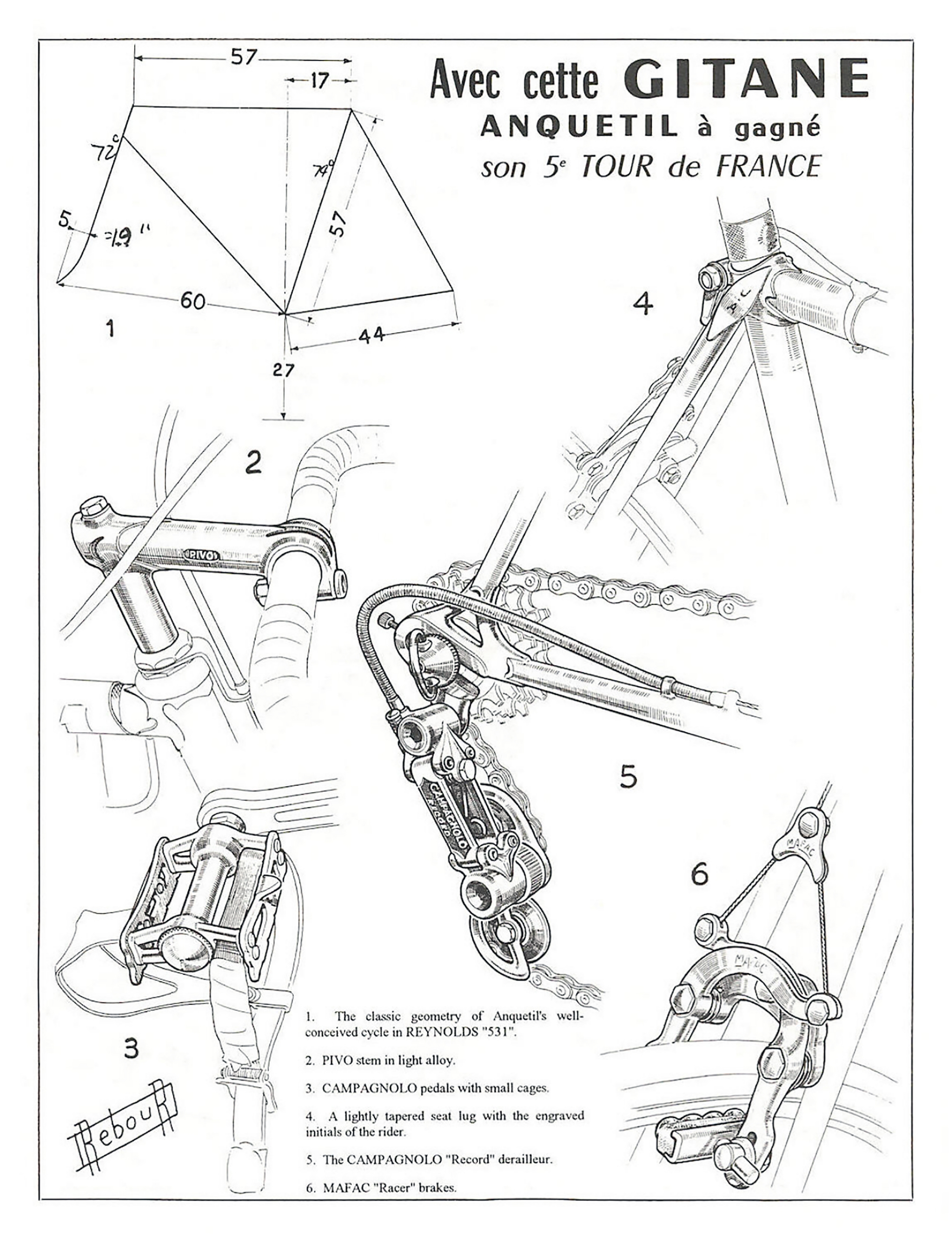 At the same time, Gitane was careful not to put all its eggs in one handlebar basket, also hiring near-greats to carry the Gitane banner in cyclocross (Rolf Wolfshohl in 1960 and 1961) and the World Championship circuit, then dominated by Jean Stablinski in 1962. Anquetil was at the heart of Gitane's racing efforts, though, and after he stepped away from the peloton, Gitane scaled back its involvement in the competitive side of the sport.
Then came the 1970s bike boom. Although the surge in cycling's popularity is often attributed to the OPEC-initiated gas crisis, it actually predated that phenomenon somewhat and is probably more truly the love child of communitarian environmentalist hippies and their anarchistic anti-petrol brethren of the time.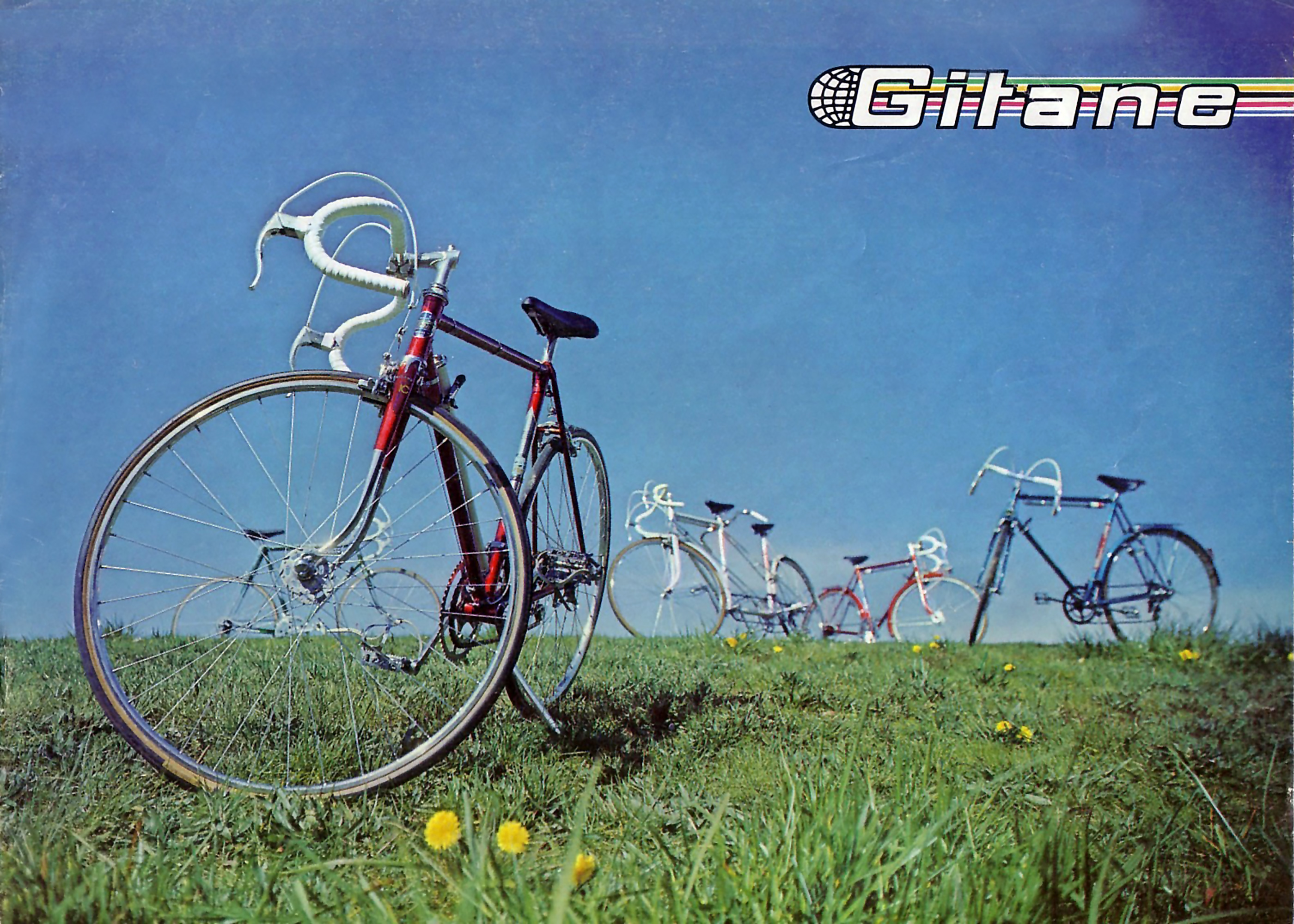 The bicycle was so cheap as to be nearly free; it was a clean and gentle way to travel; it left you outside the net of regulations necessitated by the dangers, dirt and social impact of driving; and it facilitated self-reliance. What more could any right-minded iconoclast want in a vehicle?
The gas crisis of 1974 simply brought the bicycle back to the attention of the American masses, much as peak oil and global warming are today. As a result of these convergences, bike sales soared in the United States.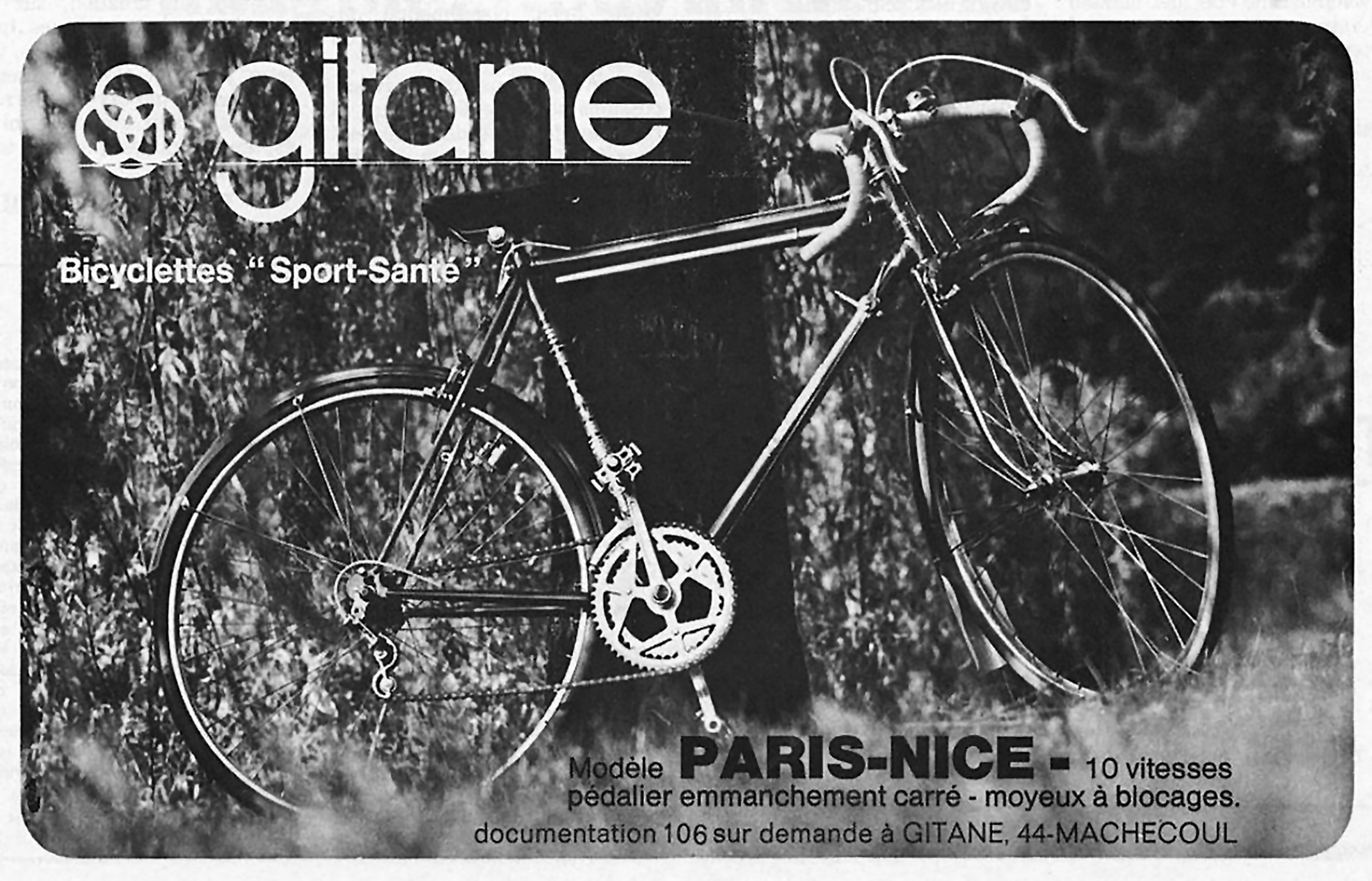 At the time, France had perhaps the most active commercial bicycle industry on earth (because, let's face it, the Le Car wasn't exactly for everyone). The French, despite popular misconceptions, have a sharp eye for business and once they noticed a strong bicycle market developing they hardly shrugged and turned away.
Gitane (along with Peugeot and a few others) responded to the market's call for bicycles — and with plenty of fresh capital in hand — Gitane returned its attention to the racing circuit. Then as now, victories in the Tour make for sales in showrooms. Then as now, bike shops sold racing bikes to people who would never race and who ended up hanging them in their garage for twenty or thirty years, till they could be bought by the likes of your author here as fixed gear fodder.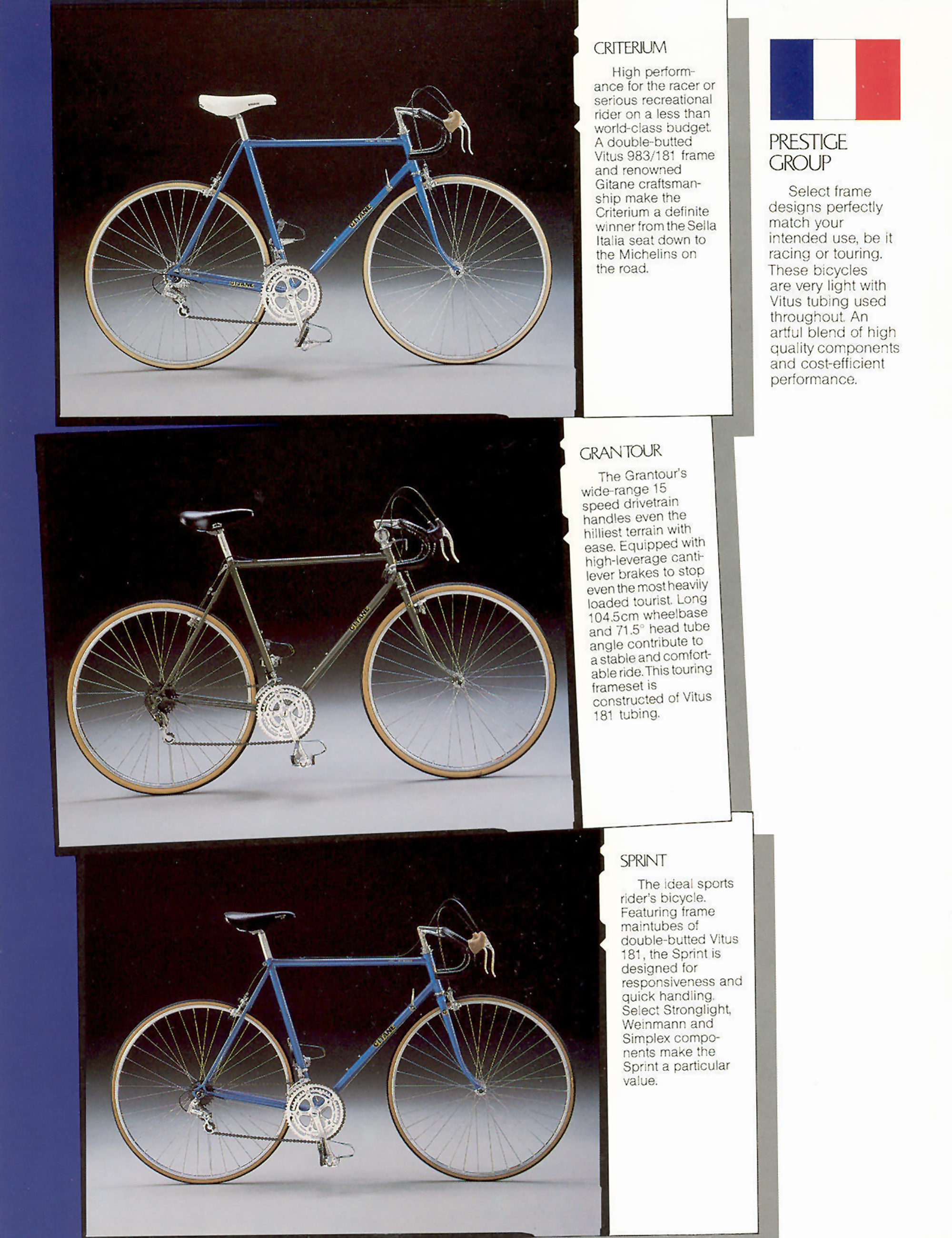 But racing has cachet and Gitane's racing program had more than most, for they hired the great Bernard Hinault before he was quite fully great, of course, and so somewhat more affordable. Hinault, according to gitaneusa.com, "won everything. Classics, the Tour, time trials, bunch sprints, climbs… even on the track…."
Bernard Hinault won four of his five Tours on a Gitane, and he won the World Road Race championship, and he won the Giro d'Italia, and he won the Vuelta a España… and he won and won. And Gitane bikes flew out of the showrooms. The racer, family man and pugilist seemed to do it all.
Gitane's relentless racing success attracted the market's attention. By 1972 Gitane (officially known as Micmo since 1960) was exporting more bikes each year (185,000) than its total production run in the 1960s.
By 1974, the automaker Renault had purchased a 30% interest in the company and then abruptly absorbed it entirely in 1976. The erstwhile racing teams subsequently carried the Renault-Gitane name for many years forward and continued seeking out talented riders to develop.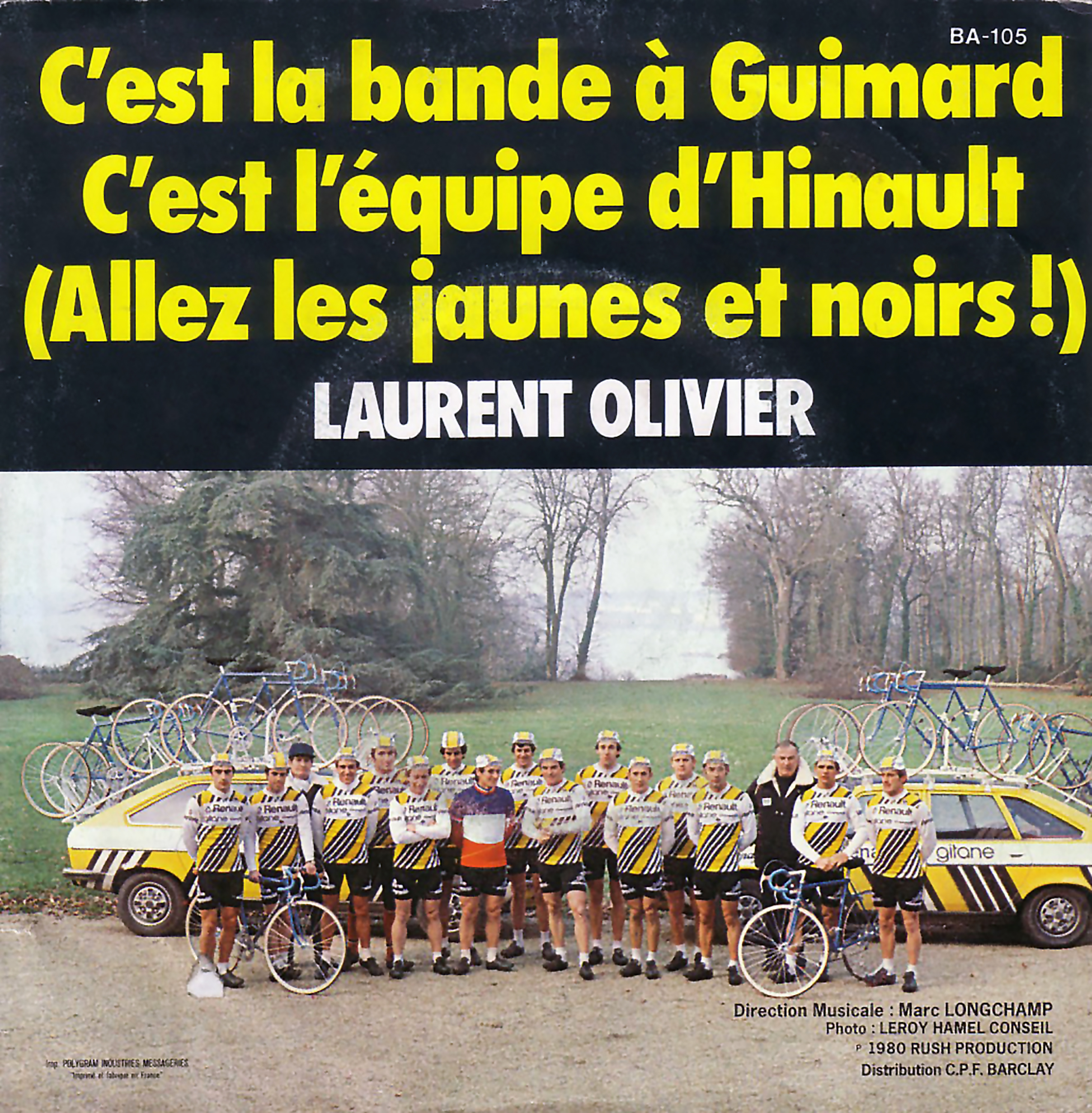 Among these were Laurent Fignon, who won two Tours on a Gitane, and another fellow who was quite a novelty for the time: an American rider whom the Gitane coach had scouted in Nevada of all places, the legendary Greg LeMond. In 1983 Hinault won the Vuelta a España (after which an injury put him out of action for a while), Fignon won the Tour and LeMond won the World Championship — all on Gitanes.
1984 was an even more brilliant year for the marque and its riders. And again, success attracted attention: a new team being assembled by businessman Bernard Tapie approached Hinault, already irritated Fignon would be a rising star on the Gitane squad, thus prompting the new rider to sign with the La Vie Claire team instead. Tapie and Hinault then approached LeMond and offered him a cool million dollars to ride for their team. LeMond, then and now a businessman, seized the opportunity.
Meanwhile, economic difficulties wore down sales of both cars and bicycles worldwide and Renault put Gitane up for sale. While the company continued pursuing competitive racing, its teams did not fare well, or at least not well enough: they won races, but could not win the Tour de France, and the Tour is the one bicycle race people who don't follow racing know about.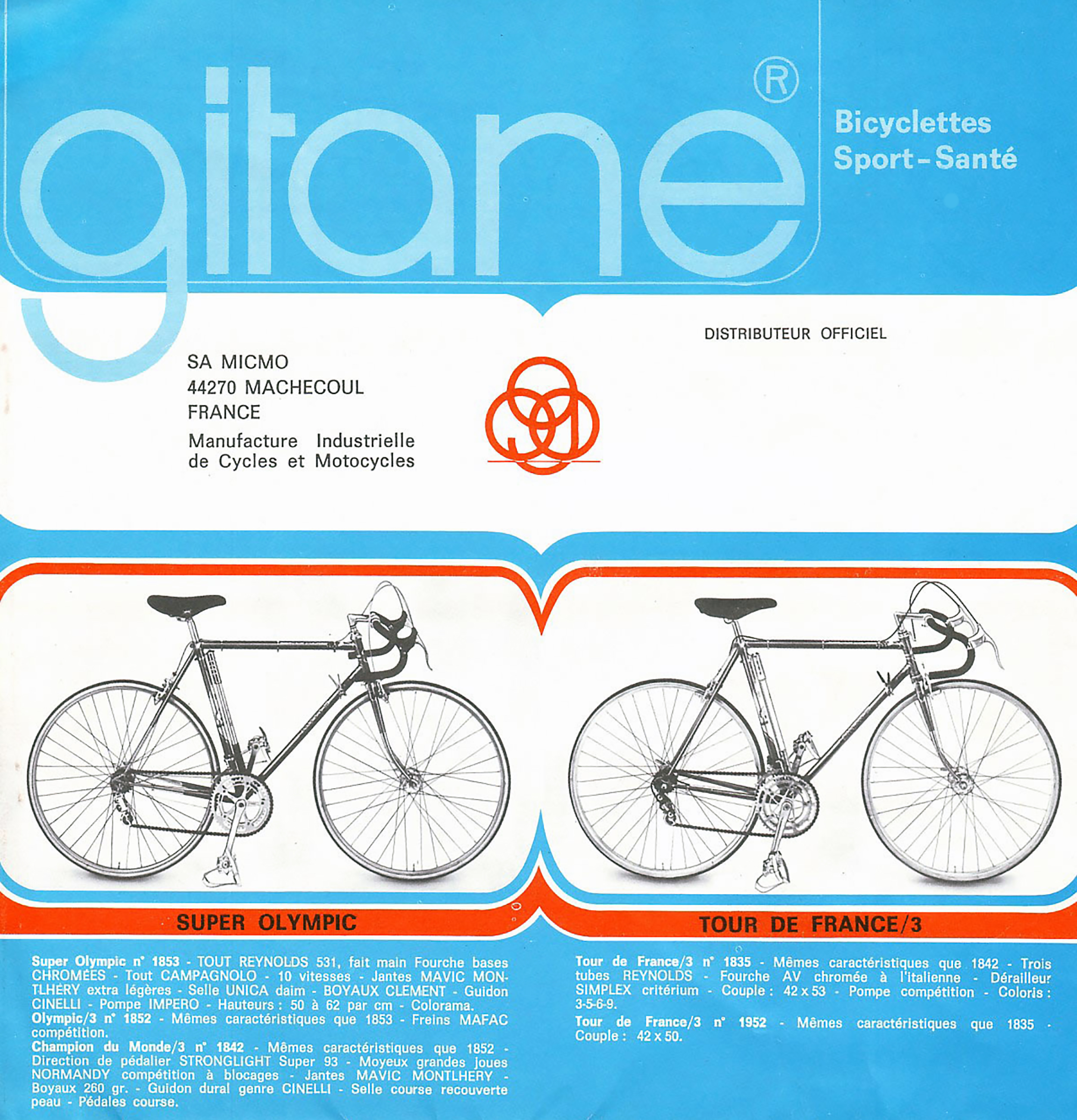 Sales dwindled and despite production efficiencies initiated in the late 1980s, Gitane felt compelled to merge with Peugeot and BH Cycles to form Cycleurope by 1992. Gitane subsequently found itself making bikes branded as Peugeots and even Raleighs for the domestic market. Eight years later in 2000, a Swedish company bought both Cycleurope and Bianchi, and assigned Bianchi the continuing role of making race bicycles.
Today, Gitane makes Gitanes again, under the new arrangement, but is only allowed to sell them in France. "Gitanes" sold elsewhere in the world are competent but generic Taiwanese road-sport bicycles. The dark-eyed wanderer has grown old and slow and been mostly forgotten. She no longer fascinates the world with her mystery and grace.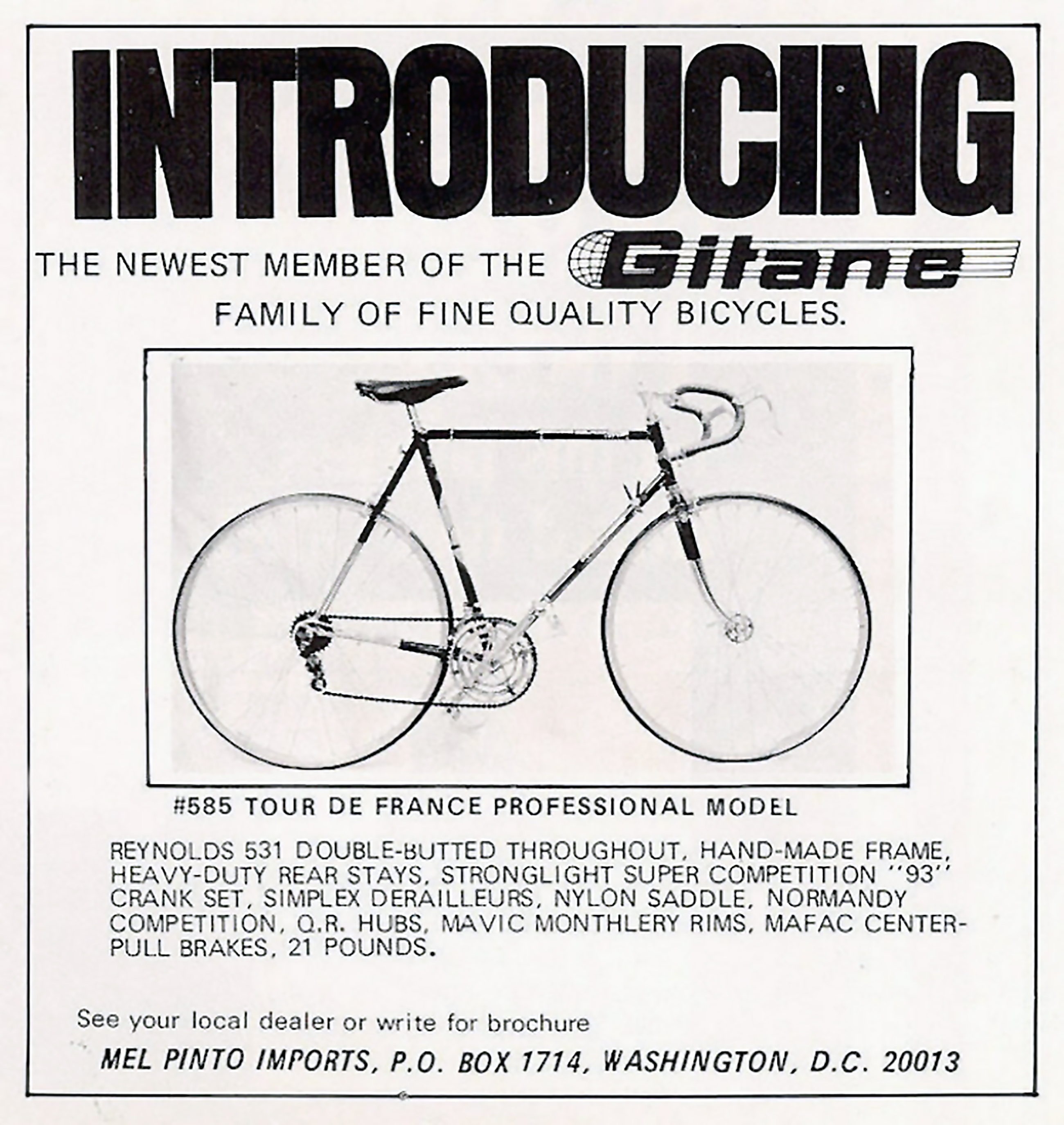 But the bikes themselves, as always, endure — you see them here and there, a flash of blue, a glint of steel — and you remember what they meant to the world, not all that long ago. Let's hope we have not seen the last of lady Gitane.
Special Thanks
Stephan Andranian at Gitane USA
The Net Group
Ebykr Gitane References
Gilles Berthoud Web Site
Richard Sachs Web Site
Waterford Bicycles Web Site
Vanilla Bicycles Web Site
Ibis Cycles Web Site
Gitane Web Site
Cycleurope Web Site
Gitane Wikipedia Reference
Gitane USA History Page
Jacques Anquetil Reference
Bernard Hinault Reference
Greg LeMond Reference
Rolf Wolfshohl Reference
Jean Stablinski Reference
Gitane USA Racing Page
Laurent Fignon Reference
Bernard Tapie Reference
Tour de France Fun Facts
Other Gitane References
Gitane French Web Site
Gitane Vintage Catalogs
Gitane Vintage Models
Gitane Official Forum