"I am a man who goes straight to the point… And, by force of habit, I never look back and count the years I have spent making frames.

I prefer to look ahead because, after working for half a century, I am still convinced that the bicycle has room for improvement. And just as I have done up until now, in the future, too, I want to contribute to the evolution of this fascinating vehicle, which is at the same time so simple and so complicated."

– Ugo de Rosa
Forging your destiny in steel at the tender age of eighteen would condemn most any spirit to lifelong antipathy. Not Ugo De Rosa, who by 1952 had already spent a full five years tinkering fruitfully in a relative's workshop. For the likes of De Rosa and his rare breed, making bicycles extends beyond instinct into the preternatural.
Every element of these masters' lives reflexively orients around bicycle designs and materials, and a contemptuous refusal to obey their physical limitations. The De Rosa legacy was founded in pursuit of this purity, first by Ugo and then by Mariuccia, his wife. A generation later the family name is carried proudly by three sons — Danilo, Doriano and Cristiano — who continue refining what their father so splendidly refined himself.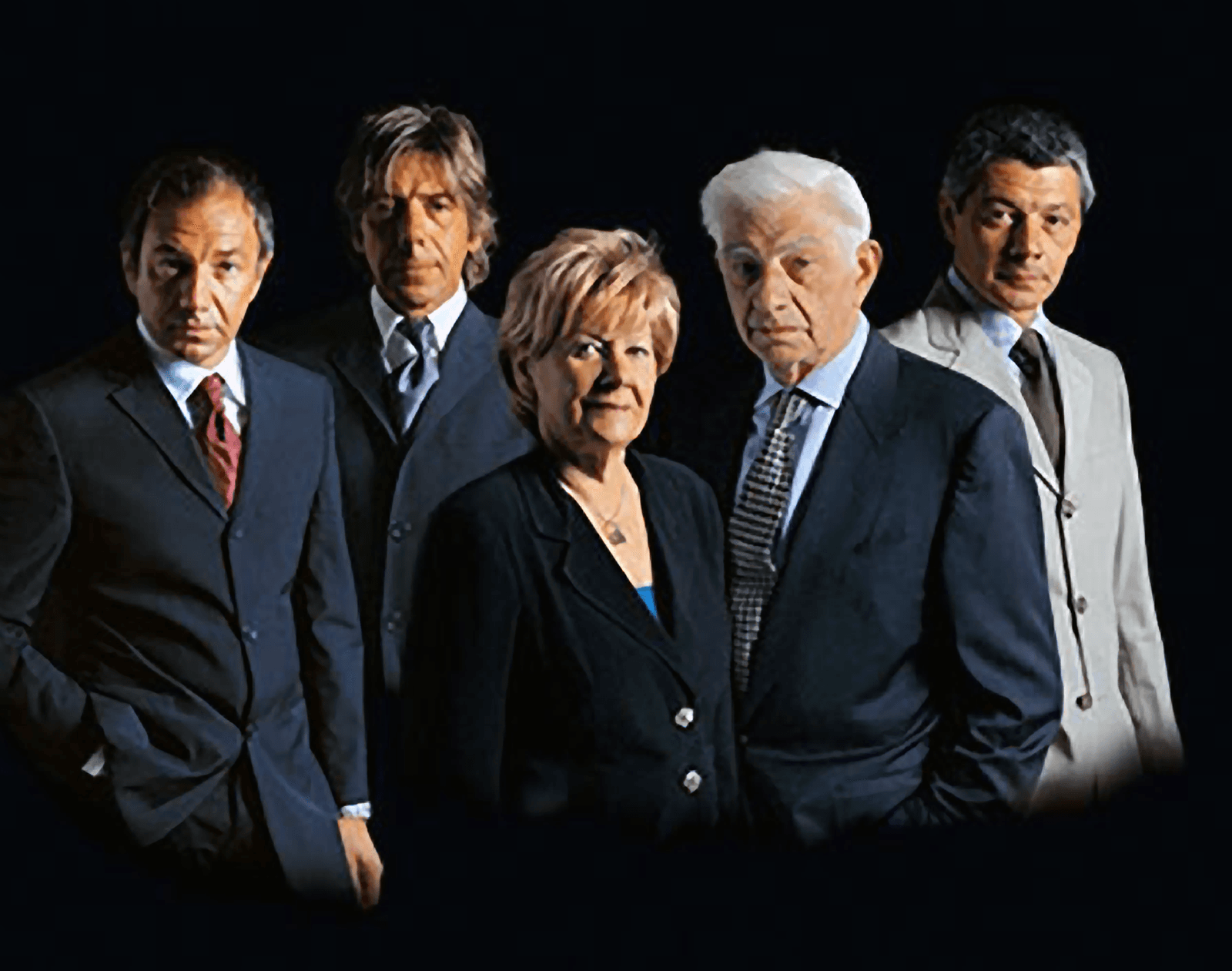 Characterizing the De Rosa name as having withstood the test of time would somewhat disservice the weighty contributions these five individuals have made. Their efforts have helped the De Rosa brand maintain its pioneer status in the art and science of bicycle building for over 50 years. The full truth of their accomplishments lives somewhere outside these ephemeral labels while remaining immediately recognizable by anyone fortunate enough to have ridden a De Rosa.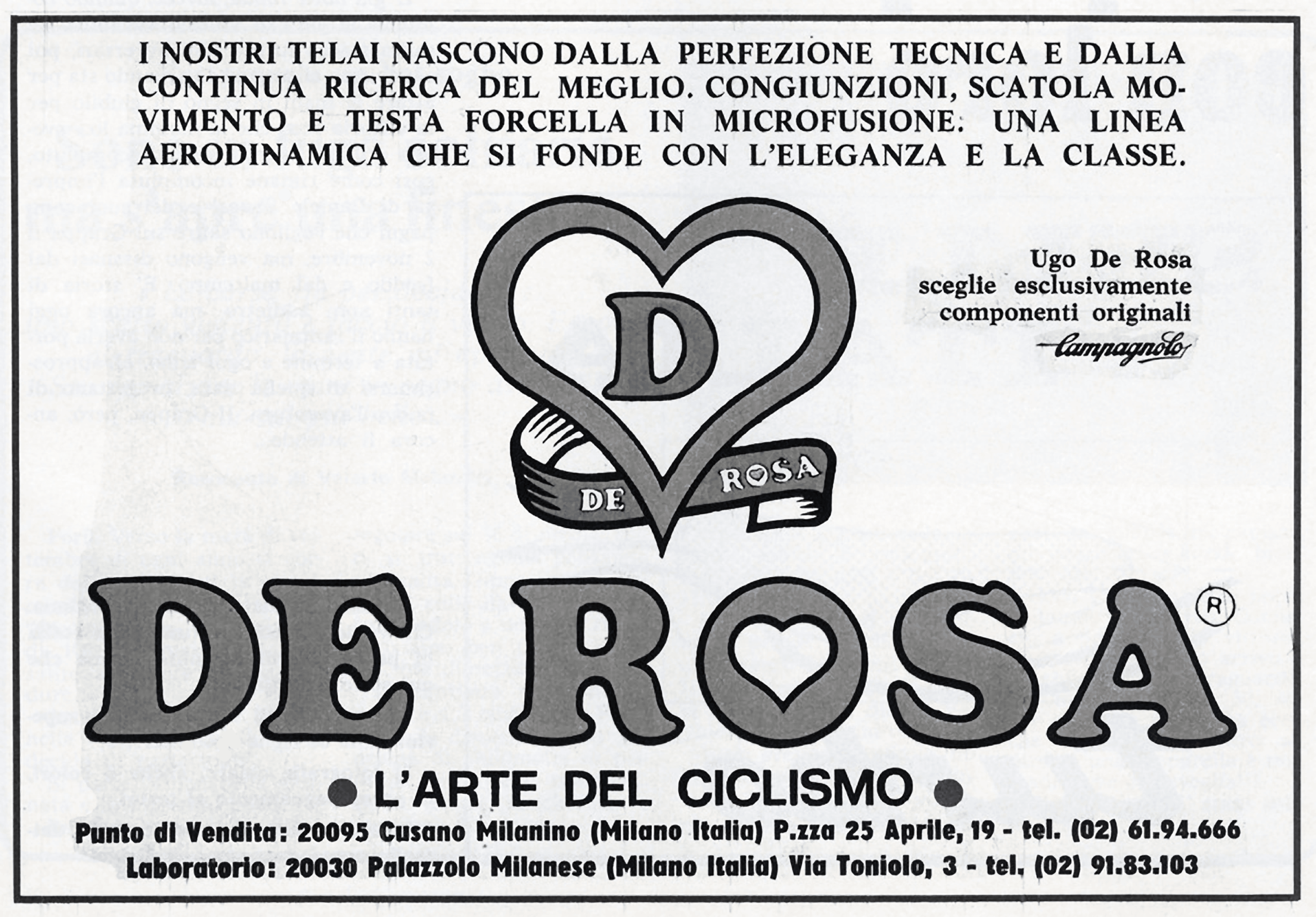 Born in Milan during the winter of 1934, Ugo De Rosa attended a technical school where he pursued mechanical engineering studies as a teen. Inspired by the popular Sunday magazine "Domenica del Corriere" and its Walter Molino illustrated covers celebrating the legendary exploits of Gino Bartali and Fausto Coppi, De Rosa started working in his uncle Filippo Fasci's workshop in 1947 at the tender age of thirteen.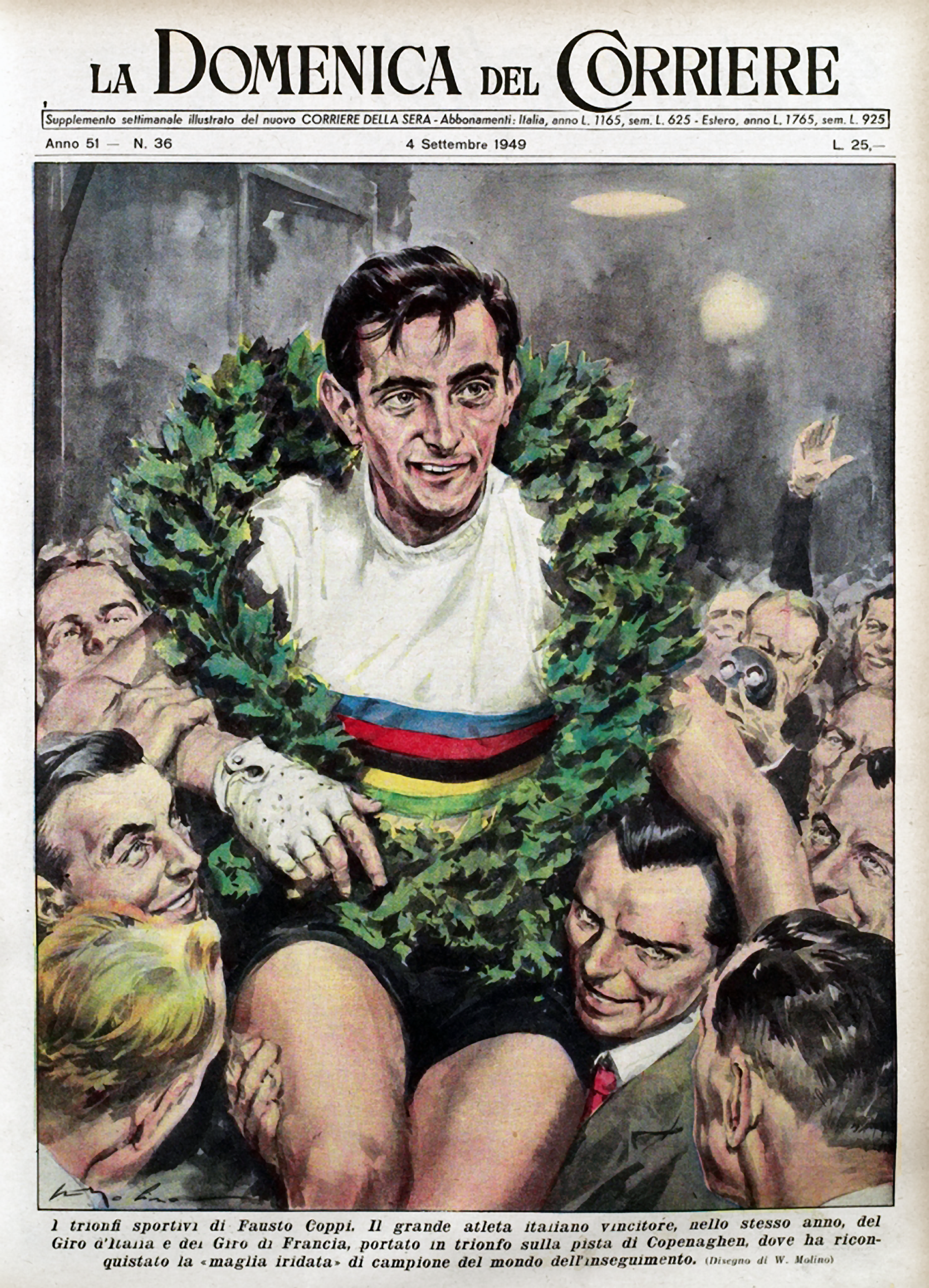 There he dreamed of building his own bicycle and riding it to victory. He also repaired and assembled bicycles while getting his first lessons in a structured work environment. And history has taught us they were valuable ones.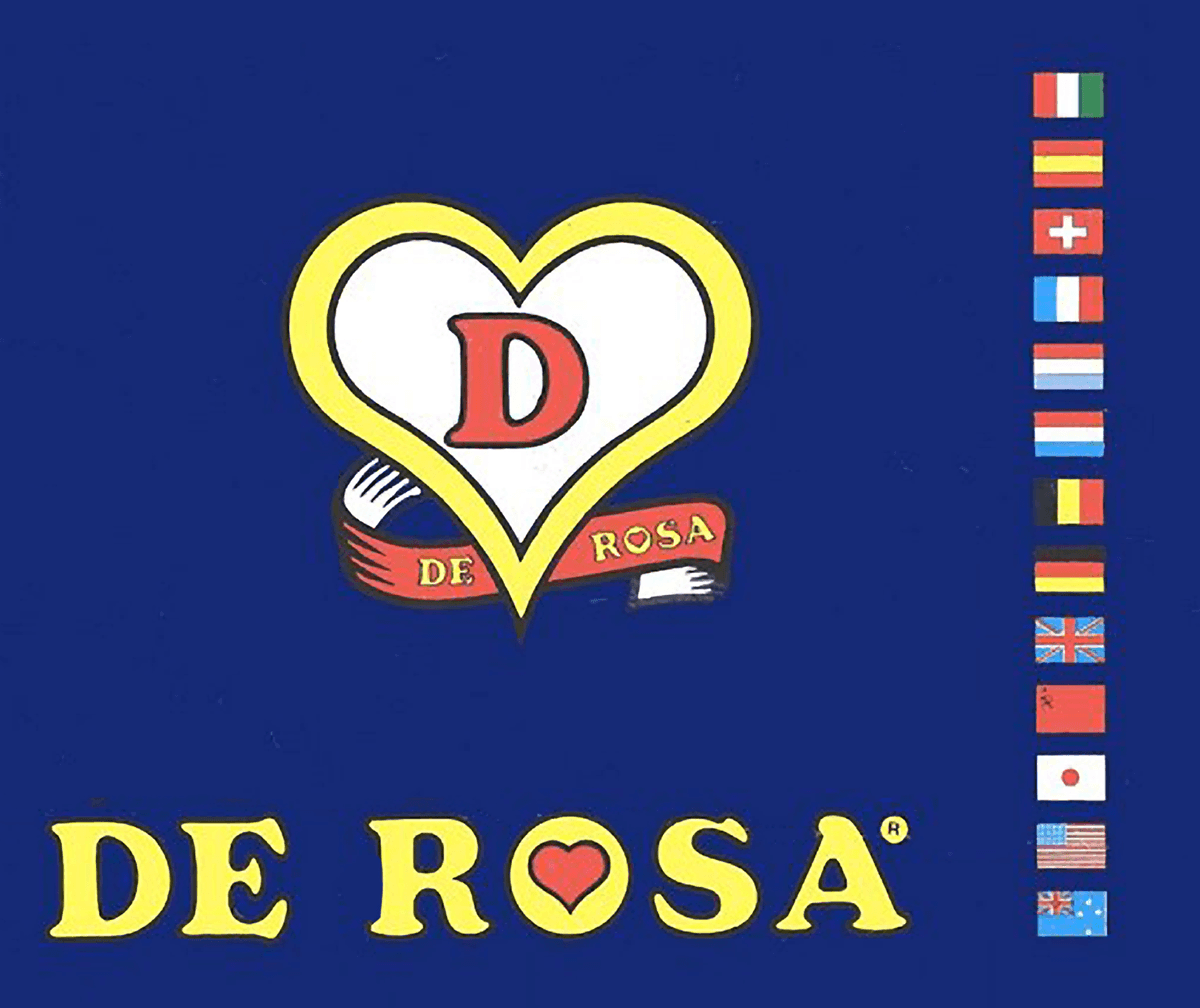 All of Europe was alight with hope after the Second World War. The prospect for change was palpable and helped inspire a generation of doers, including the chief quaternity of classic lightweight Italian bicycle builders: Cino Cinelli, Ernesto Colnago, Alberto Masi and Ugo De Rosa.
Equal parts idealism and vigor impassioned an eighteen year old De Rosa to set out and change the way racing bicycles were manufactured. In 1953 he opened the doors of his Milan shop to the public and started selling bicycles. More than a half century later production continues at a healthy pace. De Rosa marketing materials reflect on building bicycles in 1953:
"Those were difficult years. For Italy just recovering from the war, a racing bicycle was still a luxury. But cycling has the power to arouse people's passions and everything led to believe that, in just a short time, the Italians would be clamoring for special bikes.

Among the few to believe this there was also Ugo De Rosa, who in that very year began his great adventure on two wheels. The only material available for making frames was steel. Cut by the skillful hands of the craftsman, welded and filed, it was transformed into authentic gems born to race. And to win."
By 1958 De Rosa's skills and notoriety had grown beyond the local Milan market's confines. Racers in the professional peleton were hearing about bicycles built by an Italian "giovane straordinario" and had to know more. With reputation and livelihood mutually predicated on winning, the gravity between builder and racer is especially strong. France's Raphaél "The Rocket" Gáminiani would be first to get pulled into the De Rosa orbit.
After placing second at the Tour de France and winning its King of the Mountains jersey in one of twelve overall appearances at the event, Géminiani requested De Rosa build him a bicycle worthy of the upcoming Giro d'Italia. Seizing the opportunity, which presented itself at a Velodromo Vigorelli race — Masi's home turf — De Rosa obliged by producing a bicycle that carried Géminiani to third place in the following Tour de France.
Years earlier De Rosa himself enjoyed a stint at amateur racing that familiarized him with the cutthroat technological demands of competitive cycling. Like so many other masters, De Rosa partnered with champion racers who relied on their "costruttore" to provide every mechanical advantage available for crushing the competition.
Unlike so many other masters, De Rosa was also a committed race day mechanic who regularly practiced the applied side of his trade. In addition to Géminiani, primary beneficiaries of this holistic outlook included such great racing cyclists as: Rik van Looy, Gastone Nencini, Gianni Motta and Eddy Merckx.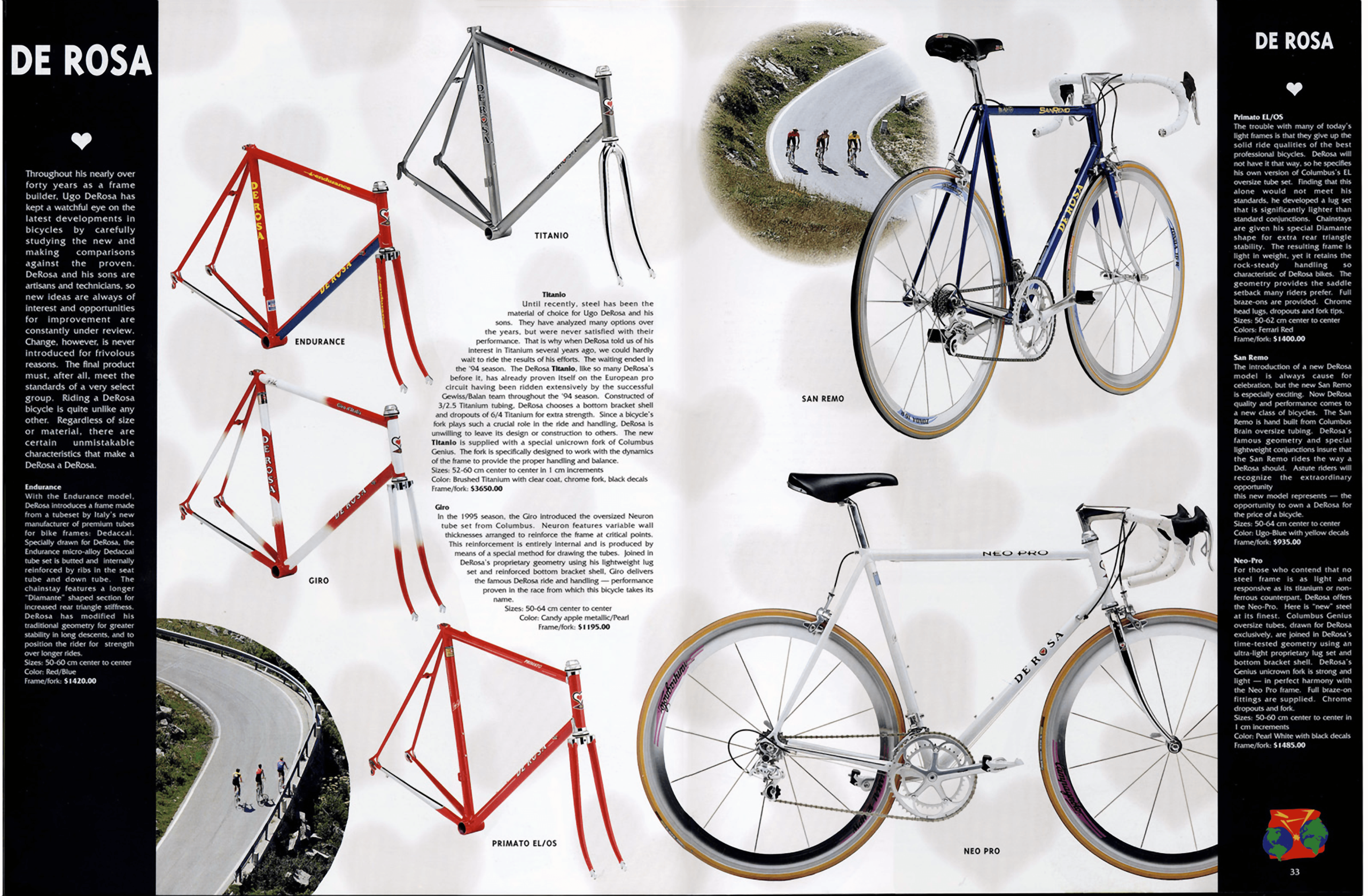 De Rosa's lionly heart and kid gloves fit Eddy "The Cannibal" Merckx particularly well. Perhaps the fiercest competitor and most meticulous tactician ever in cycling, Merckx partnered with De Rosa in a divinely devastating integration of racer and builder. With origins dating to 1969, their partnership took full effect in 1973 when Merckx invited De Rosa to join his Team Molteni as official frame builder and mechanic.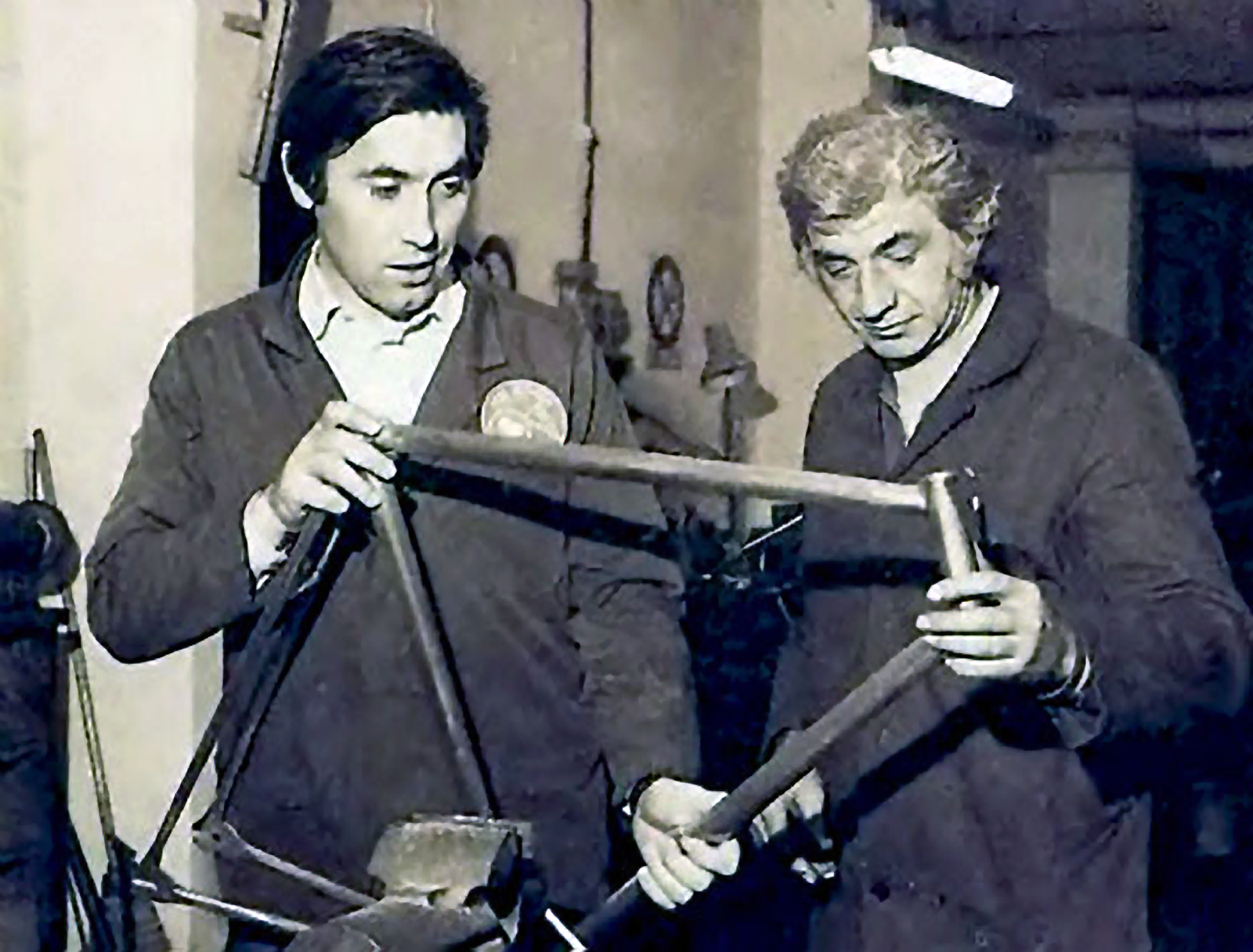 The subsequent history they shared would become the stuff of legends even before Merckx retired in 1978. Every significant palmares in professional cycling went represented in the races Merckx won aboard De Rosa bicycles: Tour de France, Giro d'Italia, Vuelta a España, Tour of Flanders, Tour de Suisse, Milano-Sanremo, Paris-Roubaix, Paris-Brussels, Liège Bastogne Liège and Gent-Wevelgem.
The De Rosa-Merckx partnership endured well beyond Merckx's competitive departure from the sport. De Rosa provided technical consultation to Merckx when the former champion built manufacturing facilities upon establishing his own namesake brand of bicycles in 1981. Eddy Merckx bicycles remain popular today for their historical association and reputation for outstanding craftsmanship, qualities De Rosa played at least some part in shaping.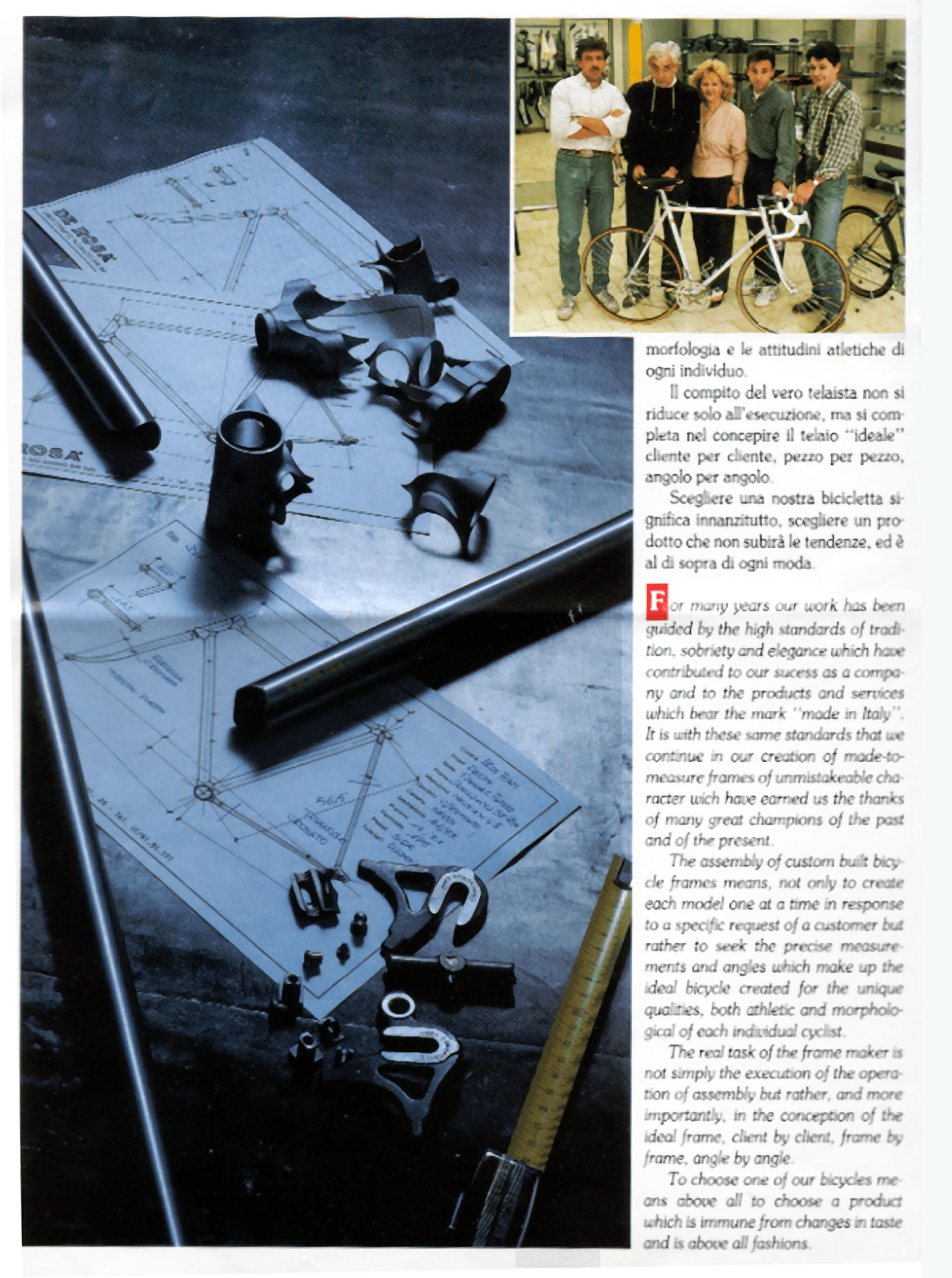 Perhaps De Rosa was overly successful instilling his "healthy realism" philosophy on Merckx, according to which "first you have to know how to make bicycles, and then know how to sell them." With both figures remaining tall in the elite world of competitive bicycle manufacturing and marketing, Eddy Merckx bicycles stand somewhat taller among ProTour and WorldTour riders.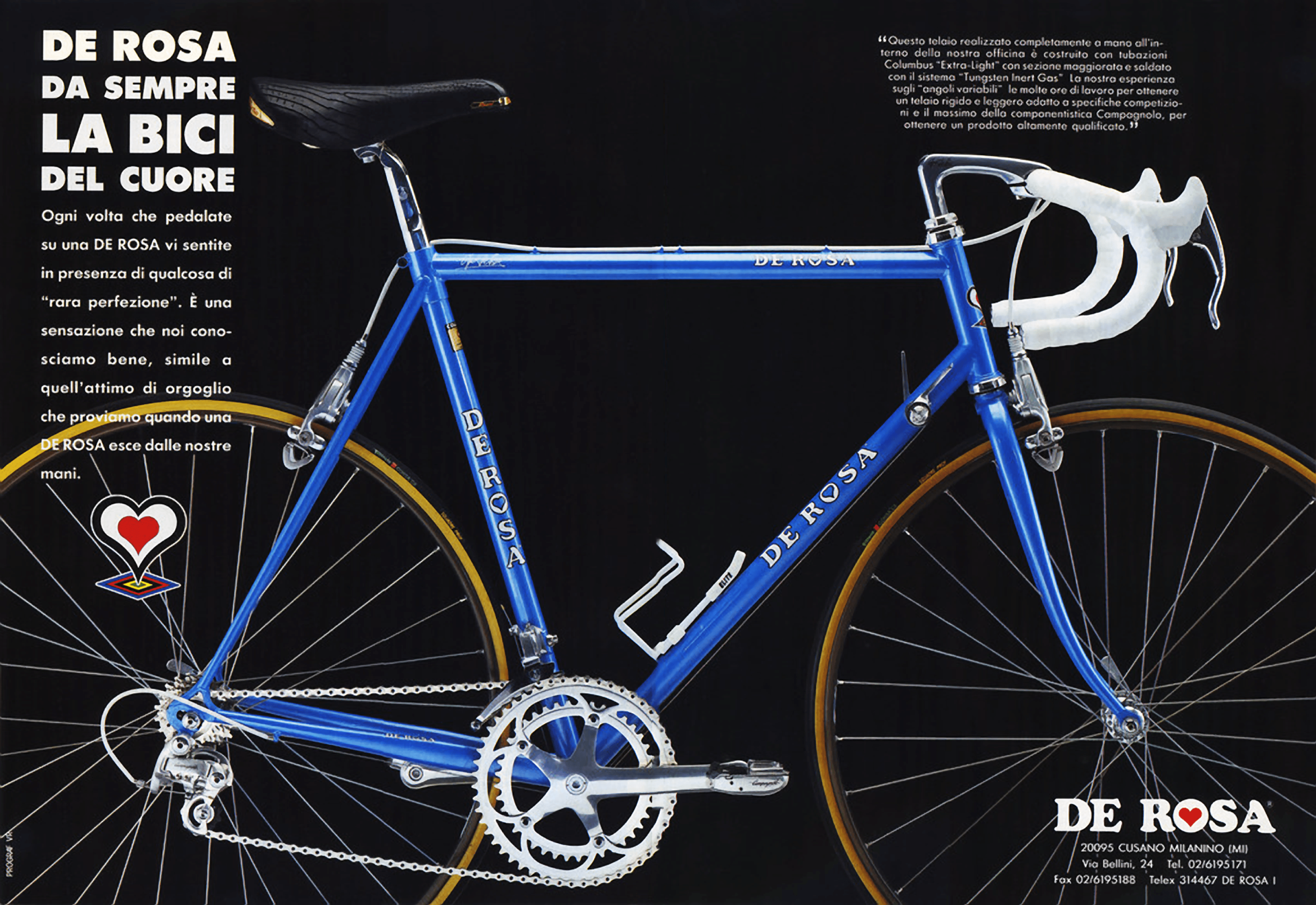 Axel Merckx, son of Eddy, even had special permission from Davitamon-Lotto to ride his father's bicycles through the 2005 racing season despite Ridley being the official team bicycle sponsor. Star power works in mysterious ways.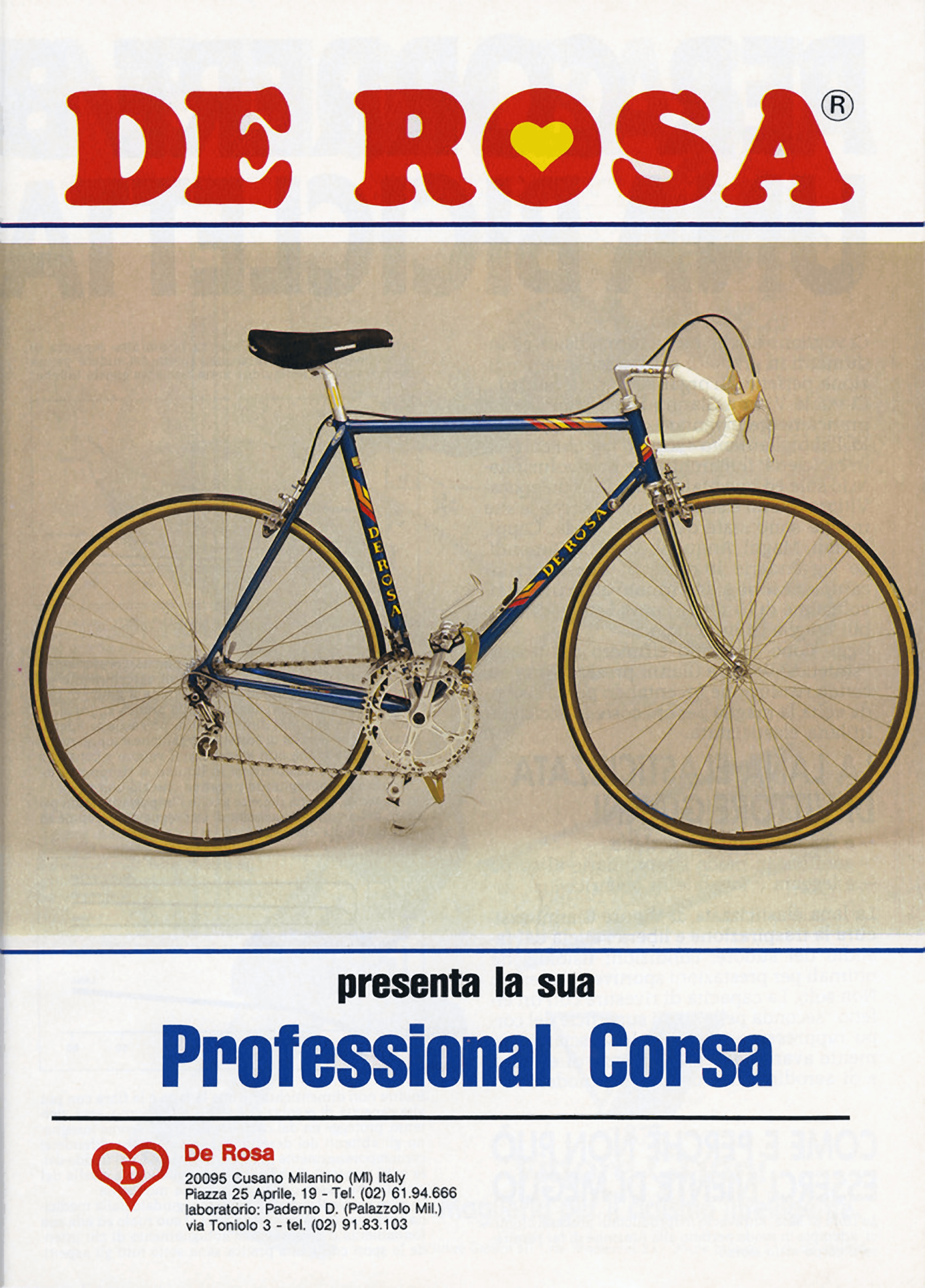 So, too, does a half century of reliable greatness, which is why classic De Rosa bicycles are always courted by lines of eagerly awaiting suitors. Early models enjoy that magical combination of rich heritage and true scarcity, leading to a desirability factor shared only with the rarest Cinelli models, for example. Collectors continue proving themselves willing to pay exorbitant amounts for older or noteworthy models, especially those with heart shaped lugs, bottom bracket cutouts or drilled dropouts.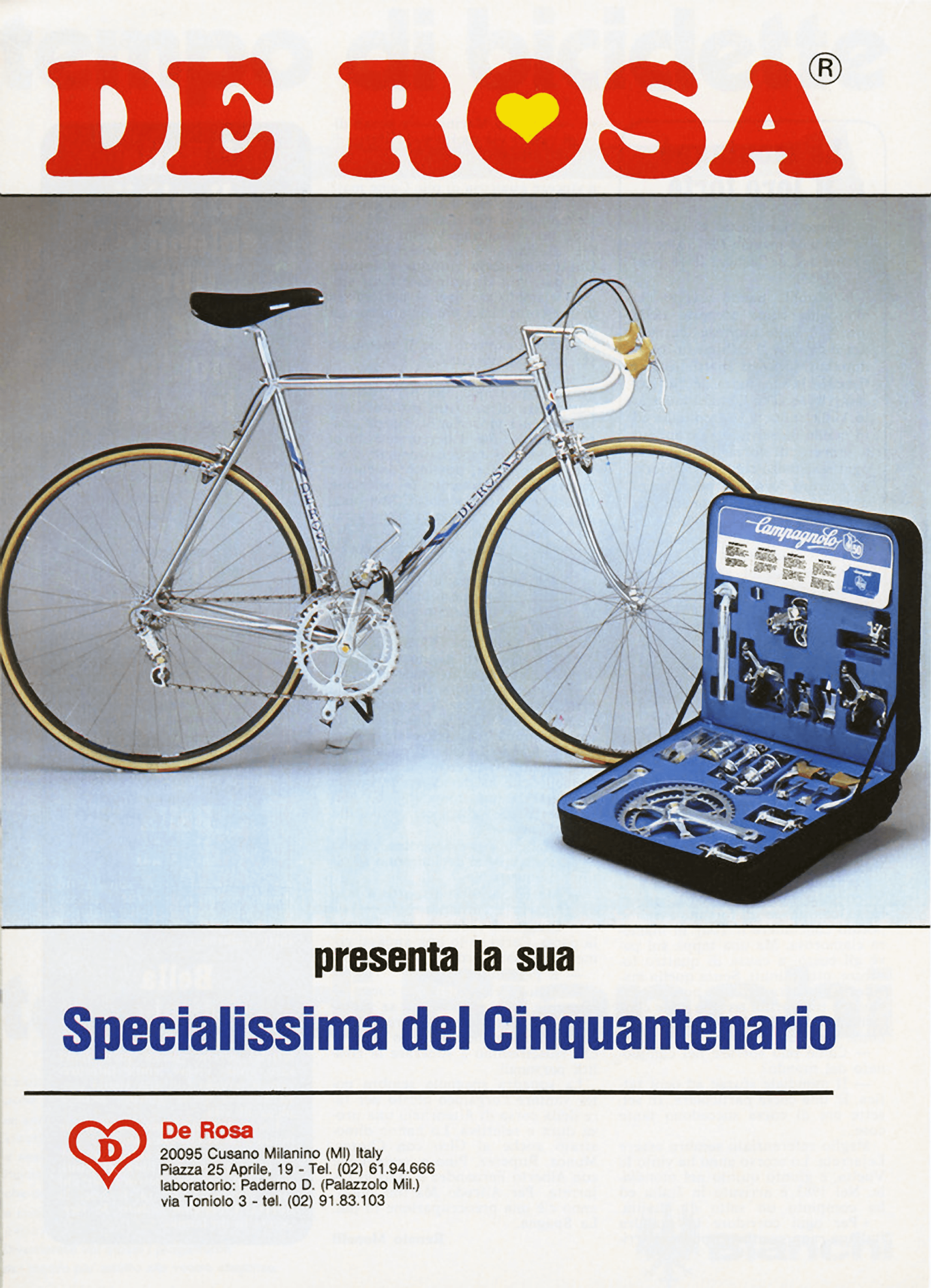 Along with impeccable workmanship, De Rosa bicycles are also revered for their wonderful ride characteristics. Racers have known for decades what collectors have more recently discovered: De Rosa bicycles offer highly compatible geometry and assuring balance in an exquisitely finished package. Their marriage of power, comfort and appearance truly is something special.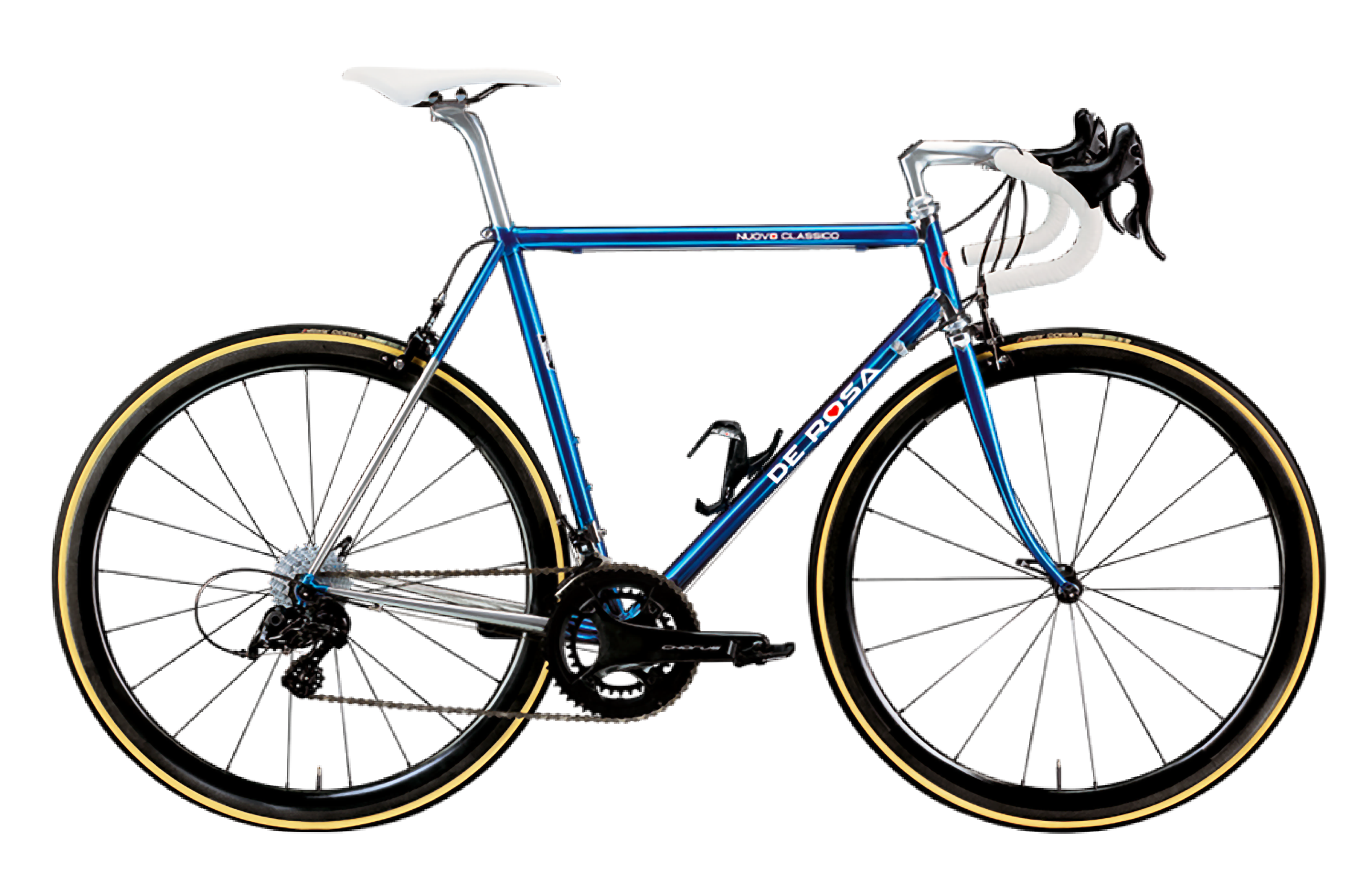 Steel was the only material used to manufacture De Rosa frames and forks from 1953 until 1991. Following the U.S. "racing bike" boom of the early 1980s, titanium and its alloys grew more interesting to innovative builders like De Rosa. In 1991 the company was among the first to introduce titanium frames that "immediately distinguished themselves for their elegance and neatness of form, lightness and reliability."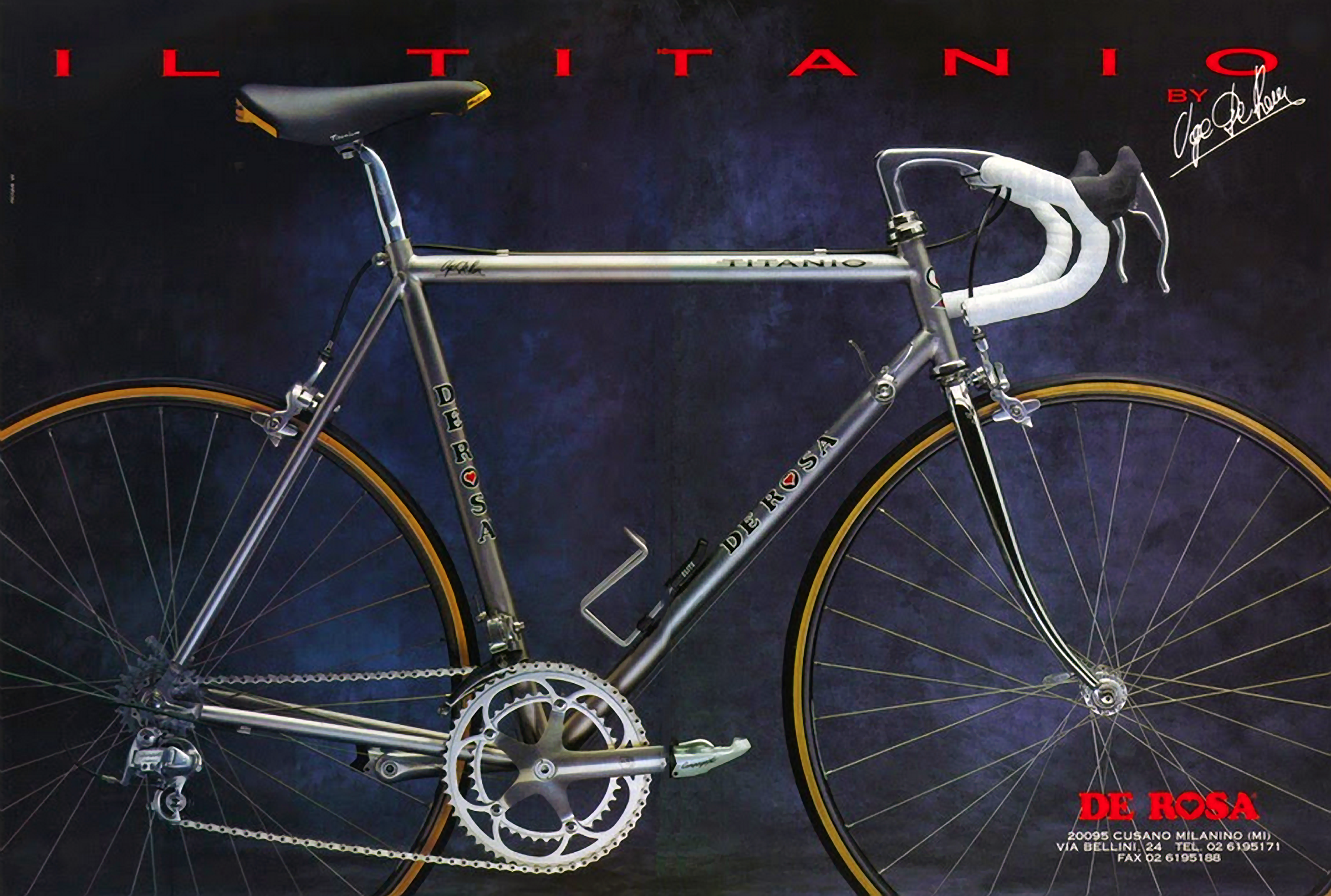 Five years later in 1996 De Rosa introduced aluminum bicycles, over a decade after pioneering aluminum manufacturer Cannondale first introduced their aluminum models. Never someone to fall behind the technology curve twice, let alone in the same decade, De Rosa promptly introduced carbon frames in 2000, first as combined with aluminum tubes and then as pure carbon creations weighing a parsimonious 1,000 grams. De Rosa marketing materials reflect on the history of using steel for building bicycles:
"How steel has changed in the half century! It seems only yesterday when we had to handle untreated tubes, shiny with oil, to be cut by hand, the joins to be filed one by one, to refine its shape and thickness so that they look more like embroidery than couplings. And we had to heat it with an oxyhydrogen flame, cast the brass and weld everything. And then file and file again.

Instead now we are in the days of TIG, of welds made directly from tube to tube, so fine that they seem invisible, and very difficult to perform if you are not well trained. And if you don't know the metal you are working on, always lighter, always thinner.

The only thing that has not changed, and that is because we want it that way, is the typical De Rosa meticulousness in always wanting to do things well. First with the brain and then with the heart."
If history truly is the best predictor of the future, the next fifty years should be exciting ones for De Rosa. Manufacturing composite frames and forks represents a relatively fresh direction for the man, family and company behind the De Rosa name. E-bikes are an even newer direction. Many are hoping these renewed commitments also represent the renaissance of a brand once accustomed to enjoying the "primo posto" among Italian bicycle builders.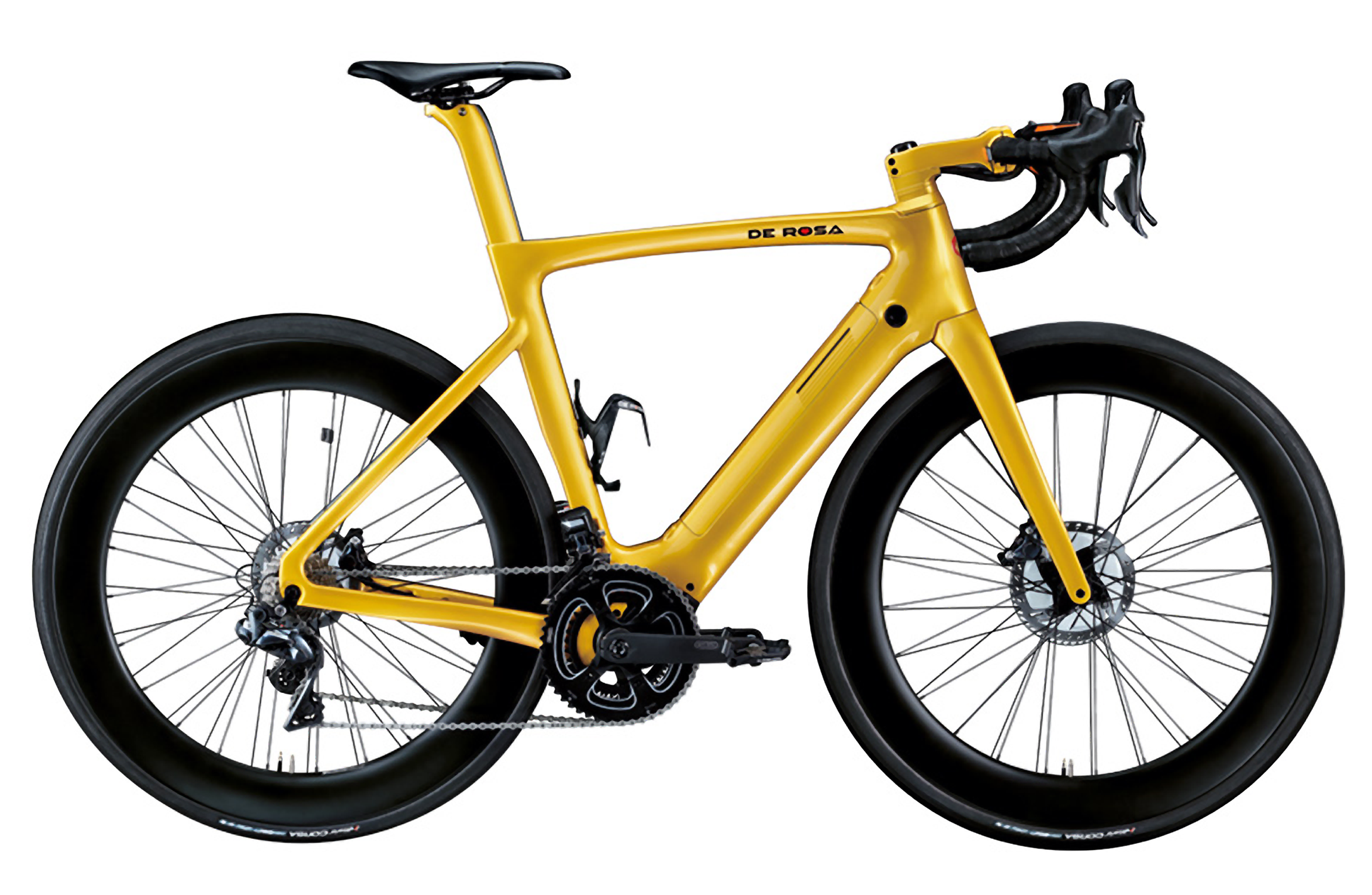 Regardless of where things continue growing from here, we will always have the De Rosa dream bikes of yesteryear to cherish and ride on the most special of occasions. The rest is icing on the cake.
Special Thanks:
De Rosa Ebykr Article Citations:
http://en.wikipedia.org/wiki/De_Rosa
http://www.vigorelli.org/index.html
http://www.cyclingnews.com/tech.php?id=tech/2005/news/04-05
http://www.cycles-yokoo.co.jp/derosa72.html
http://www.sheldonbrown.com/vrbn-a-f.html#derosa
http://www.cannondale.com/en/USA/Innovation.aspx
Official De Rosa Sites:
De Rosa Articles and Catalogs:
http://www.cyclingnews.com/tech/?id=2003/features/derosa/default
http://www.cyclingnews.com/sponsors/italia/2003/derosa/?id=default