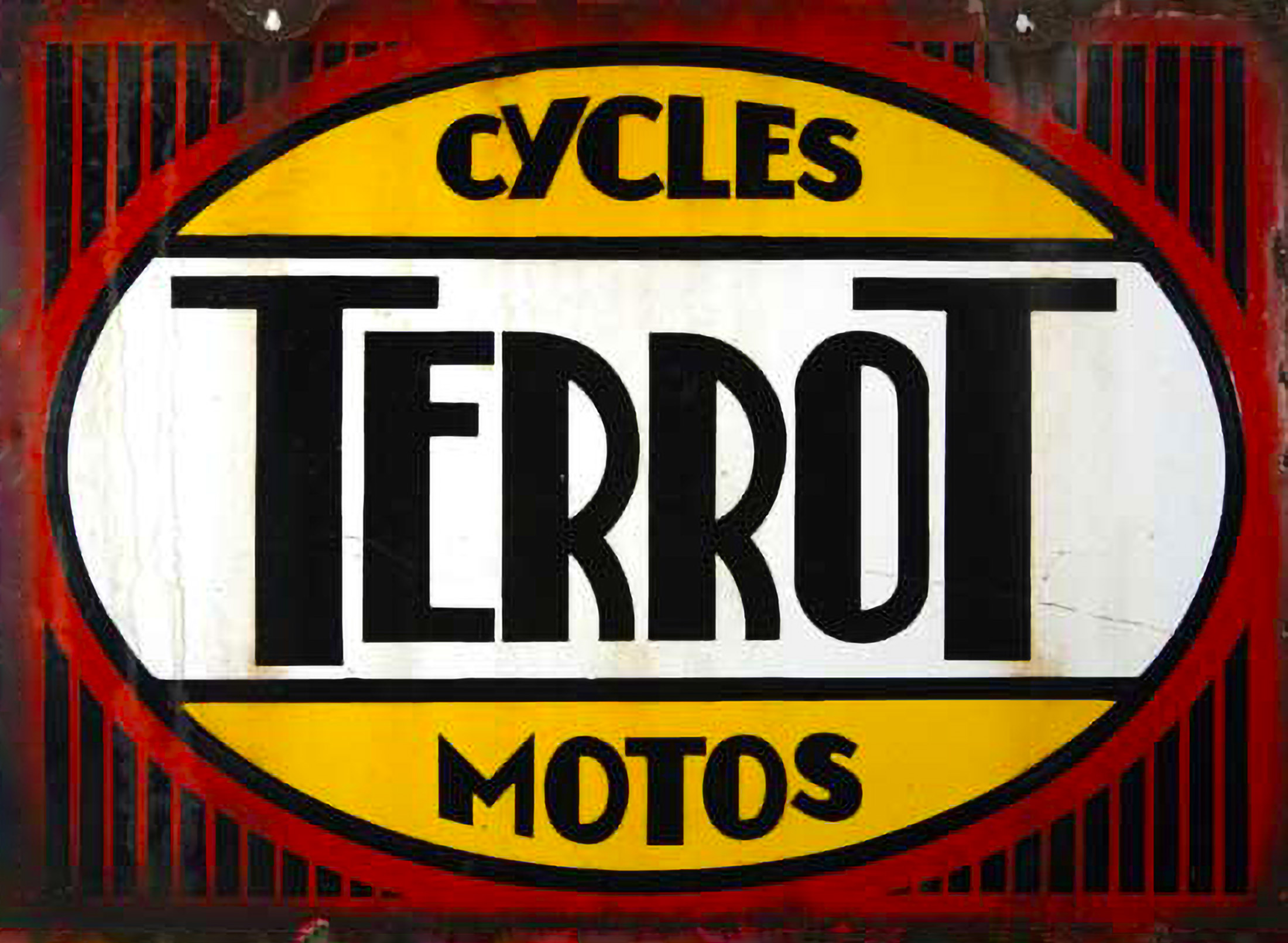 From its 1887 beginnings as a modest textile workshop built by Charles Terrot in rural Dijon, France, the Terrot enterprise grew to become a resoundingly popular manufacturer of bicycles and motorcycles over the next three-quarters century. Terrot successfully combined ground breaking product, aggressive marketing and regularity on the podium to rise above a crowded field of competing interests also vying for larger shares of the burgeoning two-wheeled transportation market.
When in-house production finally halted in 1961, over 600,000 units had been shipped to 3,000 resellers worldwide — and countless "Terrotistes" had been created. It was hardly an overnight phenomenon, though.
Terrot began producing bicycles three years after building his first textile workshop. He quickly expanded facilities to provide for the increased manufacturing demands introduced by this new business activity. Bicyclettes Terrot was formally founded in 1890 and immediately began responding to opportunities made possible by early safety bicycle design and production needs left unaddressed by other French industrialists and upstarts alike.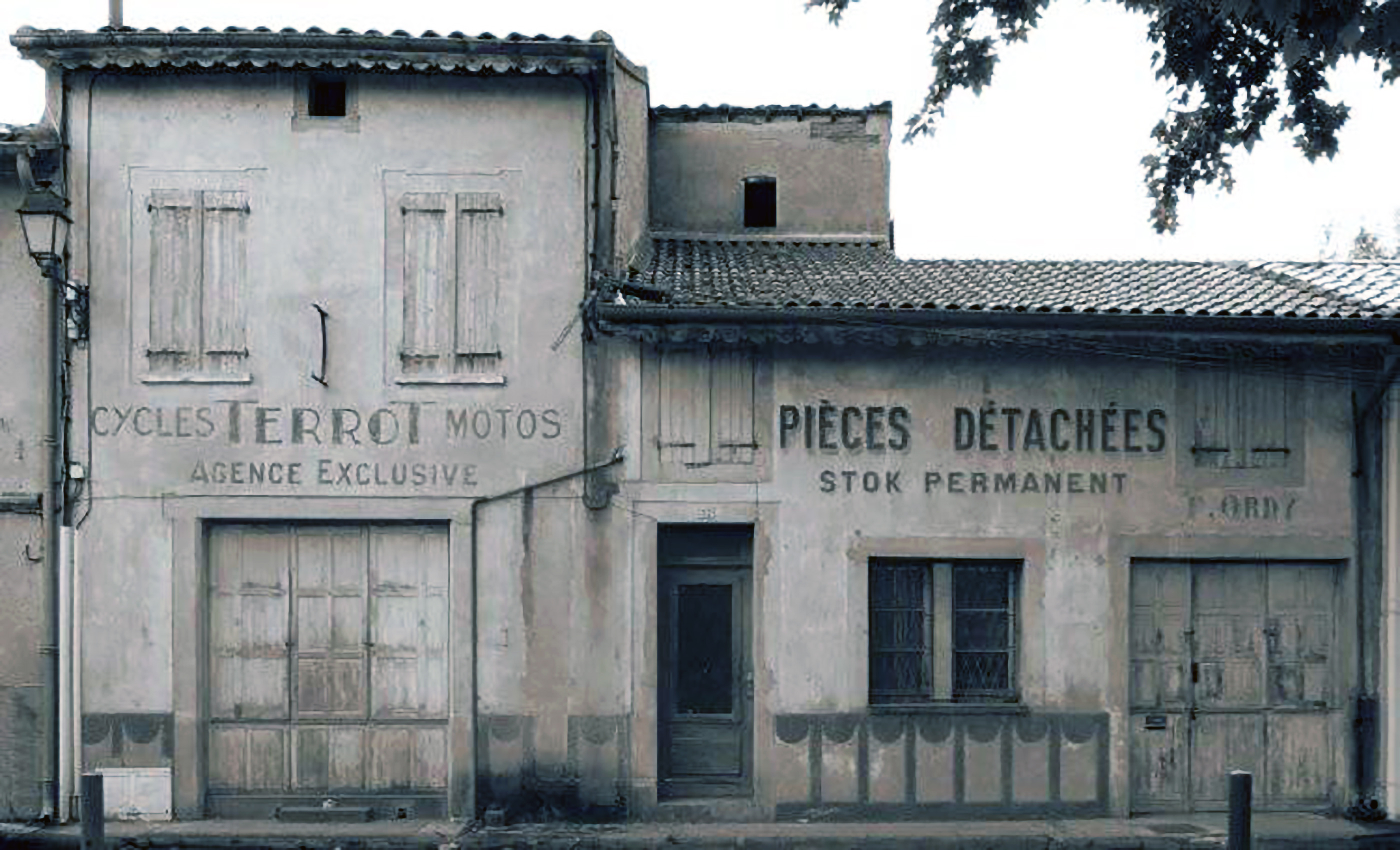 Nicknamed "boneshakers," first generation bicycles were regarded as uncomfortable and dangerous while simultaneously glorified for their innovation and mobility. With bicycles the only personal means of mechanical transport available at the time, any marketable improvement upon these and second generation "penny farthing" (or highwheel or ordinary) designs meant economic windfall for those involved. So another chapter of cycling's story begins, in pursuit of the almighty franc.
Côte d'Or — or "Golden Hills" — is a French department based largely in Burgundy but also in Champagne. It is divided into two areas of commercial activity, one oriented around wine production and the other cattle farming. History yet revealing the degree of coincidence involved, Terrot was based in the wine production area. The main vines begin on the southern outskirts of Dijon and fields continue flowing southeast toward the facing hills, on to Côte de Nuits and then Côte de Beaune.
The concentration of vines leaves little room for anything other than fantastic wine and endless cycling. Modern evidence of the region's popularity can be found among the scores of vacationers seduced by endless sunshine and enterprising tour operators who visit each summer to barge the Canal of Burgundy and wander its surrounding towns conveniently by bicycle.
The last decade of the nineteenth century bore witness to the bicycle's emergence from unwieldy outlier to trusty confidante. Not only were these new breed machines enjoyed as practical transportation solutions, they were celebrated as futuristic expressions of awaiting freedom and self-reliance.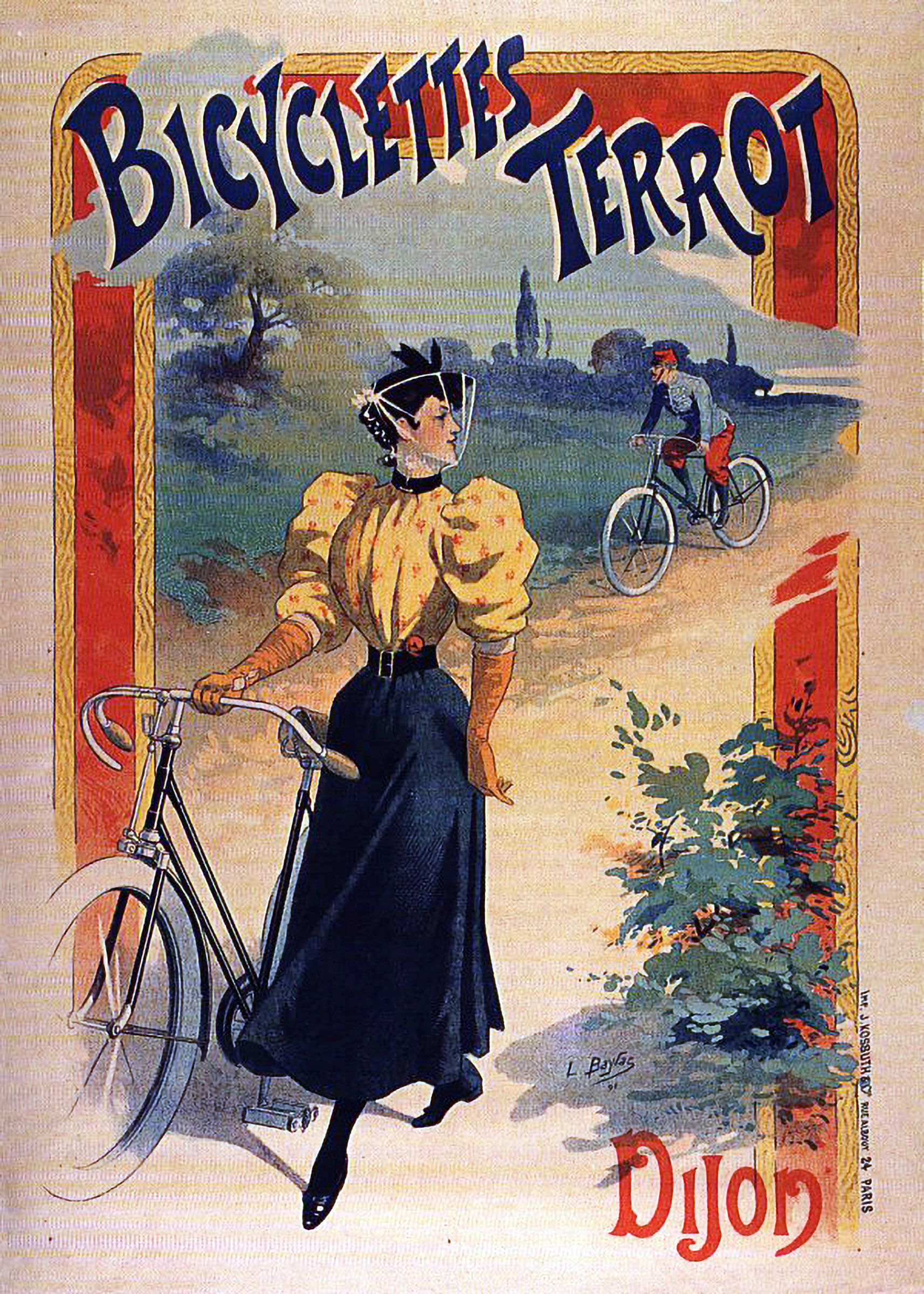 Innovative cycling companies were experimenting with previously unimagined technologies, like: double diamond construction, suspension systems, aerodynamic tubing, rare alloys and hydraulic braking. Citizens everywhere were discussing related matters of social and ecological importance, like traveling greater distances more quickly and increasing contact with nature. So significant was the introduction and then proliferation of the safety bicycle that it ushered in an entirely new worldview for much of society at the time. Just think about that.
The moment was ripe for a savvy marketer like Terrot to more keenly define this new lifestyle for the consuming public and address it with a comprehensive family of products. Bicyclettes Terrot published its first catalog in 1893 to that end. Two, in fact. It offered both complete bicycles and supporting components in both catalogs. The first catalog had a cover illustration featuring two safety bicycles passing on a tree-lined road and a box in the lower right corner declaring, "C. Terrot, Constructeur, Mécanicien, Dijon."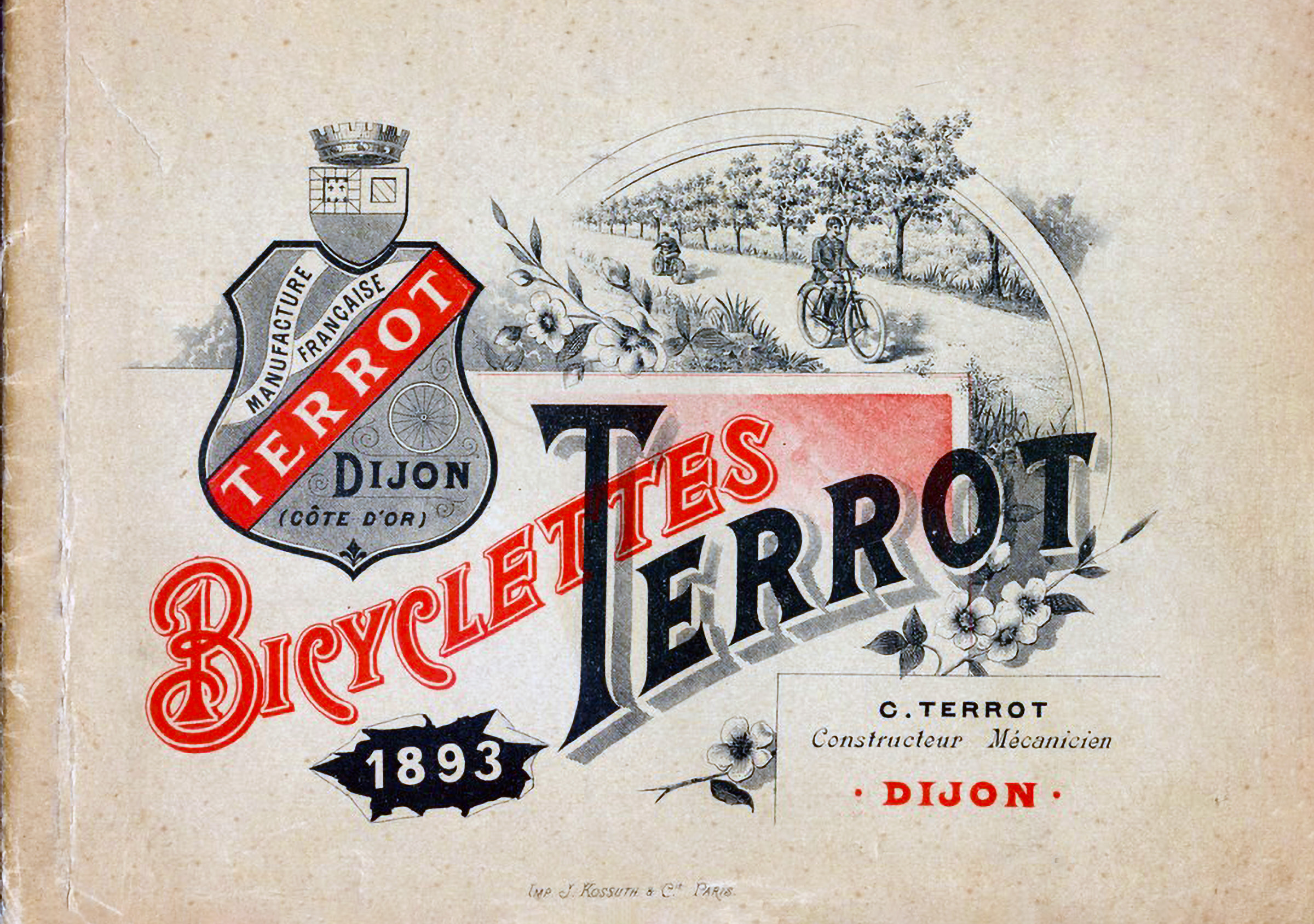 As the first known catalog of Terrot products, others with a bicycling emphasis were to follow in 1901 and then again in 1904. The decade-long span these three catalogs represent were among the most technologically abundant years of the company's bicycling operation. With a majority of engineering and manufacturing resources focused on bicycles, the rate of product advancement was profound — especially in combination with the relative immaturity of the cycling industry at large.
In quantifiable terms, Terrot offered no fewer than six solutions for braking bicycles during this short time, from simple rod and pad designs to complicated internal coaster brakes. It also offered standard chain models alongside more exotic direct-drive bicycles "sans chaine," among other examples of company ingenuity.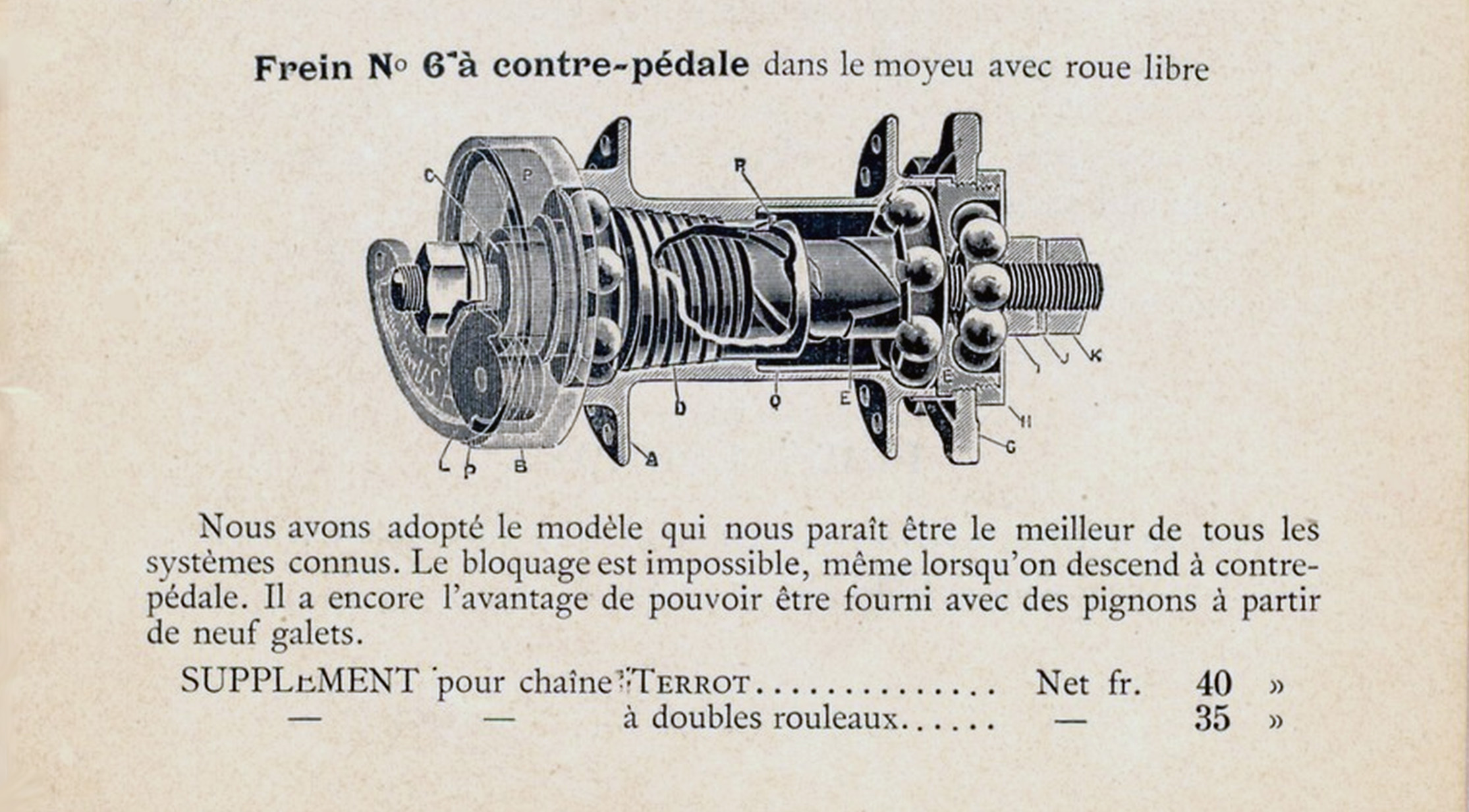 Bicycles were not the only vehicle Terrot had ambitions selling, though. The company started manufacturing quadricycles featuring the De Dion engine in 1899 and motorcycles in 1902. With years of market-defining bicycle design, manufacturing and distribution experience already behind it, the company had a solid base from which to capitalize on the growing motorcycle market, by now already segmenting into motos, scooters and cyclomoteurs.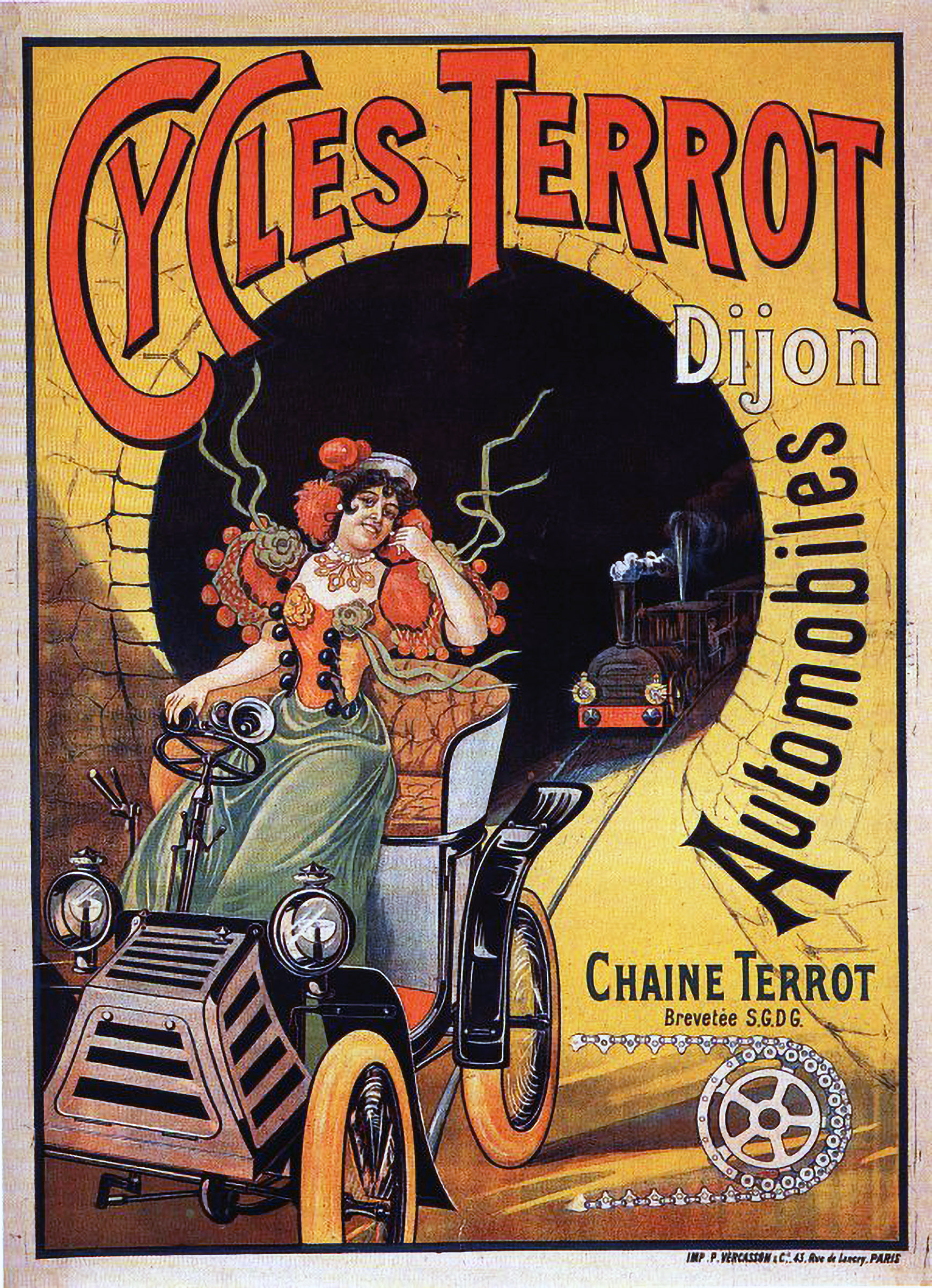 Promotional posters were changed to reflect the company's updated name as Cycles Terrot and internal attitudes reshaped to accept the inevitability of motorized personal transport. Events like these hinted at the beginning of the end for one of cycling's foundational contributors. Terrot's second decade — from 1904 to 1914 — brought synergies between the company's bicycle and increasingly central motorized vehicle divisions.
Mechanical drum brakes became more popular on human and motor powered vehicles during this time, as did spring suspension saddles and pneumatic tires. Internally geared hubs with two and then three speeds were refined, followed shortly by "rétro-pédalage" models, and finally dual pulley parallelogram designs that remain popular on bicycles today. Despite the direct benefit its bicycling products enjoyed from these shared advancements, the word "cycles" was dropped from the company name, soon settling into Terrot & Co. until World War One.
The Levocyclette was a particularly interesting diversion born of that transitional period in company (and transportation) history. It was defined by a system where the rider pumps a platform with each foot that constantly drives an internally geared freewheel hub via chain. Used until around 1920, the Levocyclette was featured in a series of striking Francisco Tamagno posters from 1906-1909.
While failing to achieve widespread commercial success, the design demonstrated Terrot's relentless commitment to finding a better way — however misguided history may have since judged this particular effort. It was this unmatched reputation as originator and virtuoso that Terrot took into World War One.
What Terrot emerged as could not have been more different. When the first Great War finally yielded, Terrot & Co. was seized by the French state after coming under suspicion of complying with the enemy. Doors reopened in 1921 under a great deal of scrutiny and another new name — now simply, "Terrot" — as a limited company backed by a group of industrialists led by Alfred Vurpillot, who remained general manager until 1933.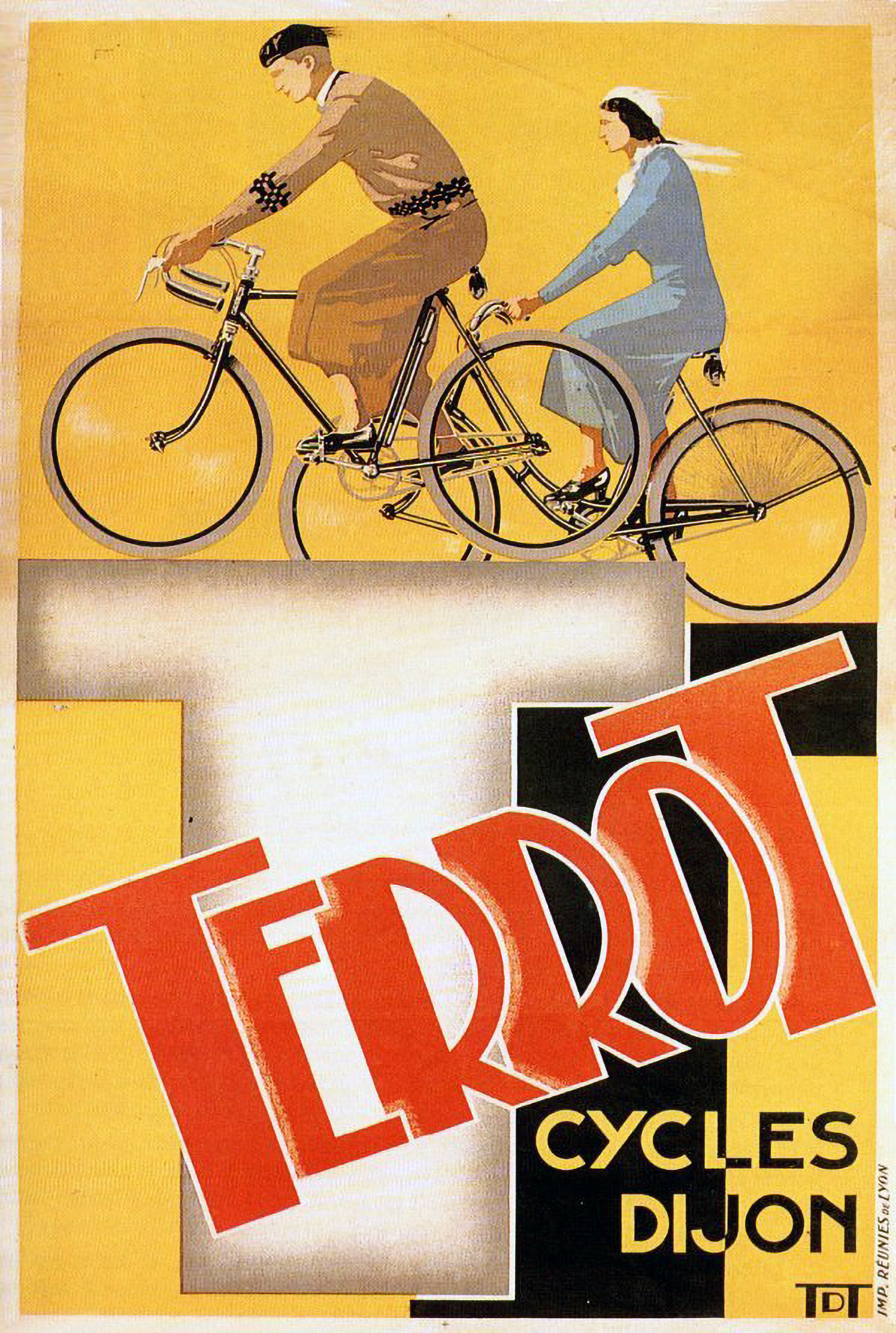 Vurpillot firmly reestablished the brand and its use of organizational principles driven by clearly defined goals. He often called upon his son, Jean Vurpillot, for technical expertise. Together this duo grew the business for several years.
After acquiring license to the Magnat-Debon name in 1928, which had recently ceased production, Terrot became the leading French manufacturer of two wheeled vehicles. Terrot maintained production under Vurpillot guidance until Edmont Padovani took reign of the company in 1934.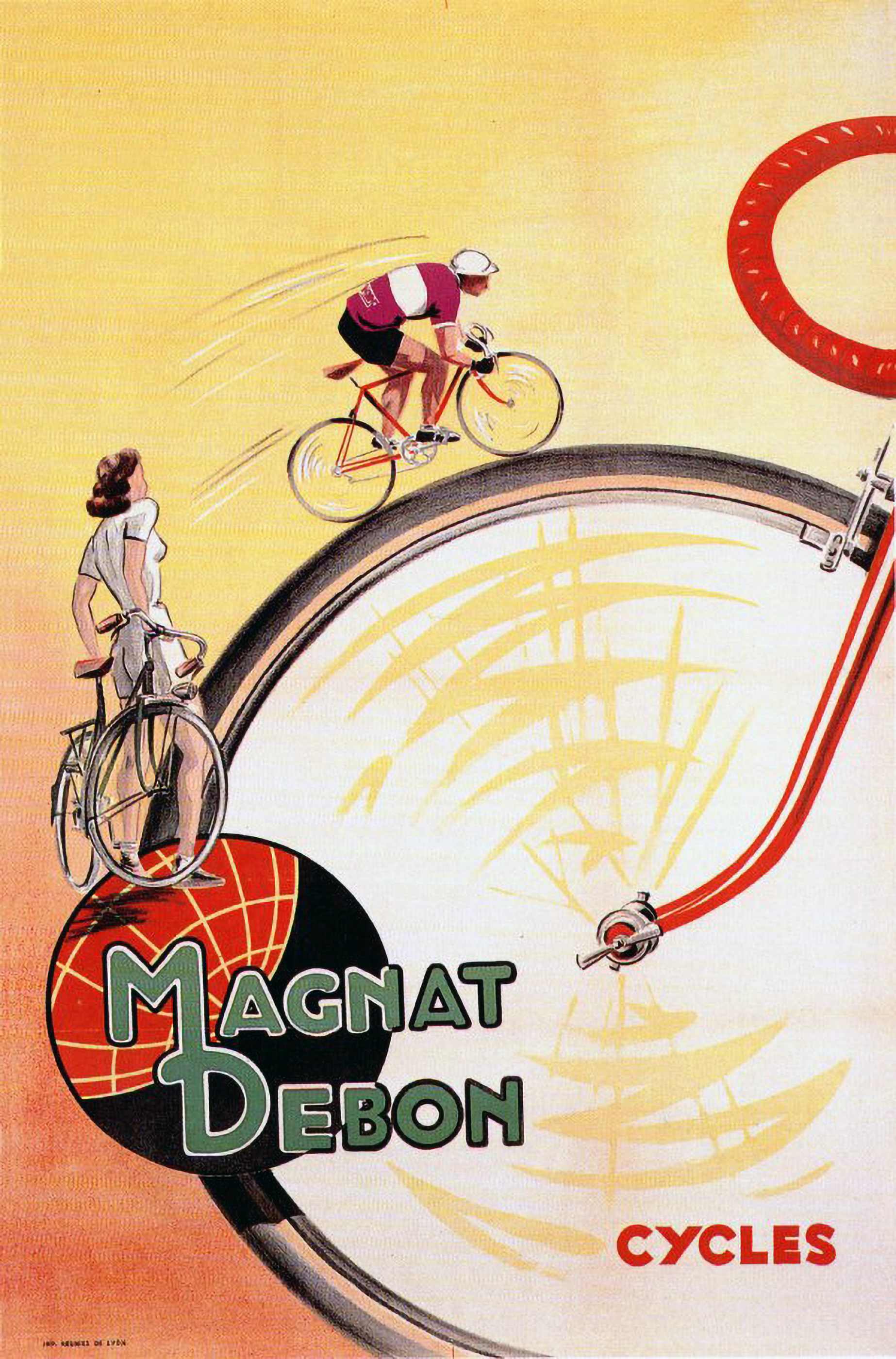 Vestiges of the 1929 stock market crash remained until World War Two, as rising prices drove down production figures starting in 1936 — despite diversification into other products like baby carriages and motorcycle side cars.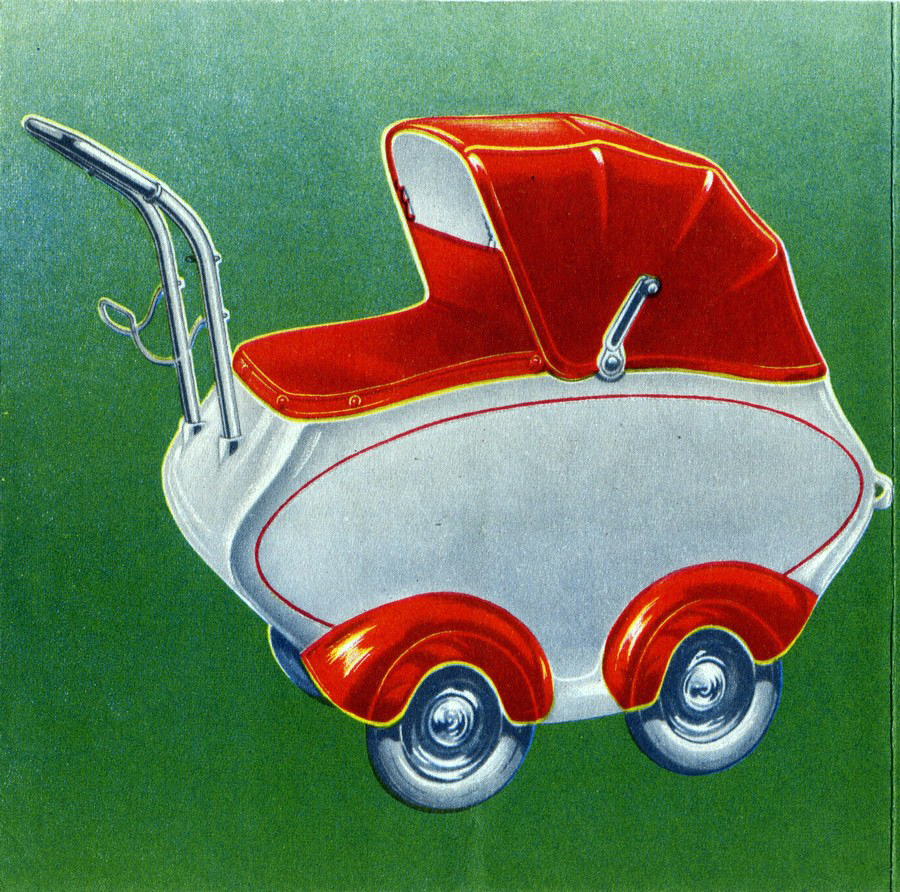 When World War Two tragically struck in 1939, Terrot factories turned their full attention to the French national war effort, only to be occupied by Nazi forces one year later and repurposed for building power generators.
When the war finally ended in 1946, Terrot slowly resumed production of two wheeled vehicles with little or no improvement upon previous designs. Its motorcycles started progressively losing market share, while ironically its professional and amateur cycling teams enjoyed more success on the podium in the decade from 1946-1956 than any other period in company history.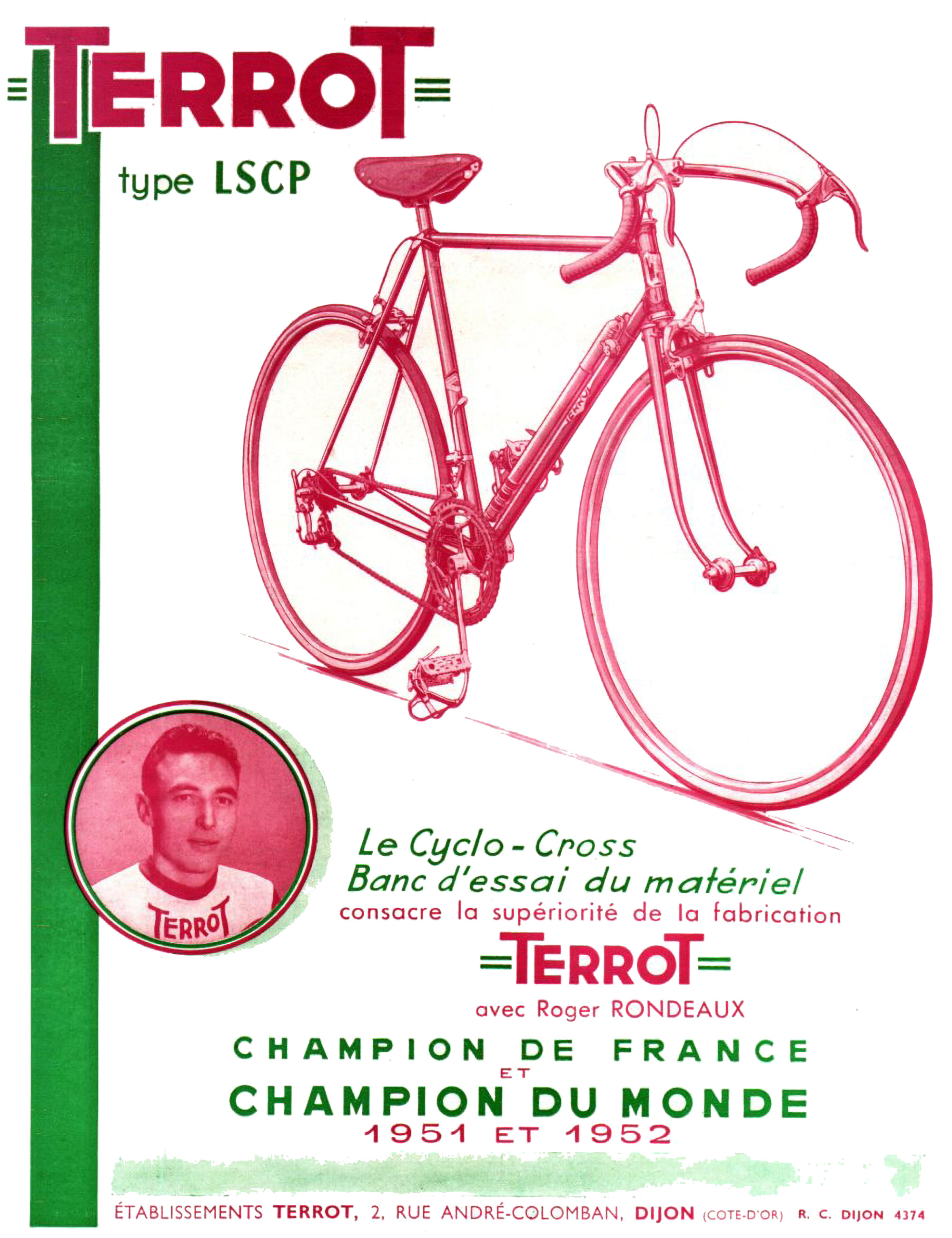 Most prominent were 22 stage wins at the Tour De France, several with riders wearing the yellow jersey along the way. Despite these wins, Terrot never enjoyed a General Class leader at the race's finish. It did, though, enjoy seven Champion du Monde titles — in Amateur, Cyclo-Cross and even University classes — and a bevy of national champion titles and lesser tour wins.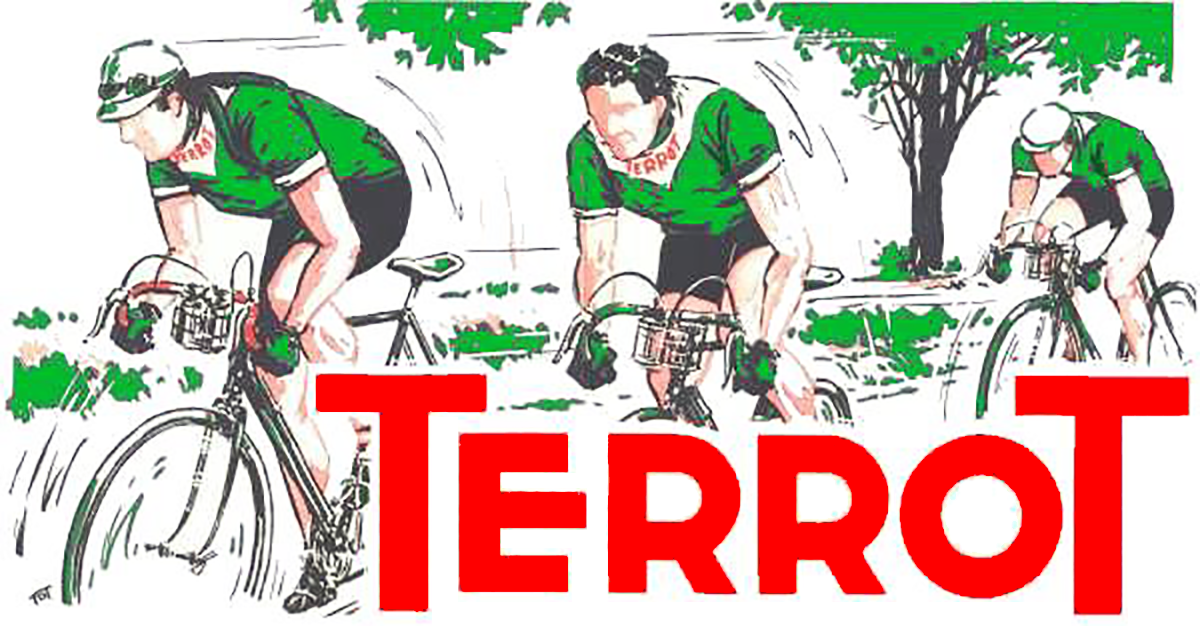 Terrot was not the winningest marque in cycling, but it did maintain a strong enough presence on the podium for its products to be considered race worthy, especially in ever-important consumers' eyes. After flagging sales for several long post-war years, the company's spirits were lifted briefly by the return of Padovani, who made a valiant attempt at reclaiming former glory by reintroducing various classic Terrot motorcycle models.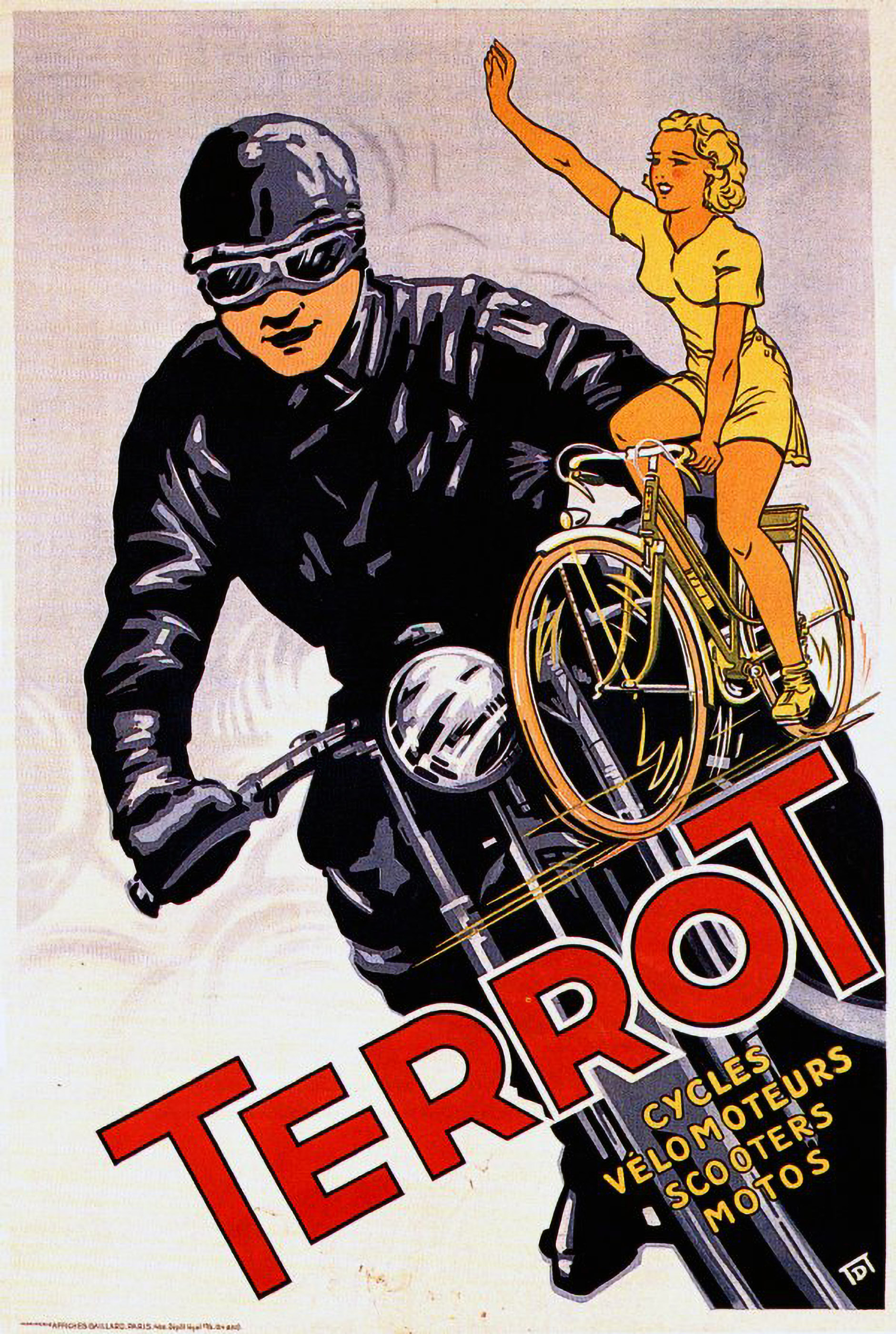 The effort proved too little too late, with blame falling somewhere between an outdated management and comparatively low resale prices of automobiles, increasing motorcycle insurance rates and stepped up enforcement of highway laws. Terrot was absorbed unceremoniously into the Indenor subsidiary of Peugeot in 1960. Indenor specialized in the manufacture of diesel engines and not bicycles, yet Terrot bicycles continued selling for a full nine years longer than Terrot motorcycles did under Indenor.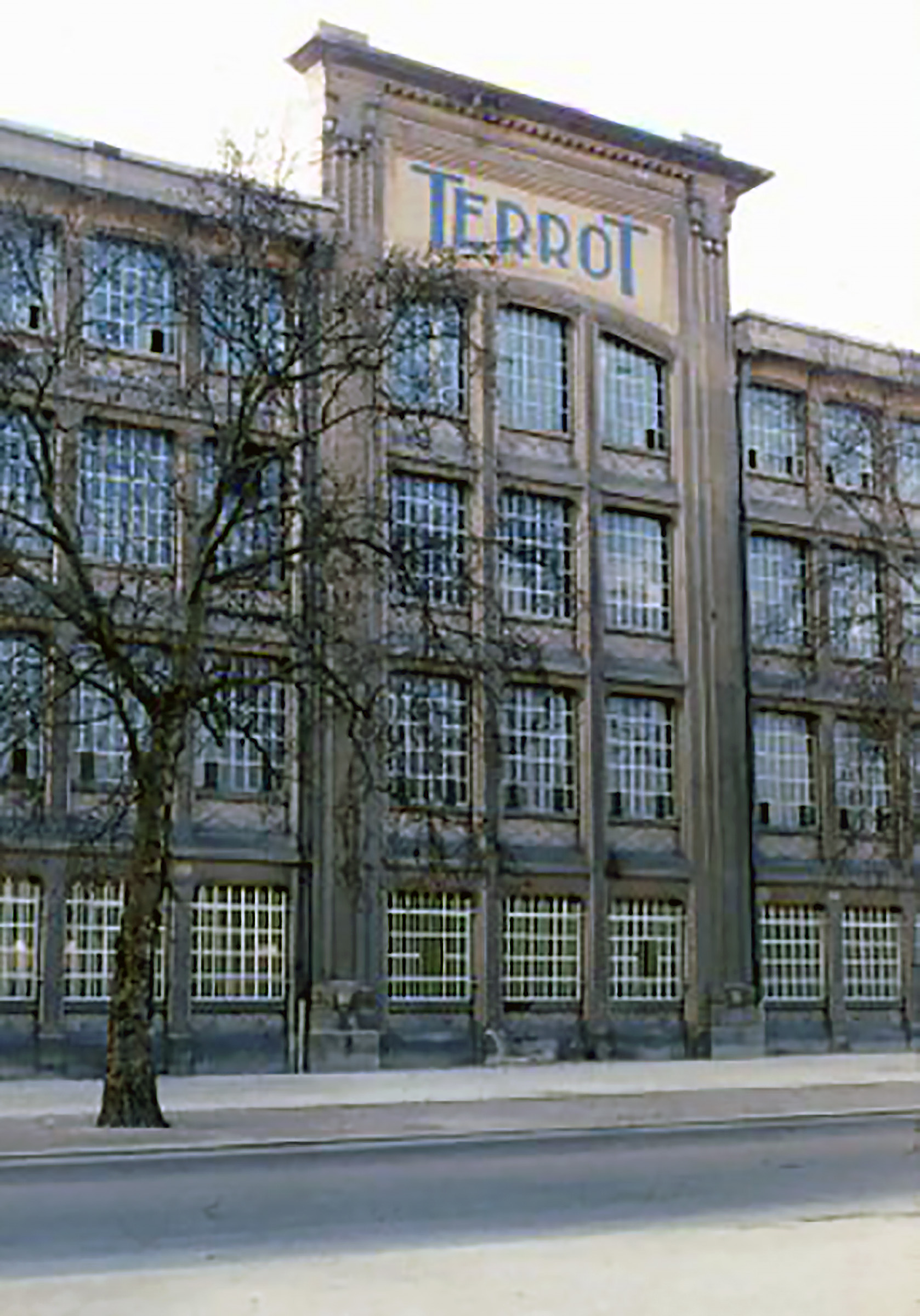 Assembly of motorcycles continued until stocks at another Peugeot subsidiary — the venerable Automoto — were depleted in 1961. Lingering market demand compelled Peugeot to continue building general purpose bicycles under the Terrot name until 1970.
Terrot bicycles are prized objects in today's collector market. Of particular appeal are models from the earlier years — representing the company's commitment to innovation — and models from the mid twentieth century, representing the company's winning race heritage.
Despite offering a staggeringly complete line of bicycles in 1938 alone — 22 models total — finer examples of Terrot bicycles are relatively difficult to find. The opposite could not be more true for reproductions of the company's commercial artwork, which represent a healthy proportion of the overall vintage bicycle print and poster market. Perhaps this is a residual effect of the deliberate and prolific advertising practices Terrot engaged in for so long, or perhaps it's testament to the enduring appeal of the work its brilliant commissioned artists created.
Whatever the reason, the Terrot brand remains popular enough today to give life to several interest groups and clubs, an annual gathering in France and even a Terrot museum. A great deal of company documentation on its motorcycles is still available, including patent plans, maintenance notes and the "Terrot Guide de Grassange," a detailed rationale justifying the Terrot approach to motorcycle design.
It was this mindset — one blurring the distinction between transportation device and philosophical outlook — that Charles Terrot so masterfully embodied and then packaged for an eager public in cycling's earliest days. A full century later, his discoveries continue being celebrated like they were new.
Related Ebykr Article:
Terrot Poster Gallery – http://www.ebykr.com/terrot-poster-gallery/
Terrot Ebykr Article References:
https://en.wikipedia.org/wiki/C%C3%B4te-d%27Or
http://terrot.club.pyreneen.free.fr/
http://terrot.club.pyreneen.free.fr/basse_resol/catalogues/catalogues.htm